Teaching Sight Words— Never Make Kids MEMORIZE What They Can READ!
"The Secret Stories are the life-blood of our classroom. They are always in view, always in our whole and small group conversations. We couldn't read words without them. They are our best friends. They are always there, always teaching. They are the tools that students will take with them to the next grade!"       —Tara Settle/1st Grade Teacher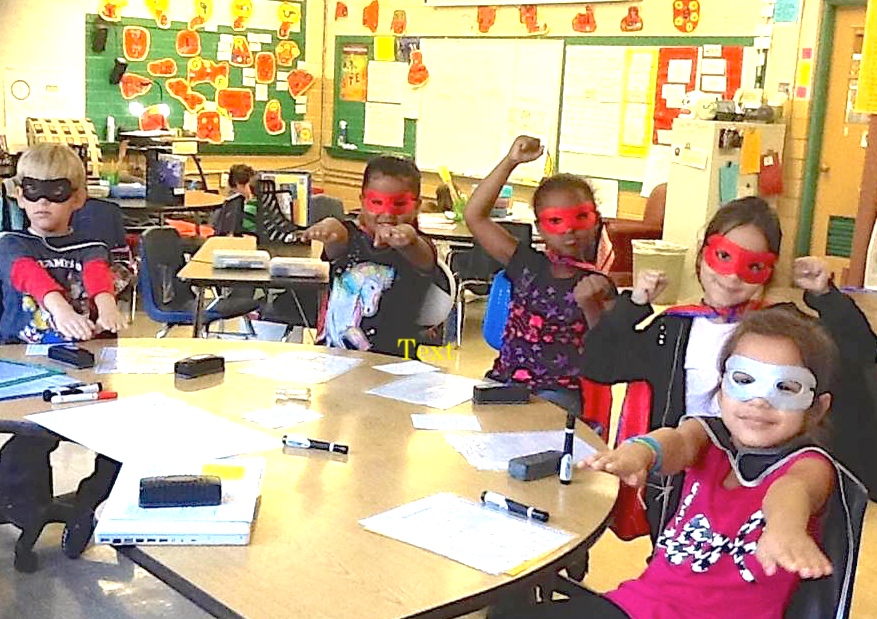 Kids who know the Secrets understand why letters behave the way they do when they get together.
 For example, they know that the Superhero Vowels® have a power that no other letter in the alphabet has—they can "SAY THEIR NAMES!" (like /i/ in hike or /a/ in hate). But like all superheroes who don't want to be recognized, they don't want to be recognized, and so they will use 
"
short and lazy" sound disguises to keep from being noticed (like /i/ in hit or /a/ in hat).  To learn more about the Superhero Vowel® Secrets, check out this vlog post on the  Secret Stories® Youtube Channel.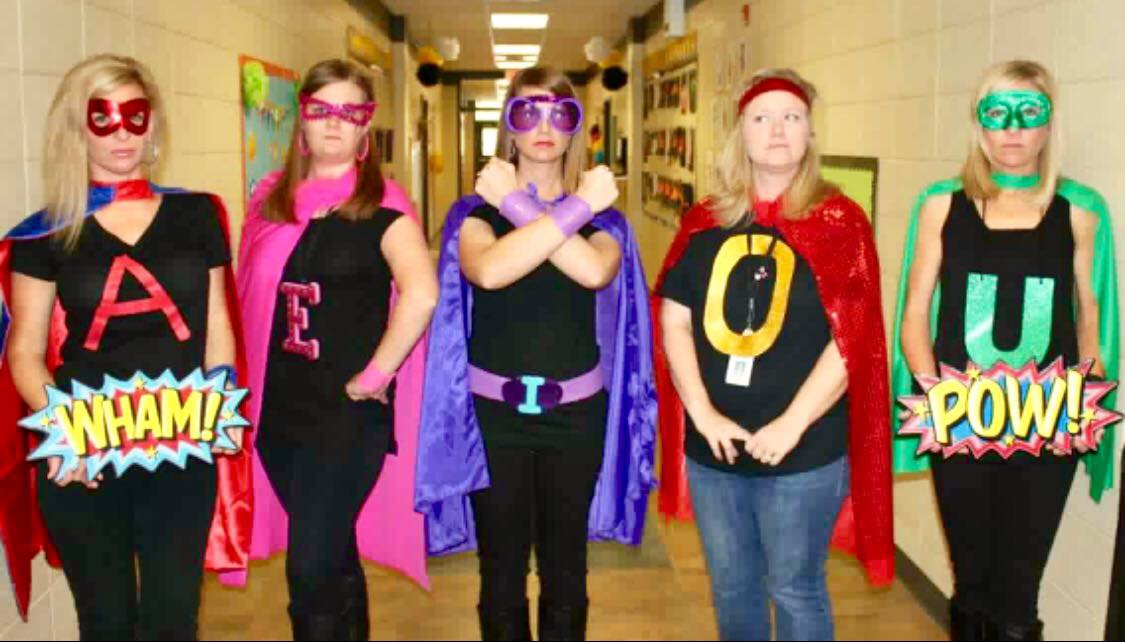 Once kids know the Secrets about the Superhero Vowels®, they'll need to know what "triggers" them to be long or short. That 
means
 letting them in on a couple of other "Secrets" about   
Mommy E®
 and the 
Babysitter Vowel®
 which are so easy you can teach them to kindergartners! You can learn about both in the video below. 
How to Be a Good Word Doctor
So what about words in which vowels don't make the sounds that they should? 
Like those pesky, high-frequency, one syllable sight words:
of, was, come, love, what, some, want, etc… 
Well thanks to Tara Settle and her brilliant "Head-Bop/Thinking Vowels" trick, we can become even better
Word Doctors
, while at the same time, clear out some of the most frequent offenders that would otherwise have to be sentenced to 
Word Jail! 
(Note that in the "Word Jail" video was made before Tara had shared her trick with me, and so you will see many of the above word-offenders serving out their time!)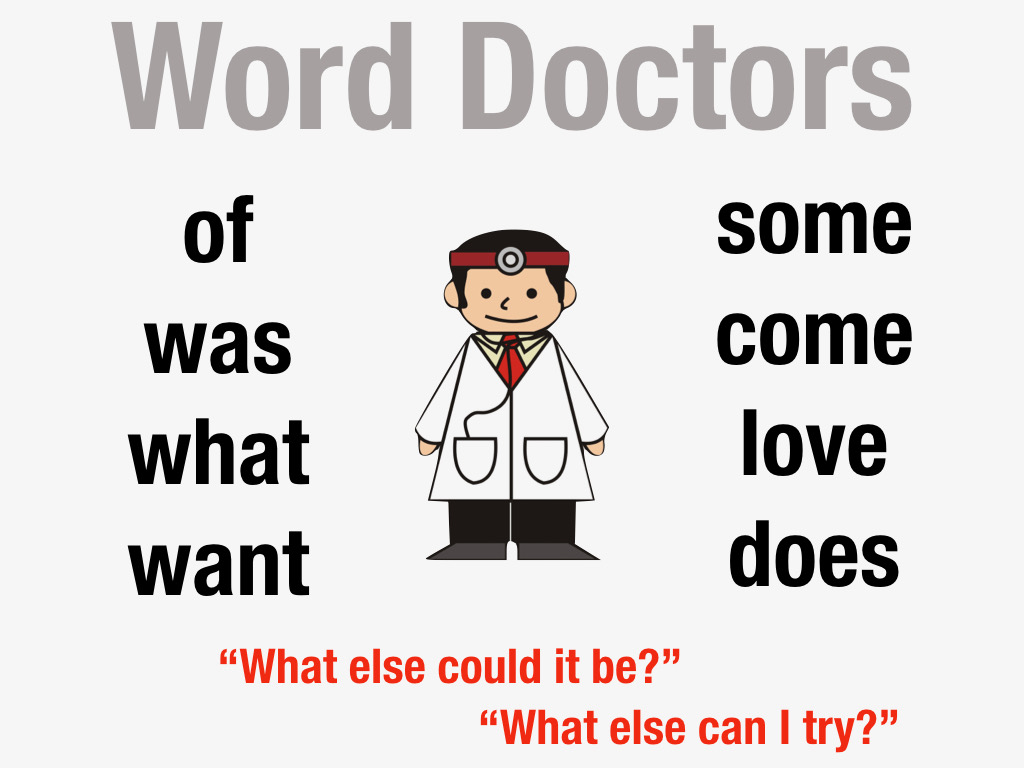 So here is Tara's "Head-Bop" Word Doctor Strategy that you can start sharing with your kiddos!
(Keep in mind that this strategy is of much more value to kids who know the Secrets, given that they can decode almost everything except these words; whereas those who don't know the Secrets, especially those in kindergarten and first grade, are likely unable to decode so many words that these are just the tip of the iceberg. This is due to the incredibly slow pace of phonics skill introduction, as per the grade level "scope & sequence" in common reading series and/or phonics programs.)
The "Thinking" Vowels— 
Sometimes a vowel just can't make up his mind which sound to make… "Should I be long?… Should I be short?…. I just can't make up my mind— Uhhhhhhhhhhh?"  (And here is where you give yourself a big BOP ON THE HEAD while making the "uhhhhh" sound, while prompting the kids to do the same!)
This handy "action-based" cue easily prompts kids to try the schwa, or "uhhh," which is the MOST LIKELY sound-alternative for vowels that "stray" from their original sounds, allowing them to now easily decode: of, was, some, come, done, want, from, love, nothing, brother, again, around, among,  another, something, etc…  (For more tricks like this, as well as how to know when words really do have to be sentenced to jail time, you can check out this post.)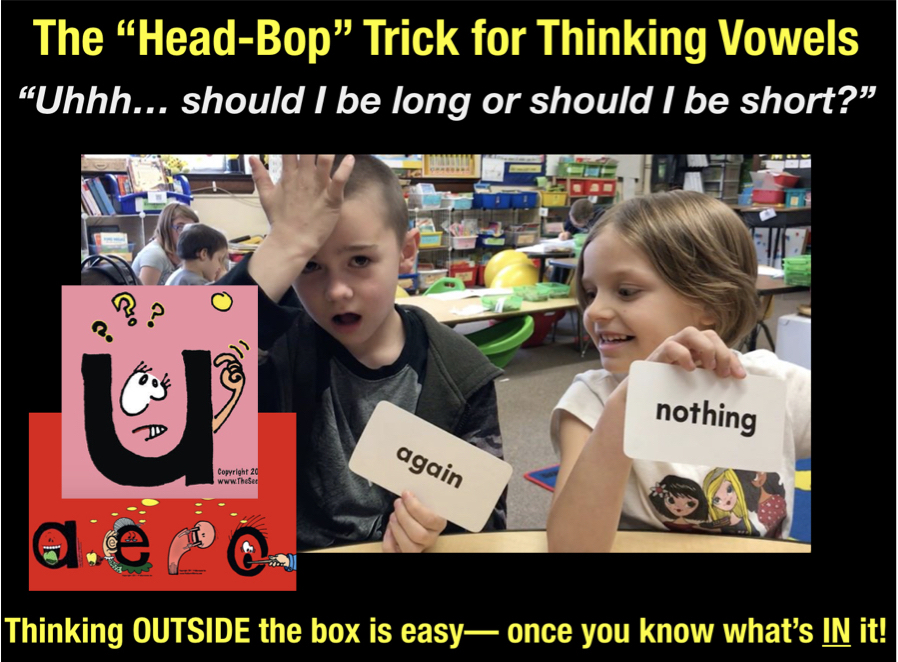 What I love about Tara's trick is that, like the Secrets, it gives beginning and struggling readers even more power over text, minimizing the need to memorize words that can actually be read! Plus, look at how many words can now be "paroled" from Word Jail!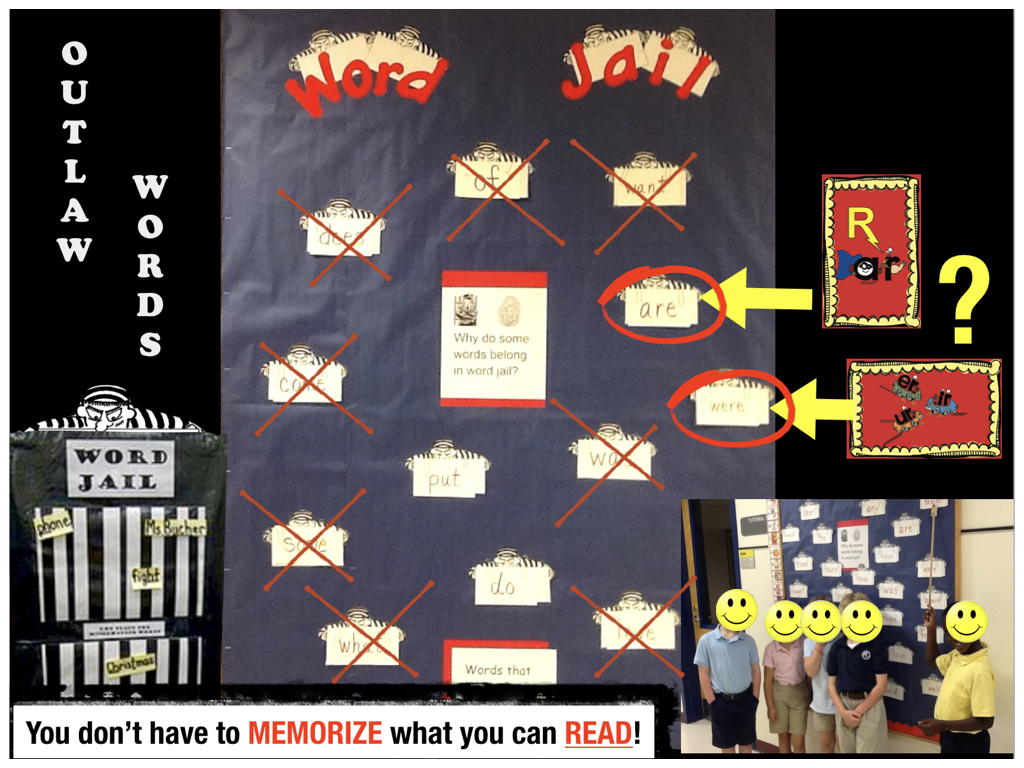 Thanks to Tara and her student word doctors who who identified this tricky vowel-shifting pattern, kids all across the country now have a lot less sight words to memorize! 
It is also important to keep in mind when working with your own student word doctors, that
 thinking outside the box is much easier when you know what's IN it!  And that's what a Secret is—everything that's "in the box" when it comes to a letter/phonics pattern and the sounds it can make. For more on how to get kids to think outside the box when working their way through unfamiliar text, watch the video clip below.
For more on "teaching the READER, not teaching the reading," as well as insight into the brain on memorizing sight words vs. decoding text, click here or on the pictures below!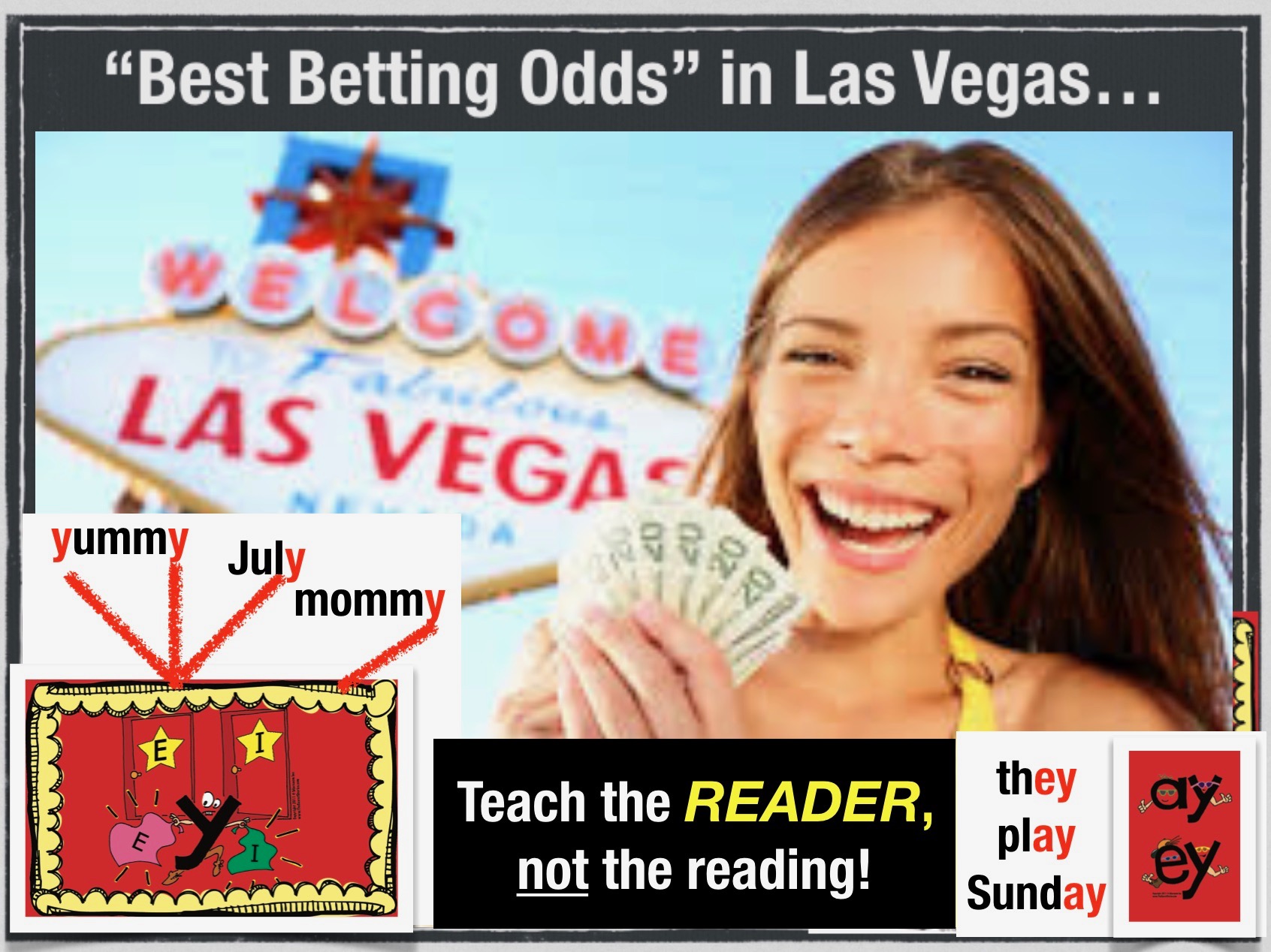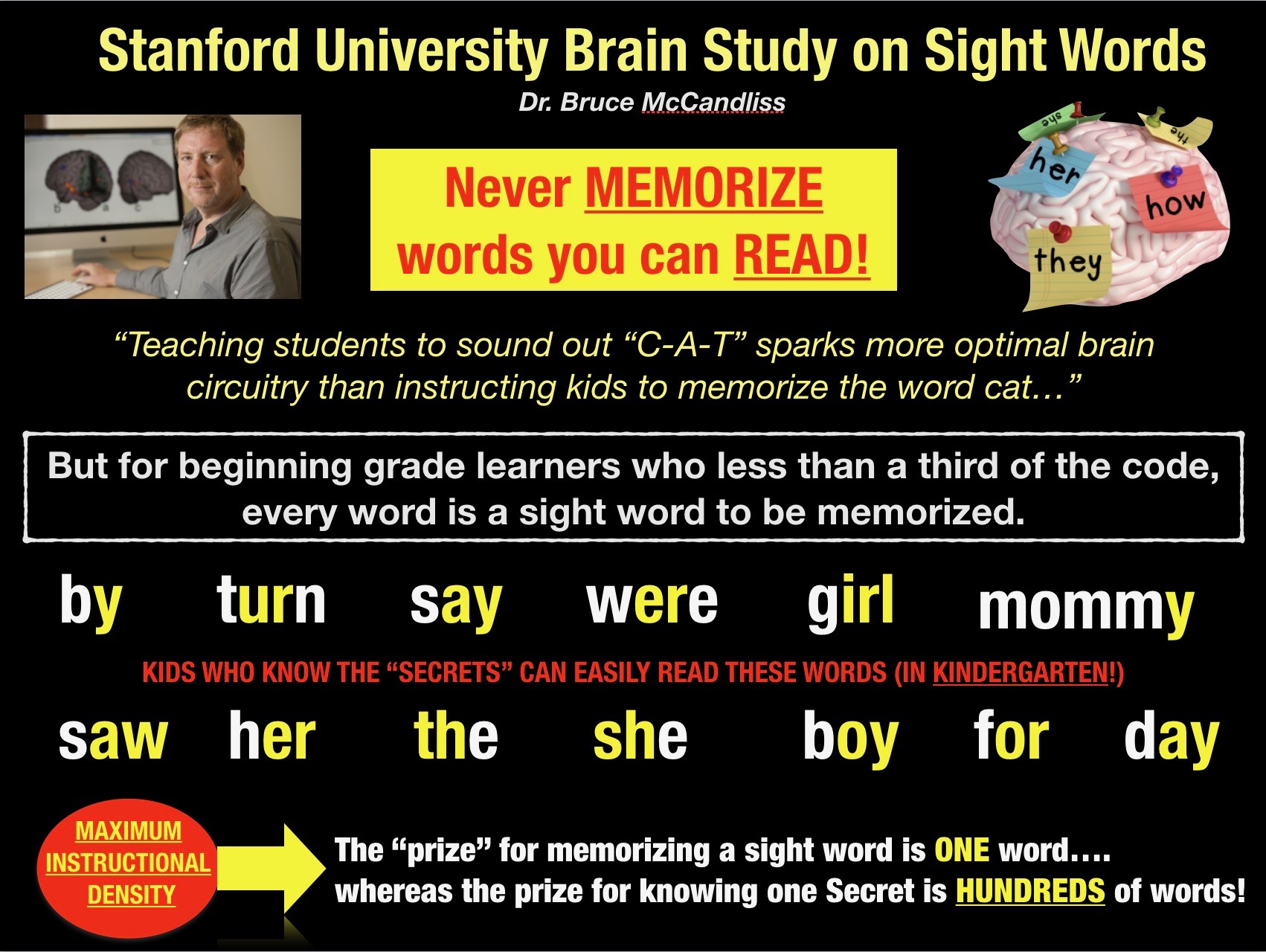 You can also check out Tara's most recent post for more on how she doesn't teach sight words, here!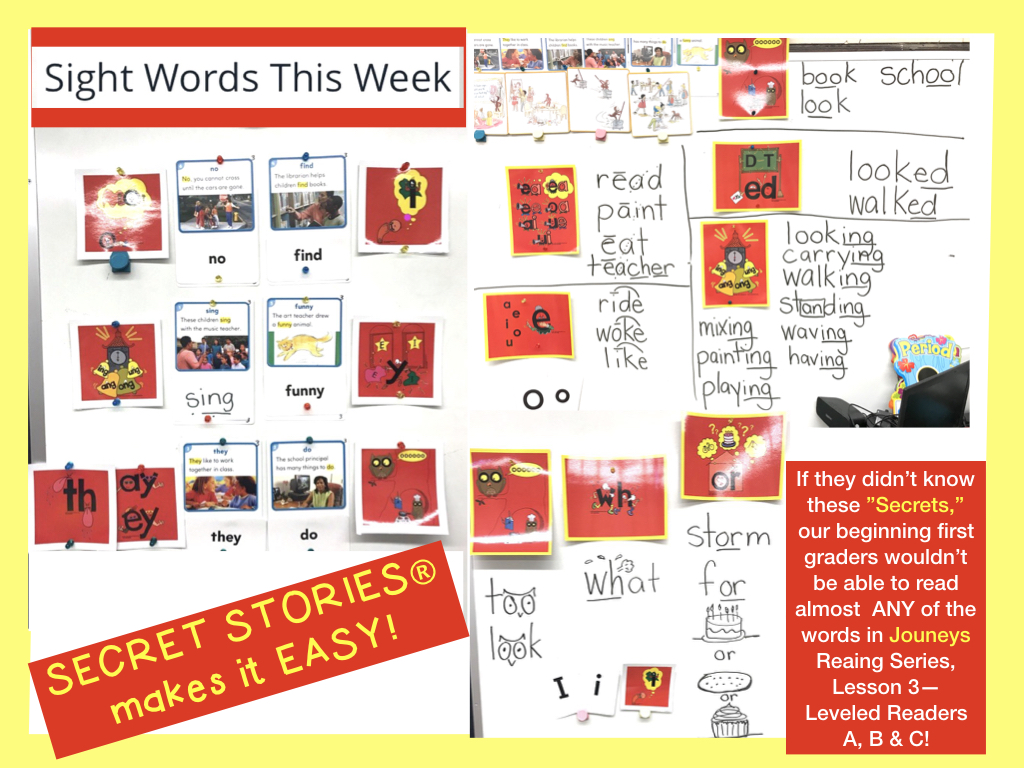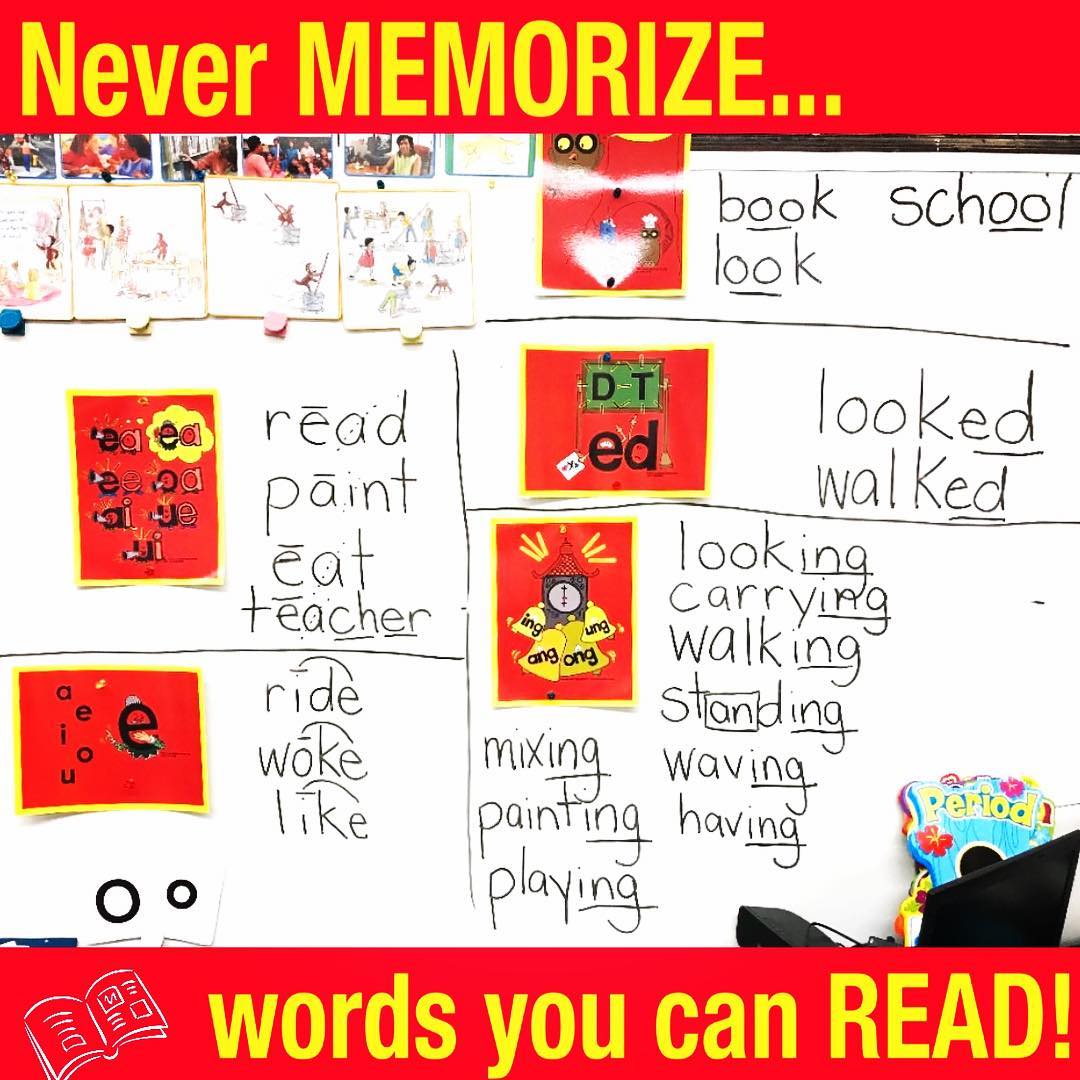 Join in the discussion on Facebook! Check out the original post by clicking the image on the left, below! And thank you so much to Tara, who actually has her own interactive blog with lots of oodles of resources for teachers! It's called "Settle On In" and you can find it here.
The Scoop on Summer Reading Conferences!
For those who have never been, it's an incredible experience.  And for those who have, well you know how hard it can sometimes be to squeeze into the sessions that you reeeeeeallllly want to see— even just to sit on the floor, which teachers are usually more than happy to do!
Unfortunately, those pesky fire marshals don't like floor-sitters too much, and will often ask them to leave, which is why I personally prefer to take cover underneath a nearby tablecloth (and out of fire marshal view) if it's a session that I really want to hear and it's full.  Otherwise, I'll just hang outside of the session room door and strain to listen, which is a lot less fun!
But for those planning to attend my session at ILA, I have great news! It's going to be in a
BIG
 session room!!!  So, unlike last year, it's highly unlikely that you'll have to resort to hiding under a tablecloth to get in!  If you would like session details or information on registering, 
click here
.
Another great one is the
National Charter School Conference
 on June 11-14 in  Washington, D.C., but don't let the name fool you, as this conference is great for ALL educators, not just those who work with charter schools. It's a big as ILA, but includes all subject areas, not just reading. And the best part (for me, anyway) is that my sessions are two and a half hours long instead of one…and there is a repeat for those unable to get into the first one, which means that once again, the chances of having your view obstructed by a tablecloth is minimal! For more information on this conference, you can 
click here
.
And while this one isn't a national conference, I want to mention it for all of my PK-2 teaching friends out there in South Dakota, as I'll be in Beresford for the
South Dakota Kindergarten Academy June 19-22
for two 2-day workshops! (The first 2-day session is already full and the other is almost capped, so register now if you want to go!) You can obtain more information
here
, including how to get college credit through the University of South Dakota for attending.
And for those who just can't get away this summer, no worries! The National Title I Association brings the speakers to you with their Video On Demand series! There are so many amazing sessions, and now you can watch them all from home!
You can watch highlights from my featured  Title I presented here, or by clicking directly on the video below. The full-length presentation is also available as part of Title I's subscription series, but you can view it free in its entirety here, along with lots of other video clips from conferences, school and district PD Workshops, video blogs and more on the Secret Stories® YouTube Channel.
That's all for now! 
So until next time… HAPPY "ALMOST" SUMMER!
https://www.thesecretstories.com/wp-content/uploads/2016/02/secret-2Bstories-2Bphonics-2Bhead-2Bbop-2Bthinking-2Bvowels.jpeg
765
1024
Katie Garner
https://www.thesecretstories.com/wp-content/uploads/2018/07/Secret-Stories-Phonics-Method-Logo-1-copy.png
Katie Garner
2017-05-05 22:19:00
2020-08-03 14:36:14
The "Thinking Vowels" Head-Bop Trick for Teaching Tricky Vowels that Make the Schwa Sound