Parent & Homeschool Phonics Resource Bundle
ITEM #2020
Secret Stories® explain the sounds letters make when they get together, with posters to help kids remember for independent reading and writing. They're as easy for parents to TEACH as they are for kids to LEARN!
For example…..
Why do /t/ and /h/ say "thhhhhhhh" when they get together?
Because they don't get along, so they always stick their tongues and say, "THHHHHHHH!!!!" It's that simple.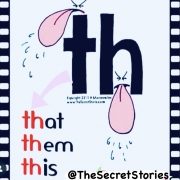 This Parent & Homeschool phonics resource bundle contains everything needed for Secret Stories® phonics instruction and learning to read at home. It is also ideal for small group and resource room settings, as well as phonics tutoring. Instead of posters, the small, cut-apart cards in the back section of the Secret Stories® Phonics Book are the ideal size for individual reference,  and the musical "sound-skill" drill phonics songs download helps build the speed and automaticity needed for easy reading and writing. Also included are the the Phonics Flashcards in Brain-Based Red are also included, with Secret Stories® sound graphics on one side and story "cheat-sheets" on the other, perfect for  portable practice and play!
This bundled set has everything you need to read, write and play with the Secrets to fast-track reading and writing at home!
INCLUDES SECRET STORIES® BOOK (WITH CUT APART PHONICS VISUALS) & MUSICAL "SOUND-SKILL" DRILL PHONICS SONGS DOWNLOAD AND PHONICS FLASHCARD SET.
*Please note that due to the proprietary Secret Stories® images and story text contained in the book, as well as the digital download code that's printed on the inside cover, returns cannot be accepted.