Brain Based Phonics Instruction: How to Take Advantage of the Brain's Need for Novelty!
If you are already using the Secrets in your daily reading and writing (phonics) instruction, then you probably know what I'm talking about, and perhaps have even wondered the same thing!  
While it's true that the musical exercises on the Secret Stories® are very different from traditional, skill-based 'sing-along' songs so often used in early grade classrooms, there's a reason!  Like everything else with Secret Stories® brain based approach to phonics instruction, it's about getting the most "brain-BANG" for the instructional buck!!!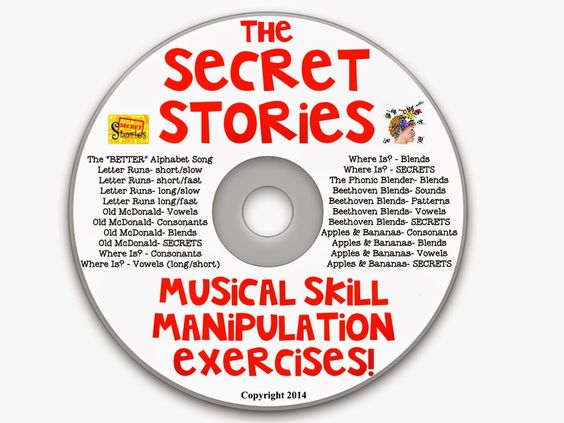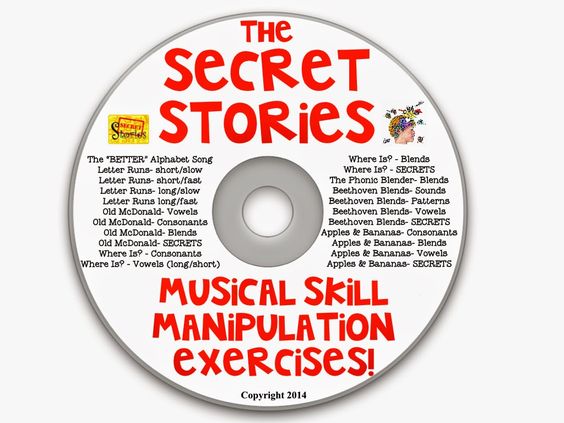 As teachers, we've all seen how easily and effortlessly students can sing through the daily array of familiar, skill-based songs… almost as if they're singing on "autopilot!"  The familiar, repetitive and 'skill-based' lyrics of these daily-ditties literally roll off the tongues of learners.  No thinking required! 
And that's a good thing, right?  
Not necessarily. 
It depends on the type of skill and how learners are going to use it.  
Familiar and repetitive songs work well for acquiring finite or sequential skill sets, like the days of the week, months of the year, names of the planets, fifty nifty states, etc…  
Skills like these can be easily acquired through traditional song, as they allow learners to store away the content sung in their muscle-memory, much like storing information on a 'read-only' disc, where they are easily retrievable for later use.
Letters and sound skills, however, are a different story altogether!
Letter and sounds (i.e. phonics
) are taught for the sole purpose of reading and writing, as learners must be able to put them together (for writing/ spelling) and take them apart (for reading) in a variety of ways, which makes these skills very different from those skill-sets mentioned above. 
For this reason, singing the letters in repetitive order (as in a song) does NOT equip learners to actually use them as reading and writing tools!  To do this would require an ability to manipulate them fluidly, in a free-form and flexible manner closely mimicking the decoding and encoding processes. 
The "unfamiliar and unexpected" are the brain's BEST FRIENDS!  
Singing through the virtually endless letter, pattern and sound combinations in a variety of constantly changing musical exercises is a great way to ensure that learning them remains a 
novel
experience for learners….and our brains love novelty! 
---
The following is taken from an article written by Belle Beth Cooper-  
"Why Getting New Things Makes Us Feel So Good: Novelty and the Brain"
We all like novelty! In fact, our brains are made to be attracted to novelty.  And it turns out that it could actually improve our memory and learning capacity!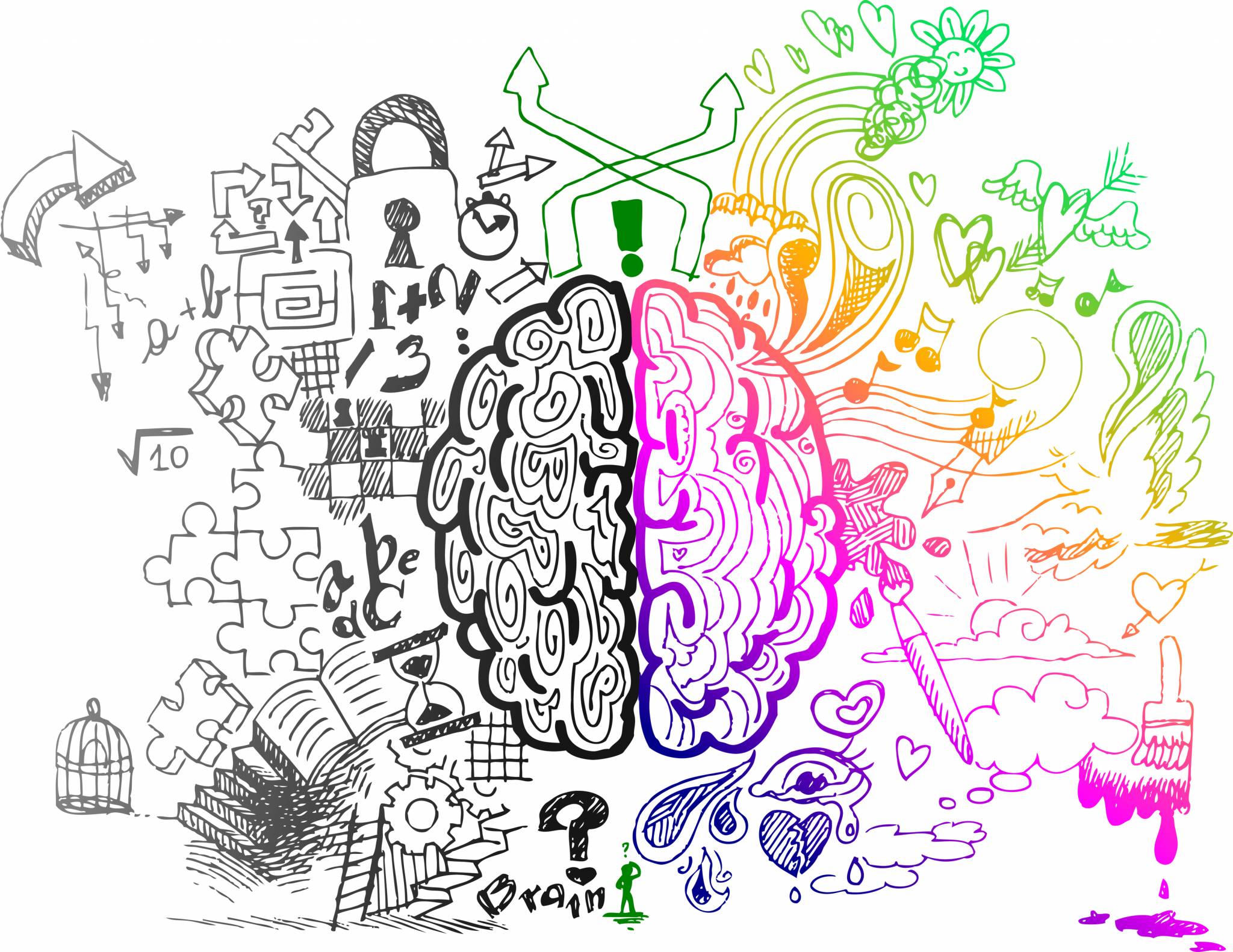 It's actually hardwired into my brain—and yours—to appreciate and seek out novelty. Anything that's new, different or unusual… we can even be drawn to novelty without being conscious of it. Of course, this makes a lot of sense—we wouldn't get much done if ordinary things captivated us constantly!
The cool thing about this is how intricately novelty seems to be associated with learning, which means we can use this knowledge to our advantage for learning new things and improving our memory.
It's been thought before that novelty was a reward in itself, but, like dopamine, it seems to be more related to motivation. Our Dopamine pathways become activated whenever we are exposed to novelty, and only completely new things will activate our midbrain area.
Studies show that the plasticity of the hippocampus (the ability to create new connections between neurons) was increased by the influence of novelty—both during the process of exploring a novel environment or stimuli and for 15–30 minutes afterward.
As well as increasing our brain's plasticity—and therefore the potential for learning new concepts and facts—novelty has been shown to improve the memory of test subjects. Studies suggest that dopamine (a "reward" chemical in the brain) levels increase in the context of novelty. Each new stimuli gives you a little rush of motivation to go further, to find more new stimuli that will generate more dopamine rewards.
Here is a graph that shows activity in your brain on this:
According to a study conducted by Dr. Emrah Duzel from University College in London:
Subjects performed best when

new information was combined with familiar information during learning.  

After a 20 minute delay, subjects' memory for slightly familiar information

(i.e. letters/ letter patterns & sounds)

was boosted by 19 per cent if it had been mixed with something new 

(i.e. new combinations of constantly changing skill-content) 

during learning sessions.
This research suggests that we use the brain's increased plasticity wisely by setting aside time to learn right after novel stimuli, as learners' brains are more open to making new connections during and right after this time.  So why not take advantage!
Dr Düzel pointed out additional benefits that could come from his research:
"We hope that these findings will have an impact on those with poor memory. Current practice aims to improve memory through repeatedly exposing a person to information.This study shows that it's more effective if you mix something new with the old. You actually learn better, even though your brain is also tied up with new information. 
---
So what does this mean for teachers? And how can it benefit our phonics instruction?  
It means that you can significantly improve knowledge retention and make new ideas and concepts (like letter sounds and phonics skills!) stick by introducing novelty into the learning process. And doing this is easier than you think!
Above is just one example of MANY research studies showing the significant impact that novelty has on the brain, and for purposes of teaching and learning, novelty can take many forms! Incorporating novel experiences into daily learning doesn't mean having to continually add on new skills and information to what you're already teaching!
Novelty can be easily achieved by simply framing 'slightly-familiar' content in new and unique ways. This causes our brains to notice and recognize it more easily because it's been offset by the new way in which it's being presented.
If this sounds confusing, I promise, it isn't…. not once you see it in action!
And it's not just the musical exercises in Secret Stories® that make use of this "novelty-effect," but also the Secrets, themselves!
Making phonics skills into Secrets naturally make them important to kids, and every time you share one, kids get to hear a brand new story about letters' "secret" behavior (or misbehavior!)…. and the higher the grade level, the more significant the "novelty-effect!" So no more boring phonics skill introduction in your reading and writing instruction!
Intermediate-grade struggling readers who've "been there and done that" in their many failed attempts over multiple grade level years to acquire critical phonics skills have often completed hundreds of repetitious skill-based practice worksheets and they
still 
don't "get it!" For these
struggling learners
, framing these boring and "all-too-familiar" skills as novel "secrets" that explain WHY letters "do what they do" when they get together in words sparks their natural curiosity and re-ignites their interest, motivating them to
want
to know and learn more…. as things are
finally
making sense!
The Secrets make letters, sounds and phonics instruction novel!  It's that simple. So remember, whether a you're four or forty, "novelty is the key" to easy learning!
The short video clips below show how easy infusing novelty into daily skill practice can be!
Beethoven Blends & Beethoven Blends 'In-Reverse!'
Apples & Bananas to the EXTREME!
Singing the Sounds "Every Which Way to Sunday!" 
*This one we would also do it backward, as well as to different tunes (i.e. Star-Spangled Banner, Happy Birthday, etc…) while continually switching vowel sounds back and forth, from long to short… so many ways, so little time!


And check out this first grade class singing the BETTER Alphabet Song "Jedi-style!" (You can't see from the way that the teacher is facing, but the teacher is referencing the vertical alphabet anchor, above.)
Have you ever noticed novelty affecting your memory or how you learn? 
If so, I would love to know your thoughts!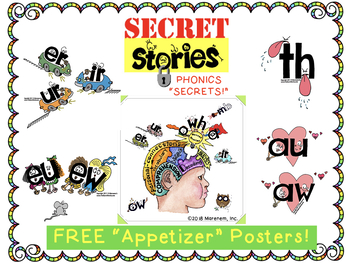 https://www.thesecretstories.com/wp-content/uploads/2014/07/Pasted-Graphic.png
378
393
Katie Garner
https://www.thesecretstories.com/wp-content/uploads/2018/07/Secret-Stories-Phonics-Method-Logo-1-copy.png
Katie Garner
2014-07-17 14:34:00
2019-01-29 23:01:01
The Brain Loves Novelty, So Spice-Up Your Phonics Instruction!