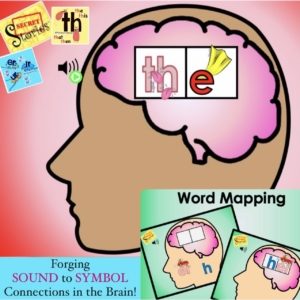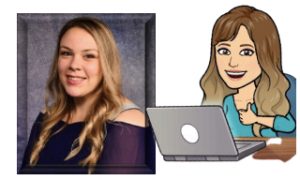 Hello, I am Janelle Schneider. Some of you may know me as Mrs. Schneider from Engage & Inspire with Mrs. Schneider. I wanted to share with you two of my favorite teaching resources, Boom Cards and Secret Stories! I am going to explain why Secret Stories phonics activities on Boom are the perfect addition to any phonics routine, and why Boom Cards provide such effective and efficient skill practice. Like Secret Stories, Boom Cards make your life easier and maximize student achievement.
As teachers, there are so many ideas and resources being thrown at us. It can be very overwhelming trying to figure out which ones work, and which ones aren't worth our time. New curriculums, new programs, new teacher websites and apps, all promising to be the "magic tool" that's missing. It's frustrating to waste time and money on new websites and apps, only to find out that either kids don't like them or that they're ineffective.
During the 2020 COVID school closures, I was struggling to find a way to teach my students virtually. Through one of the second grade Facebook groups, I came across Boom Cards. Though I found the platform a bit confusing at first, I quickly grew to love it, and I eventually began making Boom Cards of my own. During this time, I also decided to obtain my graduate degree in Curriculum and Instruction. Through my coursework, I realized that Boom Cards were not only fun, but backed by Behavioral Learning Theory.
While reading and completing coursework on the different learning theories, I wrote this in one of my papers,
When it comes to teaching our diverse students, there is no one size fits all learning theory. Teachers find, trim, and arrange bits and pieces of many different learning theories to craft the beautiful mosaic of student learning. In any one lesson, it is typical for a teacher to have elements from cognitivism, behaviorism, constructivism, and humanism."
One learning theory that supports the use and effectiveness of using Boom Cards is the Behavioral Learning Theory. When people think of behavioral learning or operant conditioning in the classroom, they typically envision the conditioning of student behavior in regard to discipline and classroom management; however, incorporating behaviorism in the classroom can greatly impact both teaching and learning.
Following is an excerpt from an article on Teaching and Education by Western Governors University.
The stimulus-response sequence is a key element of understanding behaviorism… Behavioral learning theory argues that even complex actions can be broken down into the stimulus-response" (Western Governors University, 2021).  In the case of Boom Cards, students hear a ding and see a green circle when they have a correct answer and they hear a "whoops" and see a red circle when they have an incorrect answer. Additionally, students must find and correct their error before moving on to the next card.
What I love most about Boom Cards, aside from the immediate feedback students receive, is the repetition! Students need to practice a skill several times to obtain mastery, and Boom offers this repetition, as well as immediate feedback and positive reinforcement.
Repetition and positive reinforcement go hand-in-hand with the behavioral learning theory…Positive reinforcement is key in the behavioral learning theory. Without positive reinforcement, students will quickly abandon their responses because they don't appear to be working. (Western Governors University, 2021)
Think about it! How many times have your students abandoned their worksheets or other class assignments because they were "too hard," or because they didn't know if they were doing it correctly? How often are students completing work that won't be graded until days later? How often do they practice skills incorrectly, and then have to "unlearn" them later? With Boom Cards, students are actively engaged because they know if they are doing their work correctly or not. They want to hear that ding! They want to feel successful, and when they hear the "Whoops" sound repeatedly, they know they're doing something wrong. They know they need to ask for help. And for our shy students who won't ask, we can see on their live report that they are struggling and in need of assistance. This allows us the opportunity to target struggling students and reteach the concepts in small group or "one-on-one" before they fall further behind.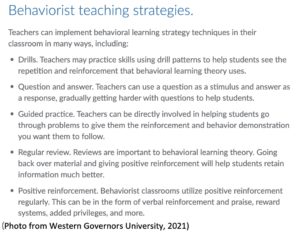 How I Use Boom Cards in My Classroom
I scaffold all of my lessons using the Gradual Release of Responsibility Model. During COVID, I had structured all of my lessons (on Google Slides, Youtube, etc.) as "I do, We do, You do." Now that we are back in the classroom, I structure my lessons as "I do. We do. You do (together), You do (individually)."
I begin with whole group direct instruction, making sure to build on students' prior knowledge, and working on a examples together. Next, students work on an activity in partners or small groups. Then they complete their assigned Boom Card deck individually. I will also use Boom Cards to differentiate assignments and fill in learning gaps. I love that Boom Cards "self-grade" so you can look at the live data as students complete each deck. I use this as a daily formative assessment, and will sometimes even use Boom Cards as a summative assessment. The fact that they are SELF-GRADING is the best part, as this has saved me so much time, and truth be told, even given me some of my weekends back!
Below are step-by-step directions for creating a Boom account, as well as purchasing decks and assigning the to students in your classroom. I would also encourage you to check out the video below (and if helpful, please remember to like and subscribe!)
Boom Plans
Membership Plans: Free and Paid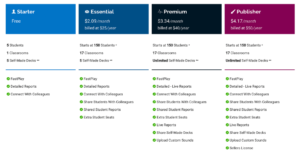 The Starter Plan (free): If you are a parent or if you homeschool 5 or less children, this is the plan for you. If you are a teacher that does not need to collect data on students' progress, but want to give your students Boom Decks for extra practice of a particular skill, you can use the free account and assign "Fast Plays."
*You will still need to purchase decks separately.
The Essential Plan ($25 year):  I recommend this plan for regular classroom teachers on a tight budget, as it's only $25 per year. The only thing I don't like about this plan is that you don't get the "live reports," only student progress.
The Premium Plan ($40/ year): This is the plan I recommend all teachers get if they can afford it, as it does include the live reports which are so helpful in tracking student progress in "real-time" and targeting students in need of reteaching.
The Publisher Plan ($50/year): If you plan to make Boom Cards for your students (and possibly even sell them) this is the plan you would need. It's the plan that I have.
Navigating the Boom Store
Below are step by step directions that walk you through how to find, purchase and access your Boom Decks.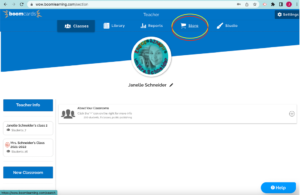 When you first log in, this is what it looks like.
Click on "Store" to get started.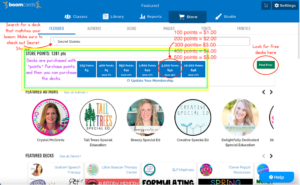 In the store, you can search for whatever material you need for your lesson. You can search: Secret Stories, phonics, cvc words, decoding, 3-digit addition, time, etc., and a list of available decks will come up. You can also click the "Find Free" green button to search all of the free decks.
Purchasing Boom Decks
You purchase decks with "points," choosing from the following options:
100 points=$1.00
200 points is $2.00
375 points is $3.75
and so on….
As you can see in the screenshot of my own Boom Library below, I currently have 1281 points remaining to use. I always purchase the $50 option, as this makes it easier to quickly do the math and decide if a deck is "worth" the cost, as the decks range in price. You can preview the first 4 slides of any deck to see if you like it. Once you own the decks, you own them forever. Just like on Teachers Pay Teachers, you can continue to use them year after year.
Assigning Boom Cards to Students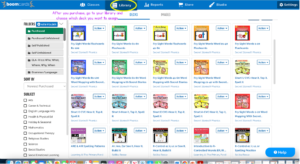 After you purchase a deck, you can go to your library to find them, and them choose which deck you want to assign to students.
I recommend doing this right before you release students to work independently. The reason for this is that I've had a few "over-achievers" try to do Boom Cards before school in the morning before the concept has been taught. It only takes a minute to assign, so if you can wait until school begins or just before the lesson to assign each deck, that works the best.
You can also make folders and store the decks by topic or standard, or in any other way that you wish.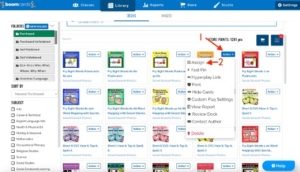 First, click on "Action"
Next, click on "Assign"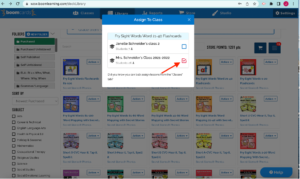 Choose which class you want to assign the deck to. (I have my regular second grade class in "class 1" and students that I tutor in "class 2").
After checking the box to select the class, you can then "x" out of that screen.
Students can then refresh their screens and the assigned deck will appear at the top of their list.
Student View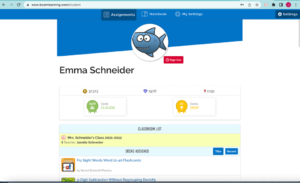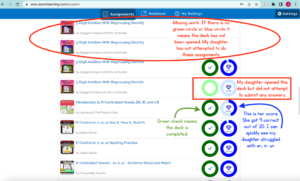 Reading Boom Reports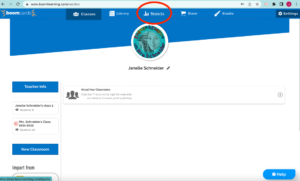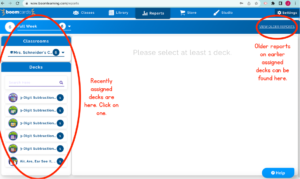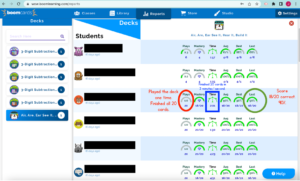 In addition to the information shown above, you can also get reports for each card so that you can identify common errors being made, or see which cards students struggled with the most.
To do this, just click on "title" when viewing the report.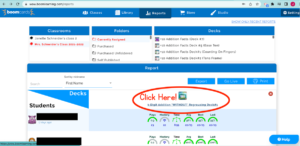 Then click on "Report by Cards"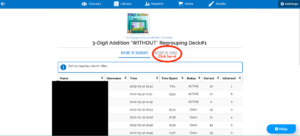 Now you can see the cards that had the most incorrect responses.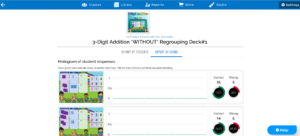 I hope that this "crash-course" on Boom Learning is helpful, especially to those who may want to use the new Secret Stories® Boom Cards in their classrooms, but were unsure of how to get started.

Secret Stories® Boom Decks
Below are some of the Secret Stories® Boom Decks available with short videos showing how they can be used.
"Short & Lazy" Vowel Practice
The Short Vowel CVC Word Mapping Bundle and the Short Vowel CVC "Hear it, Tap it, Spell it" Bundle include decks for practicing and reinforcing all of the "short & lazy vowel" sounds. (Decks may also be purchased individually.)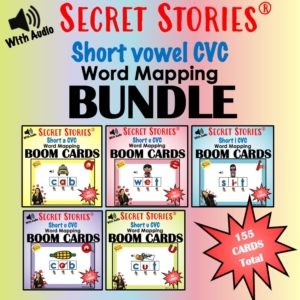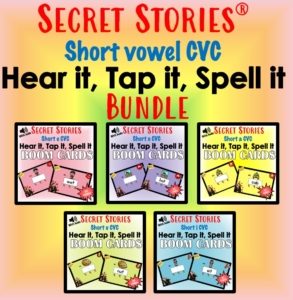 Decoding Sight Words with Phonics Secrets
The Fry Sight Word Mapping Bundle and the Fry Phonics Flashcards Bundle include decks for practicing and reinforcing decoding and encoding with Secret Stories® phonics sounds/spelling patterns. (Note: A Dolch Word deck will be released soon so as to align Boom practice with the Decoding Sight Words with Phonics Secrets Pack on Teachers Pay Teachers.)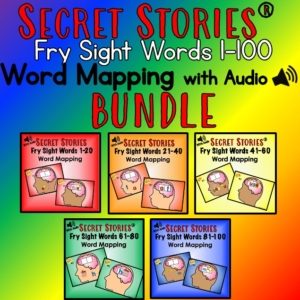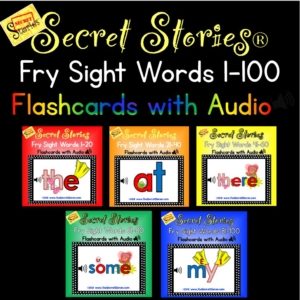 For more insight into these activities and everything else Secret Stories-related, join the  Secret Group on Facebook, and be sure to download all of the free resources in the group file! You can also subscribe to the Secret email for personal notifications delivered directly to your inbox.
💗Special thanks to Janelle Schneider/Engage & Inspire with Mrs. Schneider for this wonderful post!
https://www.thesecretstories.com/wp-content/uploads/2022/04/phoncis-activities-secret-stories-boom-1.jpg
1279
1280
Katie Garner
https://www.thesecretstories.com/wp-content/uploads/2018/07/Secret-Stories-Phonics-Method-Logo-1-copy.png
Katie Garner
2022-04-30 13:47:50
2022-05-01 16:47:50
Secret Stories® Phonics Boom Cards: Reinforcing Learning in the Brain