Displaying Secret Stories® Phonics Posters in the Reading Classroom
Everything You Need to Know
I love watching the kids use our Secret posters on the wall to read and write whatever they want. It's amazing what our youngest learners can do and how easily they can do it when we just give them the tools they need and let them 'play!'
Which Posters/ Kit Should I Get?
FOR USE IN PRIMARY CLASSROOMS (K-2)
If you teach at the primary grade levels, it's important that students have easy visual access to the posters from anywhere and everywhere they read and write in the classroom. This means that they need to be large enough for them to easily see, as they will be their lifeline for reading and writing ALL. DAY. LONG. That's why I don't recommend the Space-Saver Kit for use at the early grade levels. They are just too small for whole-class reference, and if kids can't see them, they won't use them. For primary grades, the Original, Fun & Funky and Decorative Squares Kits all work perfectly….as do the Porta-Pics for individual student reference in school and at home (if kids don't eat them!)
I recommend hanging all of the posters together on one wall (which will be your sound wall, or your "Wall of Secrets!") That is, with the exception of the Superhero Vowel®, Sneaky Y® and QU posters, which should be hung above or in place of their "like-letters" in your existing classroom alphabet.
Can I use my existing alphabet anchors?
Is there a Secret Stories® Alphabet?
Yes! I actually created the Secret Stories® Better Alphabet™ Anchors and individual student Mini-Mats for all of the reasons listed above. You don't have to use them if your alphabet is "elephant-free," as you have the Secret Stories® posters you need to use with your existing one. However, if elephants are everywhere, the Better Alphabet Anchors might just be the better option.
Due to the remote learning needs this year, I created a video version of the original Better Alphabet™ Song (which is song #1 on the CD or music download that came with your Secret Stories® kit). It's been extremely helpful for online learning and student home practice, as the graphics are identical to the ones on the Better Alphabet™ anchors (and mini-mats) providing for consistent student reference. Like the Better Alphabet Anchors, you don't need the video to sing the Better Alphabet Song that's in your kit, but it is helpful, especially in remote learning. Below is a video about the Better Alphabet, as well as the video.
Click to view the Better Alphabet™ Video on TpT
Both the classroom anchors and individual student mini-mats are available in digital format, with the Superhero Vowels®, Sneaky Y® and /qu/ graphics already embedded so you don't need to use the ones in your kit.
Where's the best place to hang the posters in my classroom?
I can tell you from personal experience that finding a place where kids can easily see ALL of the posters from everywhere they read and write in the classroom is easier said than done! They will be referencing them constantly— in whole group, small group, circle time, centers, and of course reading and writing at their desks. The posters will be their "lifeline" for reading and writing across the entire instructional day!
If kids can't see them easily, they will be constantly out of their seats to locate the the Secrets they need to read and spell words….and it will drive you crazy! It's especially difficult in kindergarten and first grade classrooms, given how much "stuff" we have at the early grade levels, which makes easy visual access virtually impossible….aside from posting on the ceiling, which one teacher actually did!
If my posters are all on the wall, what can I use for "hands-on" lessons and activities with the Secrets?
It's always handy to have an extra set of Secret visuals on hand, not just for lessons, but also for games and activities. The best "hands-on" options are the Dual-Use Placards and Flashcards, as they are sturdy, small and convenient for student use. The small "cut-apart" cards in the back of the Secret Stories® book are also helpful for very small group work and one-on-one practice. You can view all of these below.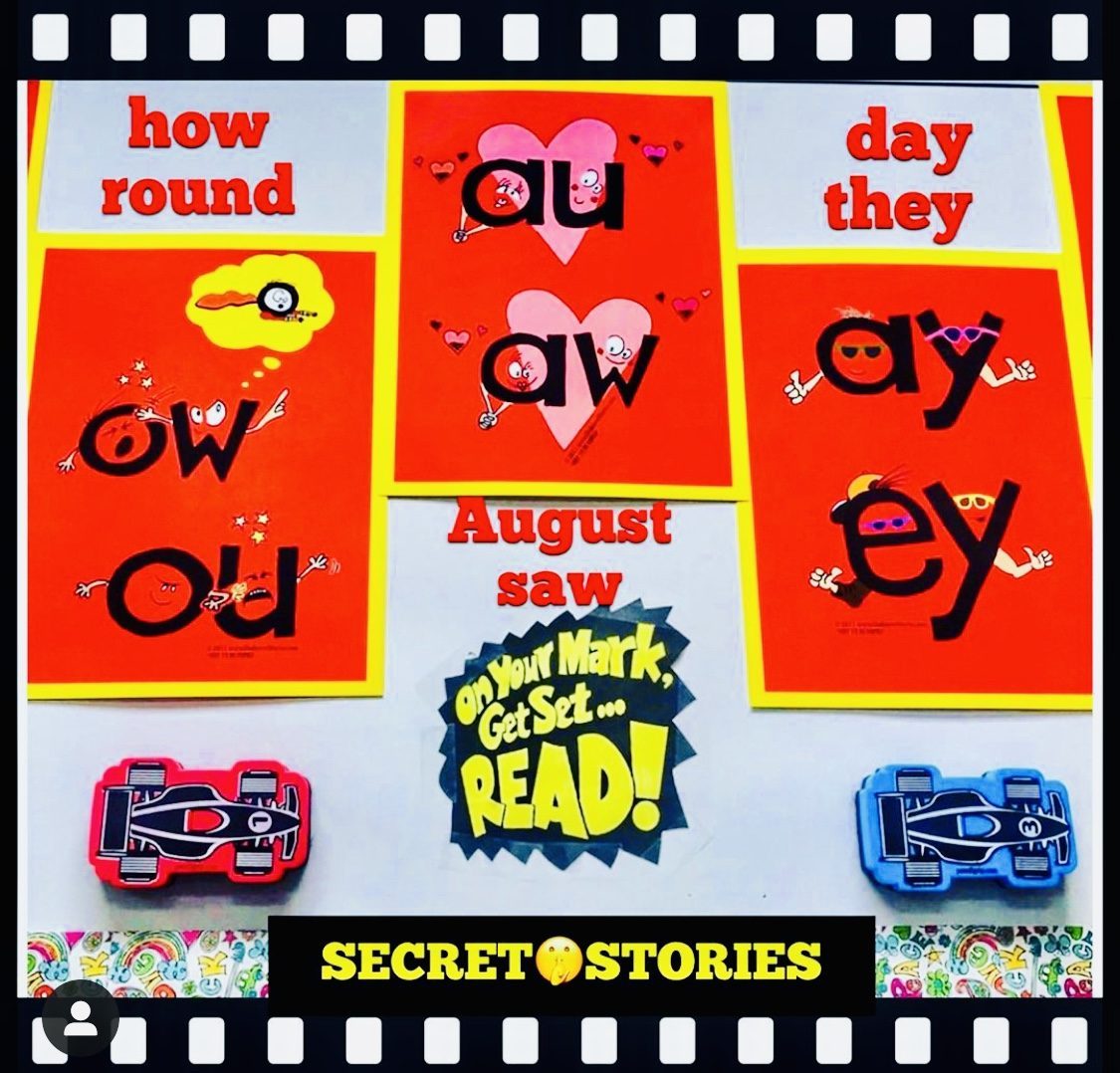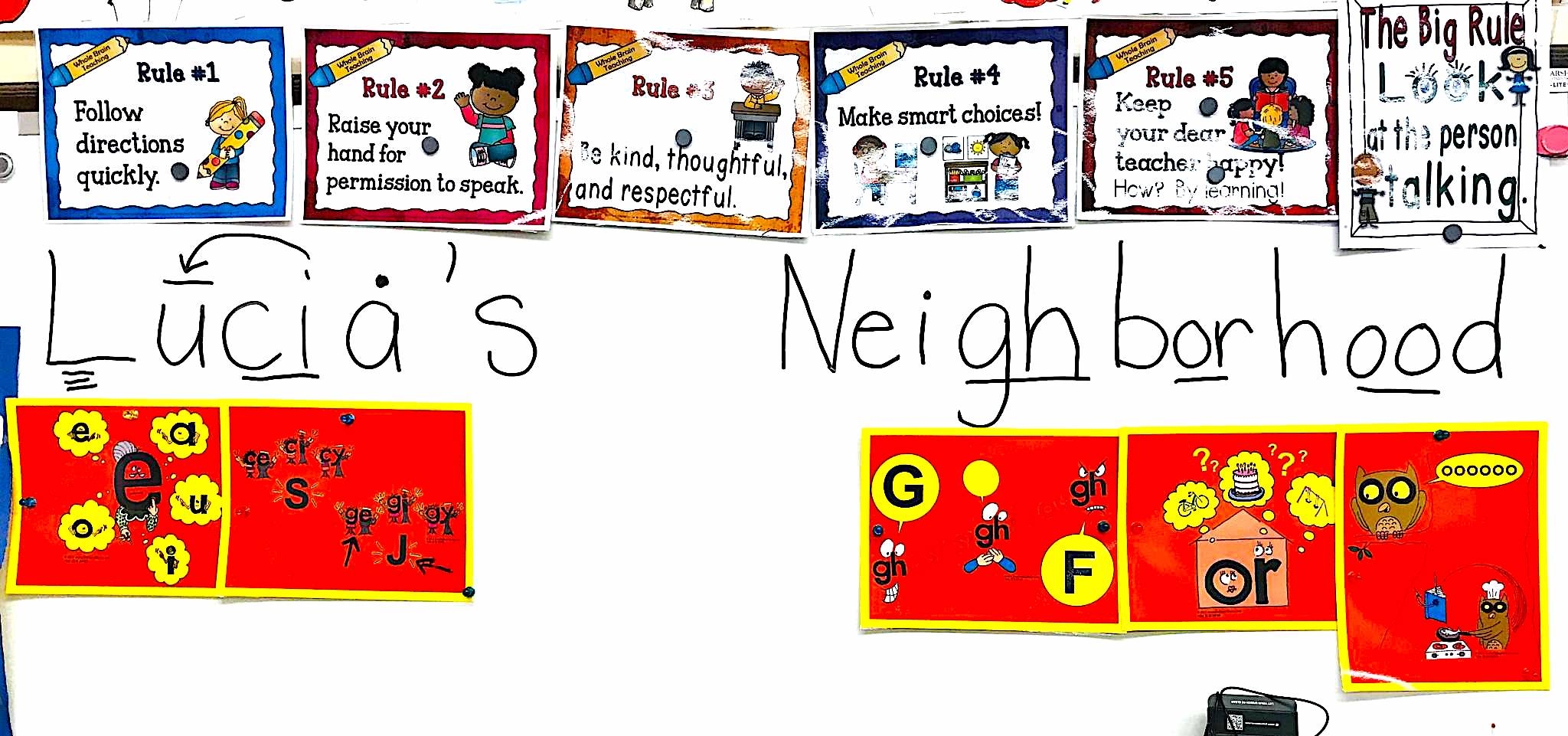 In the back of the book are "cut-apart" cards for use very small groups and one-on-one work.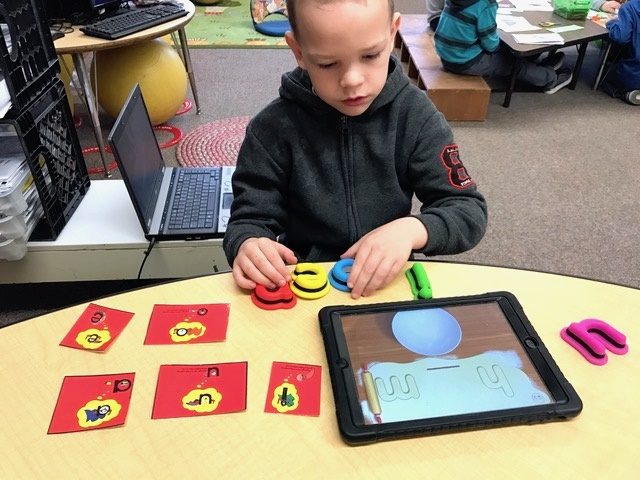 If I upgrade my Kit, what can I do with my old Secret Stories® posters?
Some schools and districts intentionally order extra posters sets to display in common areas where kids tend to congregate—in the hallways, the cafeteria line, the media center, the front office wall, etc… This is a great way to spur conversation between students about "who knows what Secrets," as well as to educate parents on what the Secrets are and how they're used. It also helps to build learners' visual acuity for increased pattern-recognition when working with text. (Schools will sometimes also purchase extra copies of the book to house in a parent resource room for parent check-out. These copies are often paid for with School Improvement Funds for Home/Parent Involvement.)
I wish I could see how other teachers display the Secret Stories® posters in their classrooms!
And here are some close-up pics….
https://www.thesecretstories.com/wp-content/uploads/2015/08/IMG_8142.jpg
1024
1024
Katie Garner
https://www.thesecretstories.com/wp-content/uploads/2018/07/Secret-Stories-Phonics-Method-Logo-1-copy.png
Katie Garner
2015-08-14 16:33:00
2021-01-31 18:50:08
Displaying Secret Stories® Phonics Posters in the Reading Classroom