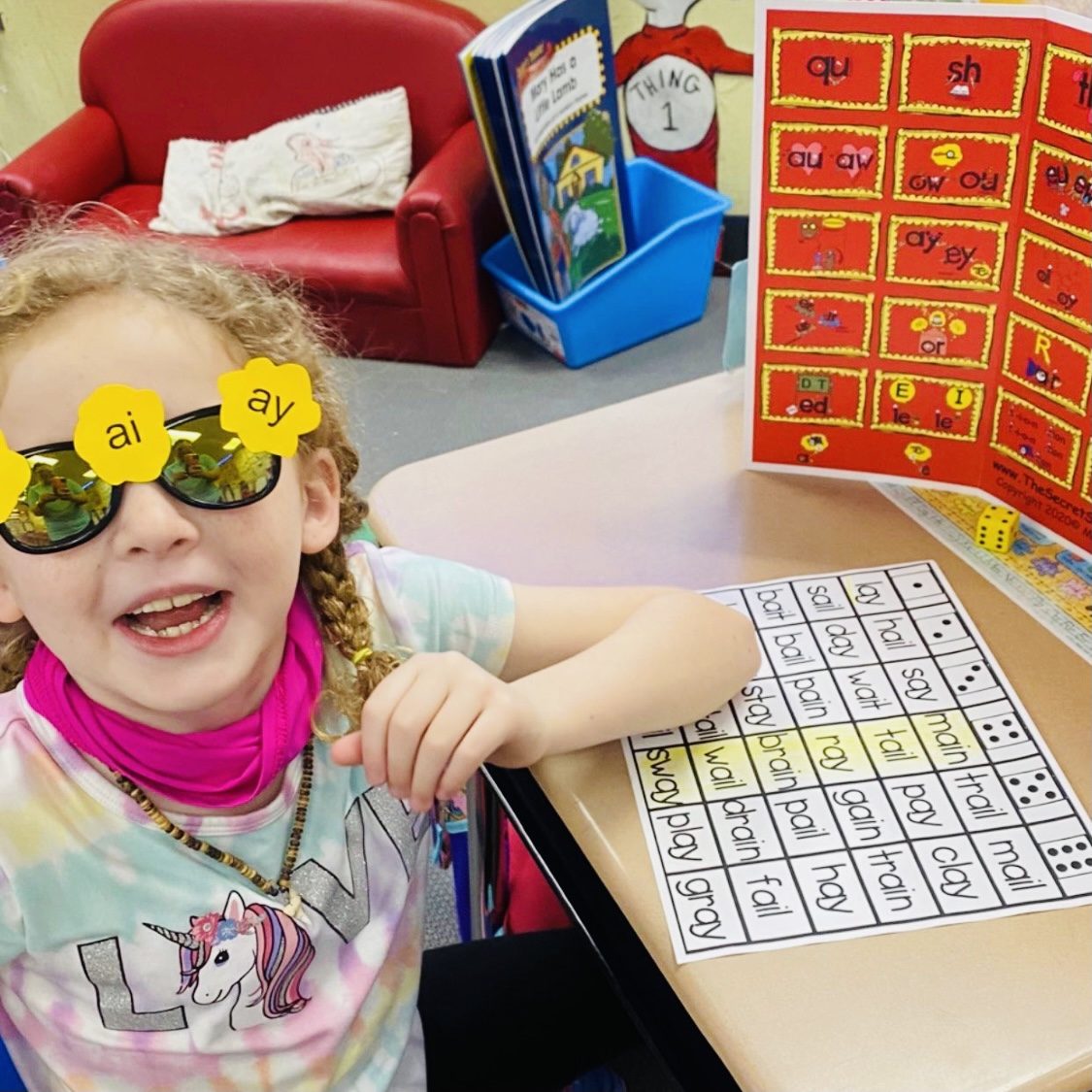 A guest post by first grade teacher, Karrie Kehrig.
Teacher Overwhelm
It was the first week of October, and even though school hadn't started until the end of August, I was already feeling overwhelmed and exhausted.
As a hybrid classroom for distance learning, I have 22 students in person and 7 online, and teaching both groups well is anything but easy. We were only a few weeks into this school year when I experienced one of those special "teacher-moments" when you know that you're doing something that is perfectly right and you can't help but to smile! I'll come back to this in just a bit, but first, a little background…..
This year is my 21st year teaching, though I took ten years off in the middle of my career to raise my three children. I began teaching in the late 1980s when whole language was all the rage, though I had grown up in Catholic schools where phonics was the focus. I have seen and lived through both sides of the teaching debate and the resulting "Reading Wars" over what works best when it comes to teaching reading.
Fast forward to the 2012 State Reading Conference….
If you've never been to a reading conference before, then you should know that you're usually just hoping for a few nights away to clear your mind, and maybe one or two good ideas that you can bring back to use in your classroom. However that year, the Michigan Reading Conference changed my life forever.
If They Don't Know the Phonics Secrets, How Can They Read the Words?
I will never forget that day. I was walking around trying to decide what speaker to go see, when I noticed a room jam-packed with people. I told my friend that we needed to go and see what all the excitement was about.
I walked in and Katie Garner was on the stage, talking about how au & aw were "in love," and how they got so embarrassed when they had to stand together in words, they always put their heads down and said, "Awwwwww…." (as in:  saw, paw, cause, August, etc…) Katie further explained that this was a "grown-up reading secret," and then she said something that really struck me, which was "If kids don't know the phonics secrets, how can they read the words?"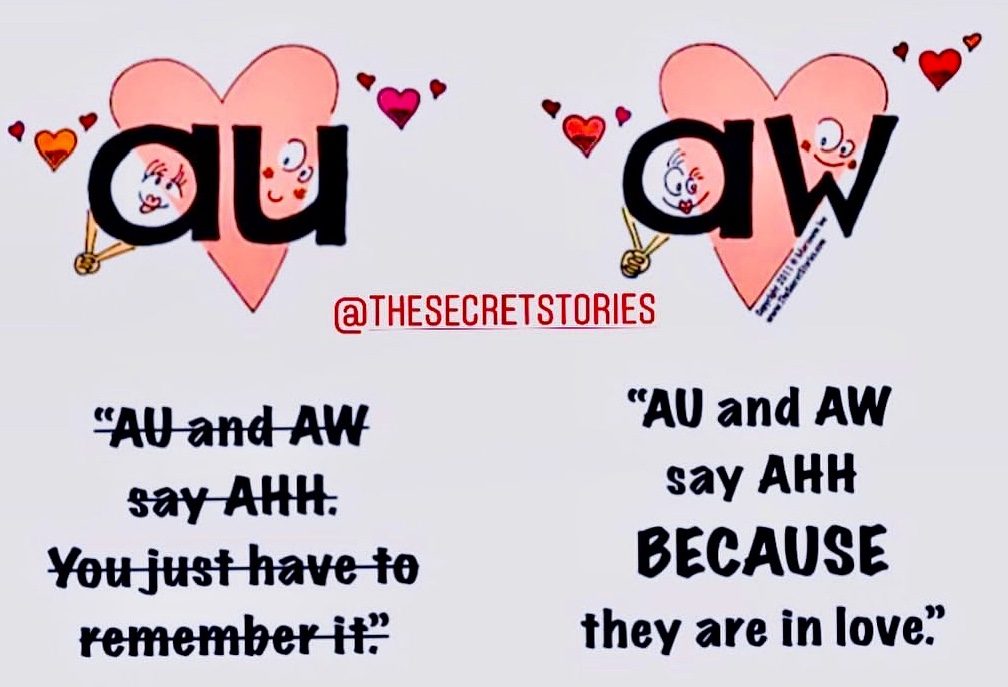 The more Katie talked, the more everything made sense to me. I just kept listening as she shared information about early brain development, and how the earlier-developing, emotional part of the brain could be easily accessed and "tricked" into remembering phonics skills through social-emotional (feeling-based) stories, especially "secret" stories!  This was really intriguing to me, as was the idea of being able to make sense of letter sounds and phonics for my students.
Everyone in Katie's session was given a free download pack with the anchor posters and activities used in the session. That was great, but I wanted all of it, so as soon as I got home, I immediately bought the Secret Stories Kit so that I could start using it in my classroom.
Looking at Words vs. Reading Them
When I first started using Secret Stories, I'm embarrassed to say that I didn't listen to Katie and only put up a few posters, as I just didn't think that I would have time to teach them all. We have a reading series AND a phonics program, as well as writing, math, science and social studies curriculums that we have to follow, so my initial plan was to just use the Secret Stories as yet another curriculum. Oh boy, was I ever wrong!!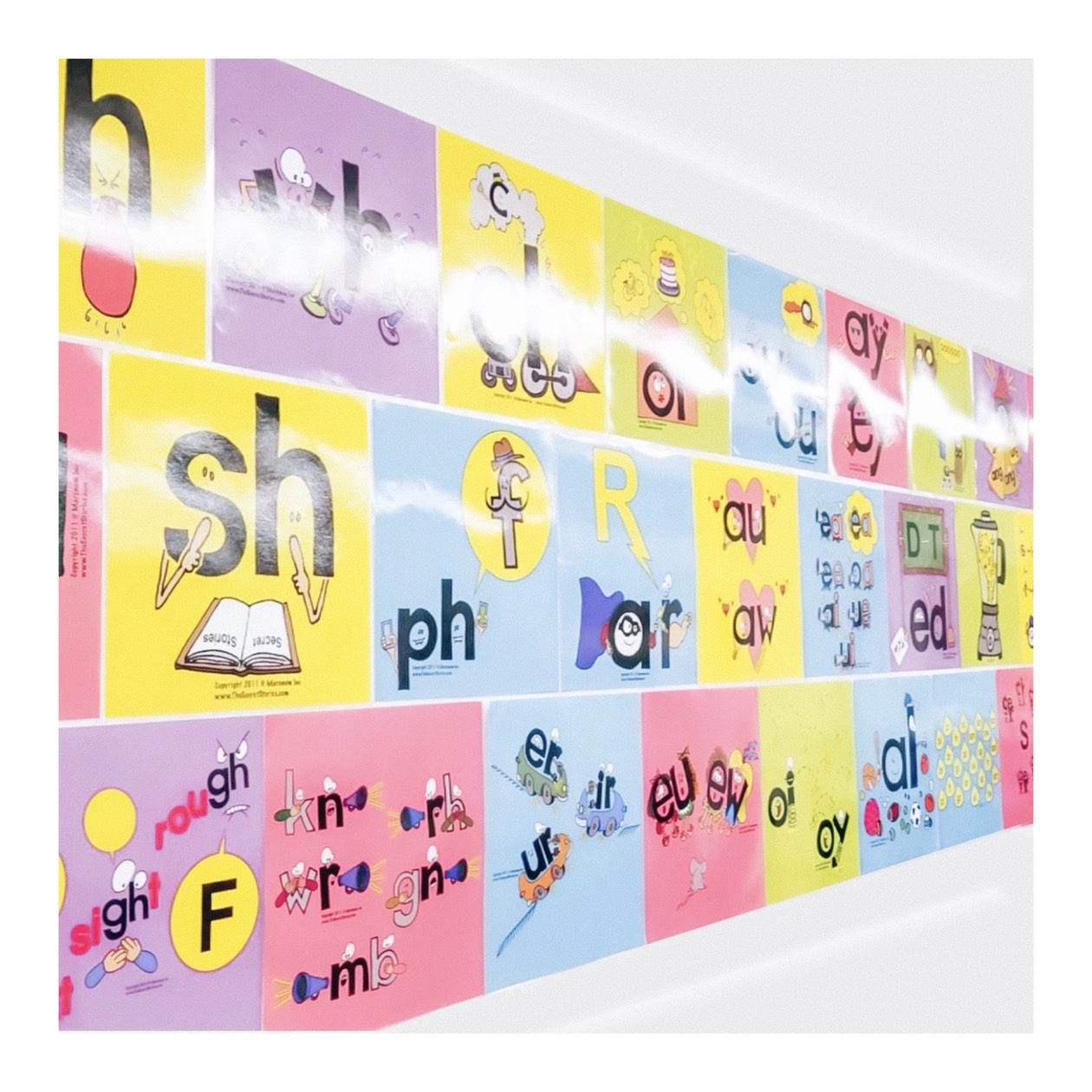 I quickly realized that the more Secrets I shared, the more words my kids could read and write on their own, and that the more they knew, the more they wanted to know! This was eye-opening for me, as I now understood why Katie was so adamant in the book about putting up ALL of the posters up on Day 1. We are working with words all day long across all areas of the curriculum, and the Secrets are IN those words! If kids don't know the Secrets, how can they read the words?!
Typically in kindergarten and first grade, we just look at the words and say them, as we don't actually expecting the kids to read them.
For example, we look at and say the words on our daily calendar every day, but kids aren't actually reading them. How could they when in words like August, the letter /A/ is making the short /o/ sound, or in words like: January, May, July and Monday, the letter /y/ is making every sound other than the one that kids actually know? And so, we just point to the words and say them.
But where's the instructional value in just looking at words day in and day out, or even worse, in all of the time we spend memorizing words because kids don't know how to read them? When you can't read the words, looking and memorizing are the only options, especially for beginning grade learners who don't even know all of the letter sounds.
Phonics Instruction that Makes Sense
But with the Secrets, I can just tell a story about au/aw being in love in the word August, or about Sneaky Y® and the sounds he makes when he's at the end of a word (as in: July, May & January) and thinks no one will see him!
All I have to do is tell a Secret and my five and six year olds instantly understand WHY the letter /y/ makes the many different sounds that it does, and not just on our calendar, but in every other word that they see….all day long!
Why wouldn't I tell them the Secrets?
Especially since our daily calendar provides a perfect "built-in" opportunity to practice using them in a familiar context, so it's a win-win! And likewise in math, social studies, and even at lunch! Text is everywhere….and so are the Secrets!
Once you start seeing them, you can't stop….and your students can't either! They will start finding them everywhere in every subject area across the entire instructional day and even at home! My kids point them out all the time– in math problems, science and social studies lessons, and even religious studies (as I teach at a Catholic School). We find Secrets in everything we do ALL day long.
Check out some of the Sneaky Y® words that one student found in his story with Secret Stories® Phonics Task Cards (which can be with any text).
Don't Wait for the Reading Series or Phonics Program to Teach It
By putting up ALL of the posters, I was able to explain the sounds of letters in words that we see everyday, long before our reading series formally introduced them. This was a huge timesaver, especially since words like play and they were on our Week #1 sight word list, but the ey/ay phonics skill needed to read them wasn't supposed to be introduced (by our reading series) until mid-January. That meant countless hours, weeks, and months of instructional time that would have typically been spent memorizing these words was now spent reading them….plus many more!
This realization that I didn't have to "wait" until mid-January to teach the ey/ay Secret that my kids needed now was huge! By not waiting on the reading series to teach the Secret, my students were actually able to make better use of it—as now they could actually read it! They were finding the Secrets in every story, and they were so excited!
I really enjoy using Secret Stories with our reading series, not only because kids could actually read the stories that were in it, but because it provided endless opportunities to introduce more Secrets while reinforcing the ones they already knew. It also allowed me to shift instructional focus to comprehension strategies, as students were no longer overwhelmed with memorizing and decoding.
More than anything, I began to realize what a huge disservice I'd done to my students that first year by holding back so many Secrets and waiting for my reading series to introduce them. But we live and learn, and when we know better, we do better….which brings me back to October.
The Phonics Code Kids Need to Read and Write
We were working on the short /e/ sound, and Cecilia needed to write a sentence with a short /e/ word in it. She did that, and so much more!
Not only did she spell the word wet correctly (Thank you Better Alphabet™ Song!), she was able to use the ey/ay Secret (these letters are just too cool, like Fonzie, and always stick up their thumbs and say, "Ayyyyyyyeeeee!") to build the word rayn, too!
Even though the spelling isn't technically correct (as she didn't know the Secret for /ai/ yet), Cecilia "owned" enough of the phonics code to write the word that she wanted….and this was so much more exciting to me than the fact that she spelled the word wet correctly!
You see, my class learned about the ey/ay Secret in the first week of school when the word "play" came up in a story. Unlike my first year, I didn't wait to tell it until mid-January when our reading series introduced it. Instead, I took advantage of the first opportunity I had, and I used that teachable moment to give my students a valuable piece of the code they would need to read and write every day. And use it they did.
Cecilia's writing shows that she is starting to "play" with the critical sound-symbol ("speech to print") connections that are the foundation for all reading and writing. She hears the long /a/ sound in the word rain, and she knows a Secret that she can use to convert that sound to print. With each new Secret she learns, her power as a reader and writer grows. She is able to make sense of the sounds letter make in words all around her, in books and on billboards. Text is everywhere, and she's reading it!
This is such a tremendous accomplishment for a first grader at the beginning of October, and there is no doubt in my mind that as Cecilia learns more Secrets and gains more text experience, she will spell rain with /ai/ and not /ay/…… but for now though, I am smiling!  When kids know the phonics Secrets, they CAN read the words!
Karrie Kehrig is a first grade teacher at St. Lawrence Catholic School in Utica, Michigan. She has an MA in Early Childhood Education from Oakland University and a BS in Science from Siena Heights College. (Connect with Karrie in NEW Secret Stories® Support Group on Facebook here.)
---
I am so grateful to Karrie for taking the time to share this post and provide a glimpse into what hybrid learning looks like in her classroom this year!
And to "run" with Karrie's point about just how powerful early ownership of the phonics code can be for beginning grade learners, I wanted to share some "end of year" kindergarten writing samples, along with some first grade writing samples further down, below. The Secrets are everywhere throughout their writing, as they are the tools they use to write about dolphins, kings and queens! For more on how to fast-track phonics for beginning writing, check out the video below, and subscribe on Youtube for more.

You can also download the FREE Secret Stories® Fairy Tale Writing Pack (used in some of the writing samples below) here or by clicking on the pic below.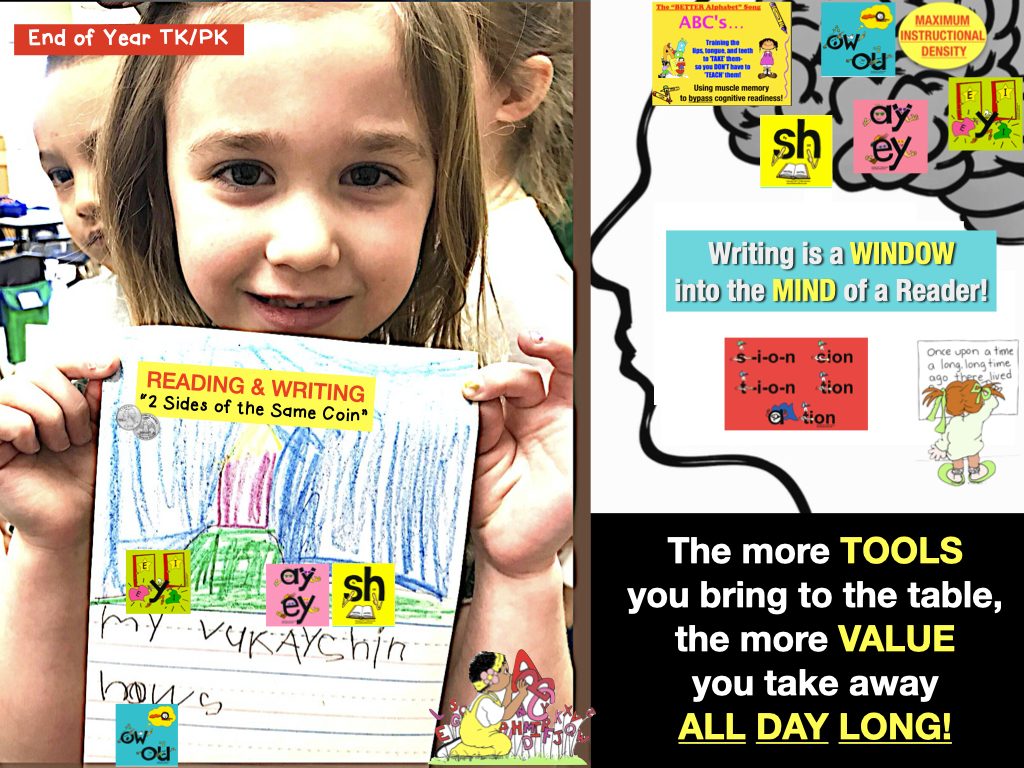 To see more kindergarten writing samples click here, and to see the compounded skill progression of the Secrets in first grade, click here.

If kids don't know the Secrets, how can they write the words?
---
https://www.thesecretstories.com/wp-content/uploads/2020/12/phonics-fun.jpg
1125
1125
Katie Garner
https://www.thesecretstories.com/wp-content/uploads/2018/07/Secret-Stories-Phonics-Method-Logo-1-copy.png
Katie Garner
2020-12-29 21:32:50
2021-01-31 15:21:42
When Teaching Phonics Feels Perfectly Right