A guest post by Elizabeth George, a mother and "unexpected homeschool teacher" to a neurodiverse first grader with Autism.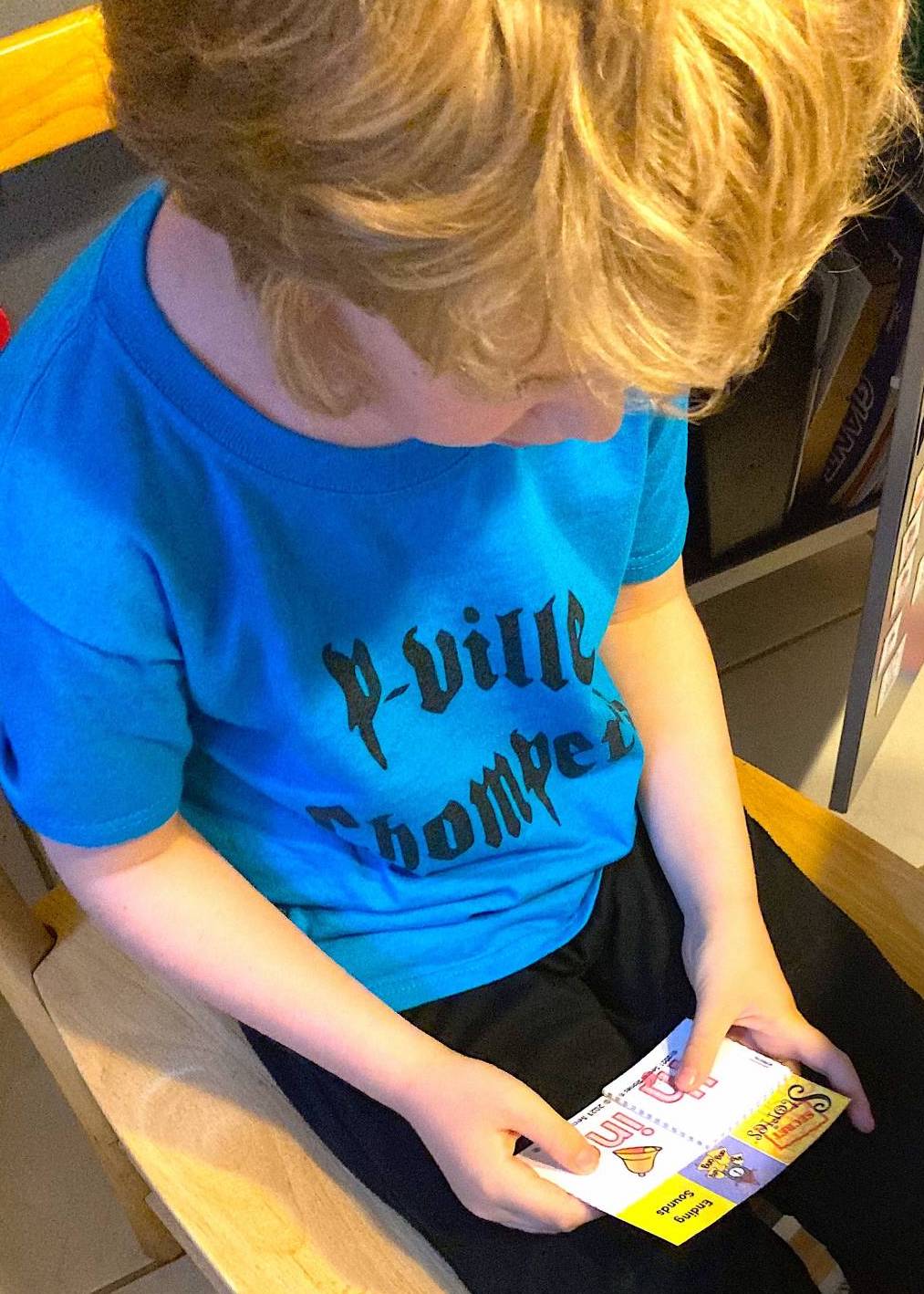 Teaching Neurodiverse Learners
I am the parent of a neurodiverse child, which means that my child's brain is wired differently. This causes him to think, learn and sometimes behave differently. This catchall phrase, "wired differently," includes everything from ADHD or learning disabilities (like dyslexia), to children who are gifted or autistic. It's a term used to describe kids who move through the world in a less typical way.
If you're like me and have a child whose brain is differently wired, you may have found yourself unexpectedly homeschooling during the pandemic. No sooner had we learned how to navigate special education advocacy, than our focus had to shift to the actual educating. Neither I, my husband, or our children knew for how this was going to go on. I'm not going to lie, it was a steep learning curve for all of us, but it was one we had to climb for my amazingly resilient, curious, anxious and autistic first grade son.
In kindergarten, it became apparent that dyslexia was mixed into our son's learning profile. An education that began with a team of seven special education teachers, support professionals and trained therapists, was now down to just his father and me, along with my parents, who also live with us. Now, upon finding myself unexpectedly and solely responsible for the monumental task of teaching my struggling reader, I went to the experts. I read, watched, and listened to everything I could for several hours each night. What I found was that several years ago, there had been a "reading war" that no one had won. However, proponents of both sides (Whole Language and Phonics) did appear to have come to a truce, and that truce was known as Balanced Literacy.
Both sides, those advocating "phonics" (decoding letter sounds) and those advocating "whole language" (learning whole words by sight) seemed to make good points, and so in my confusion, I contacted the Education Department at the University of Texas. (Note to Special Needs Parents: Universities offer tons of free resources and training courses as part of their research. I've taken the Behavioral Tech certificate training for applied behavioral analysis (ABA), communication training for Speech therapists, and much more all for free. Google search your local university's Education, Special Education, Child Development, Neuroscience, and Psychology Departmental Studies, which are usually listed on each Department page website.)
The Science of Reading
As it turned out, the University of Texas was doing a study on reading for kids with learning differences. Unfortunately, my son was too young to be eligible. I asked for an exception, but the professor in charge gave me access to his doctoral students to ask questions and find out about the most effective resources, instead. Lost and worried, I scheduled a call and received excellent direction from an amazingly sweet doctoral student in the UT's Special Education Program. I was advised to evaluate of the effectiveness of any program based on whether it was aligned with the "Science of Reading," a term I had never heard. So deep into the rabbit hole I went, researching everything I could find…and I'll save you the weeks and/or months of research by giving you the following terms to speed your search:
Science of Reading
Scarborough's Reading Rope
Simple View of Reading
Florida Center for Reading Research
National Reading Panel
Multisensory Instruction
Orton-Gillingham Curriculum
Phonemic Awareness
Orthographic Mapping
If your child's brain is wired differently (ASD, ADHD, SPD, dyslexic, etc.) or if they are disabled, then you know that what works for most neurotypical children may not work for yours. The other sad fact is that there are many so-called "cures" and "quick-fixes" being advertised to parents of special needs learners. Most of us have fallen for one or more of these ads for apps, programs, books, diets, supplements etc.., promising speech gains, reading improvement, better focus, reduced meltdowns, and the like. For special needs parents, finding truly effective resources for your child is like finding the proverbial "needle in the haystack."
After purchasing a few different programs and curriculum, I was running out of patience and money….AND MY KID STILL COULDN'T READ. What's worse, practicing all of these different programs with him had become a nightmare, and if I'm honest, our relationship was suffering. There is nothing worse for a parent than watching your child struggle and not knowing how to make it better.
In an attempt to find out why nothing I did was working, I started reading what teachers were posting in Facebook groups, like The Science of Reading – What I Should Have Learned in College. Surely, if anyone knows about reading, it's teachers, right? Time and time again, they suggested the Secret Stories to jump-start reading, especially for beginning and struggling readers. They were very clear that while Secret Stories was only one piece of the reading puzzle, it was an extremely important one—which was giving kids easier access to more of the phonics code, faster.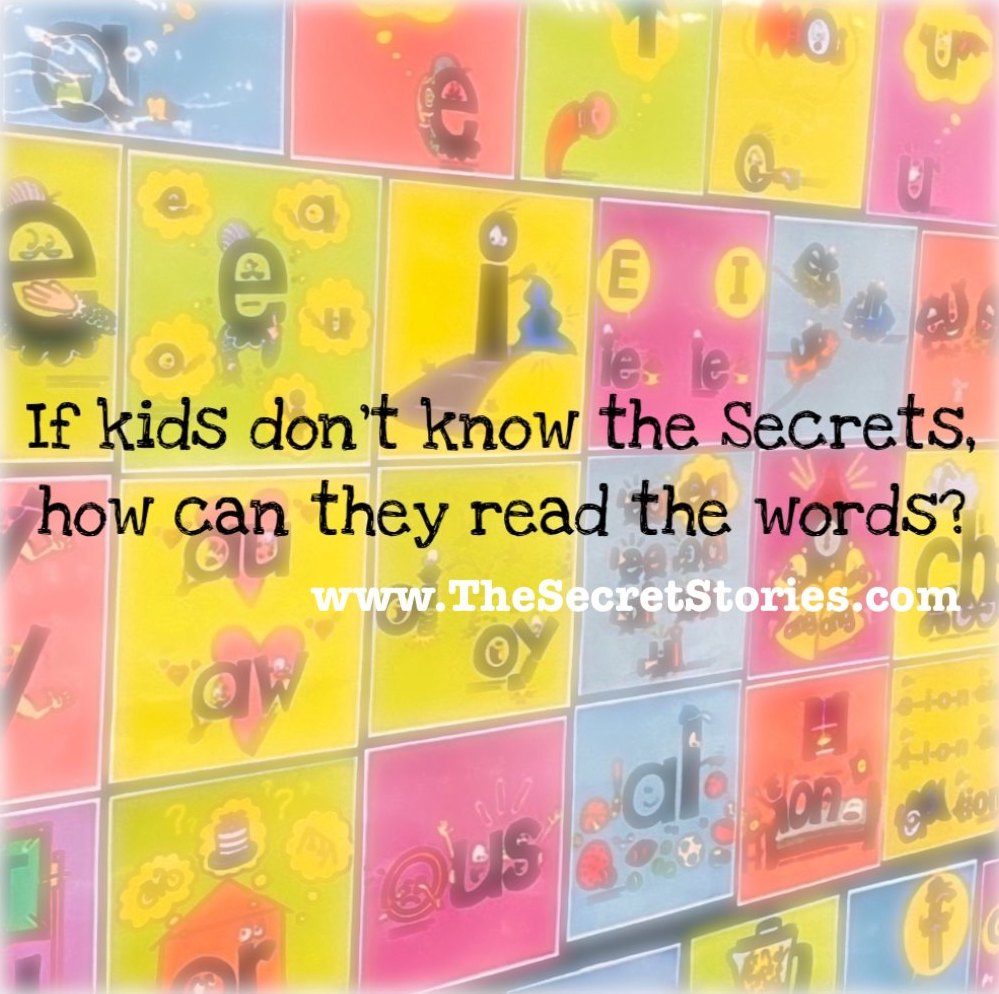 In fact, the Secret Stories came up so often that I had to find out what it was, and see whether it might be the piece that my child was missing… or, if yet again, it was something that worked only for neurotypical kids. So I found the Secret Stories Facebook Group and  watched some of Katie Garner's conference presentations on YouTube and within 30 minutes, I was hooked. No, not hooked…I was INSPIRED! (Katie is the creator of Secret Stories and she presents at conferences around the world, many of which are posted on YouTube.)
So, I proceeded to watch every YouTube video associated with her name to learn everything that I could, but it still had to pass the "taste" test by the boss—my very intelligent and anxious autistic son. By this point, he'd been through three different reading programs….and lots of tears. After so much failure and anxiety (his and mine), I gave him just a taste of one Secret Story. I told him the "secret" about the letters that were "in love," which are au/aw. This one that I'd heard Katie tell so many times in the videos I'd watched and the image was also free to download on the website. I presented it just as Katie had explained, telling my son that I had a "big, grown-up Secret about reading," and I really played it up, copying all of Katie's acting gold!
HE….WAS…HOOKED!!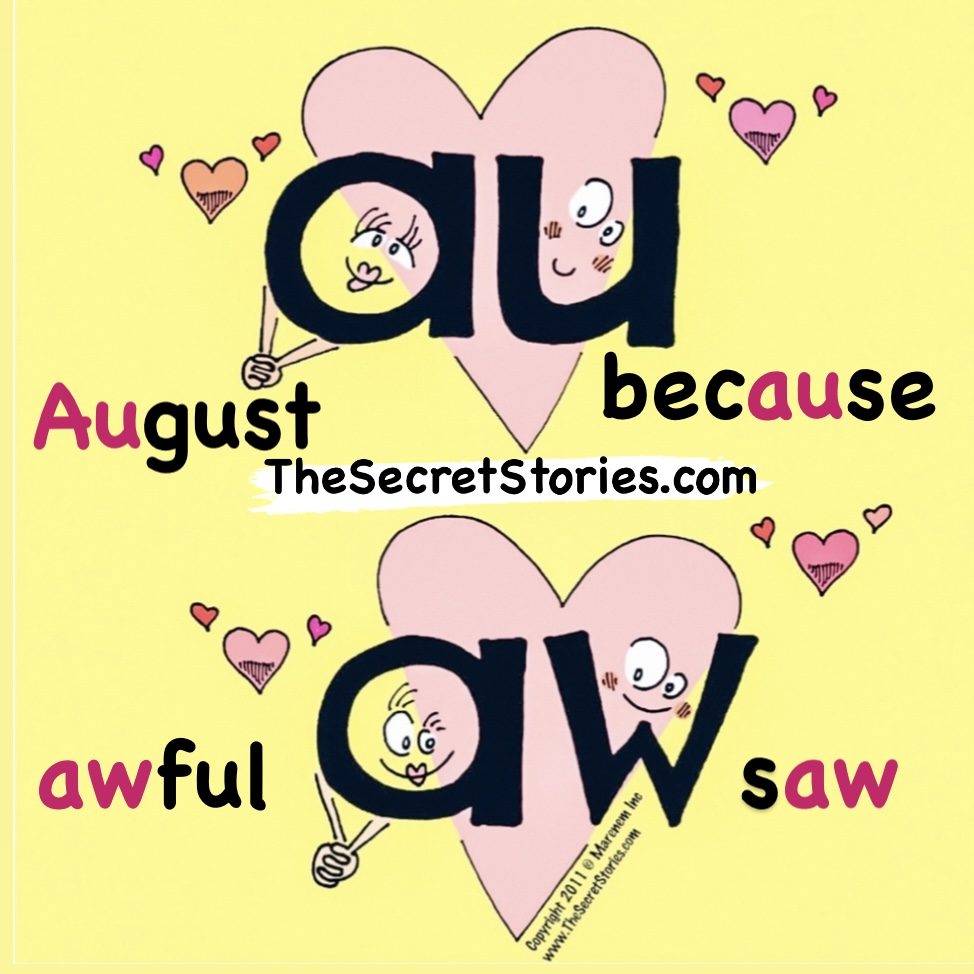 "Mom, are there more?"
Now if you're a parent of a differently wired kiddo, then you know how extremely amazing it is to get your kid's full attention with anything on the first try…we're talking out the gate, pure interest! He actually said, "Mom, are there more?" I almost cried, but that wasn't part of the script, so I held it together. Then cool as a cucumber, I told him that I'd check, but because these were "grown-up" reading Secrets, he may not be big enough yet to learn more, and so I would have to ask the Secret Stories teacher first. ;-)
The rest of the day, we circled the aw/au in every word that we found it, even food labels! Everywhere we saw those letters, we would use the secret to sound-out (decode) the words. The biggest win wasn't just that my son remembered the phonics sound through the story, but that he was actually able to apply it…. AND enjoy doing it!!!
Excited about this turn of events, I staged my next test, which was to sing The Better Alphabet Song. I had heard Katie explain in the videos that the Better Alphabet isn't really a song, but a muscle memory exercise that fast-tracks mastery of the individual letters and sounds in 2 weeks to 2 months. Rather than relying on under-developed "higher-level" cognitive processing for skill mastery (which typically takes a year in kinder), the Better Alphabet targets earlier-developing (and more easily accessible) muscle memory pathways (in the lips, tongue and teeth) to connect the letter names to their sounds and take them in fast. My son had already been working on learning the individual letters sounds for years now, so what's two more months?
So, I set my plan up, telling my son that if we learned the letter sounds with the Better Alphabet, that would surely prove to the "Secret Teacher" that she could trust us with the rest of the Secrets. Honestly, as I'm typing this, I can't believe it happened, but he BEGGED me to watch/sing it—over and over and over again. One week later, he had all of the individual letters and sounds down pat! And then he immediately started asking me if the teacher had sent the Secrets yet. That was it, I was sold. I ordered the Decorative Squares Kit and I was ready to live, eat and breathe these Secrets! This was what success looked like, and we could both taste it!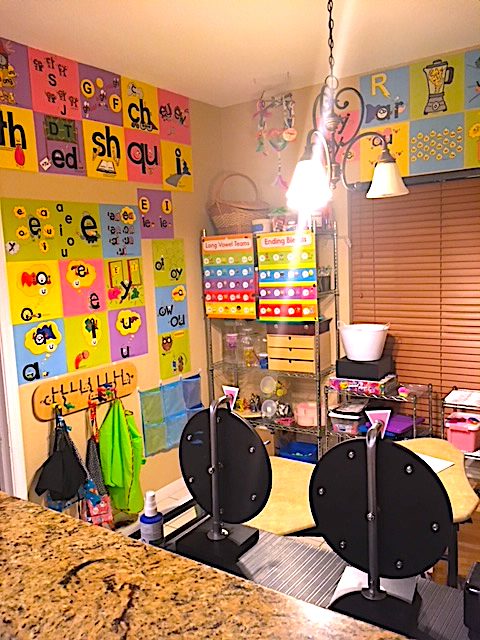 (Note: The Decorative Square posters are actually part of the classroom kit, but if you don't have the wall space to put up all of the big posters, you can get the Parent/Home Bundle instead, as it's made specifically for home use.)
For perspective, I should share that I actually have two sons, and that my "neurotypical" four year old is just along for the ride, singing and watching the Better Alphabet on video along with his brother. That said, after two weeks, my four year old didn't just know the letter sounds, he was using them to sound out three letter CVC words (i.e. cat, bit, dog, mom, dad, etc..). My mind was blown! I hadn't even tried to start teaching him yet, aside from just reading to him. I was ecstatic about BOTH their progress, and now all of us were stalking the mailbox, waiting for our "Top Secret" Secret Stories book!
A "Backdoor" for Learning
Up to this point, I'd accumulated all of the ingredients that I needed to teach my son to read except the Secret Stories. I had Orton-Gillingham SPIRE Curriculum (since Secret Stories is not a "program"), Heggerty (for phonemic awareness, since isolating sounds in words was a particular weakness for my son), Usborne Books (for background knowledge, since kids can't comprehend what they have no knowledge about), and even some extra "sprinkles" on top in the form of the Magic School Bus Science Club and Usborne Coding for Beginners with SCRATCH. But without the Secret Stories, these ingredients just wouldn't "bake," and my kids didn't want to eat it. Knowing the Secrets gave them access to phonics skills in a way that their brains were ready to hear and understand.
The Secrets bypass the struggle. They are not magic, and Katie is not an actual unicorn (although it feels like she is!) She just uses neuroscience to carve a path for learning to read that goes straight through the brain's backdoor, bypassing obstacles that many learners face when forced through the traditional "front"—especially those like my son.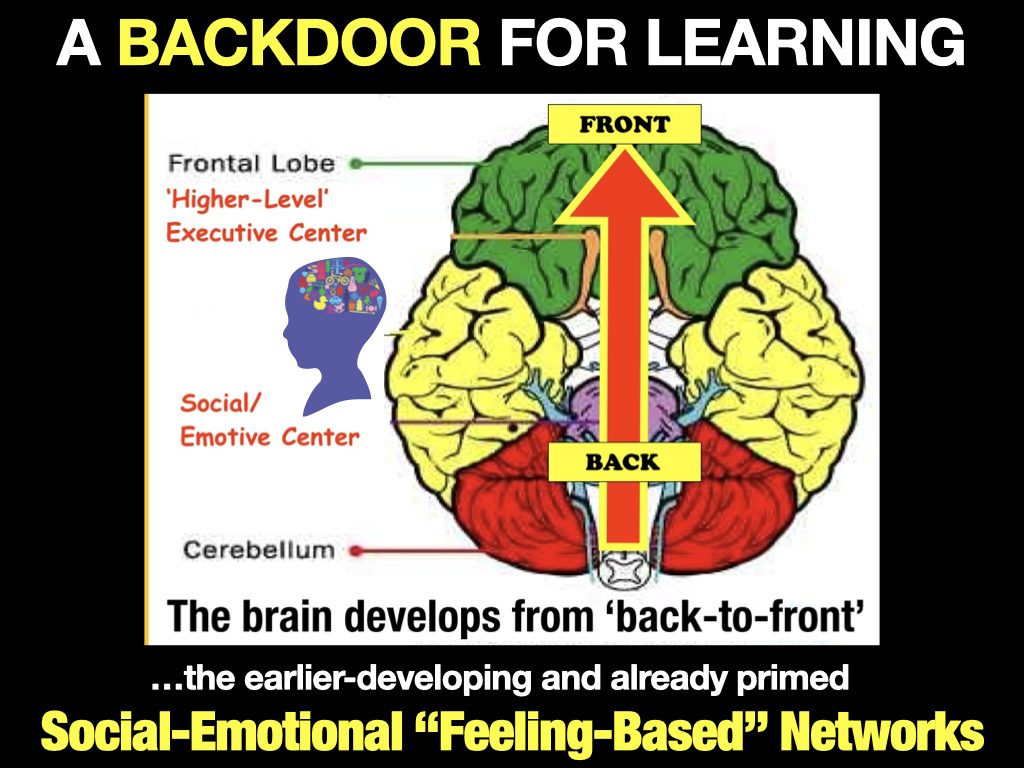 As Katie explains in this video clip, the brain develops from back to front—with higher-level, executive functioning/ processing centers taking far longer to develop than the early-developing "feeling" based networks. Like so many kids who are wired differently, my son's executive functioning (which is what Katie calls the "front door") is impaired. He struggles with the order of things, multi-step instructions, short term and working memory, auditory processing deficits, knowing left from right, and more. But the Secrets don't rely on the front door like traditional phonics programs do.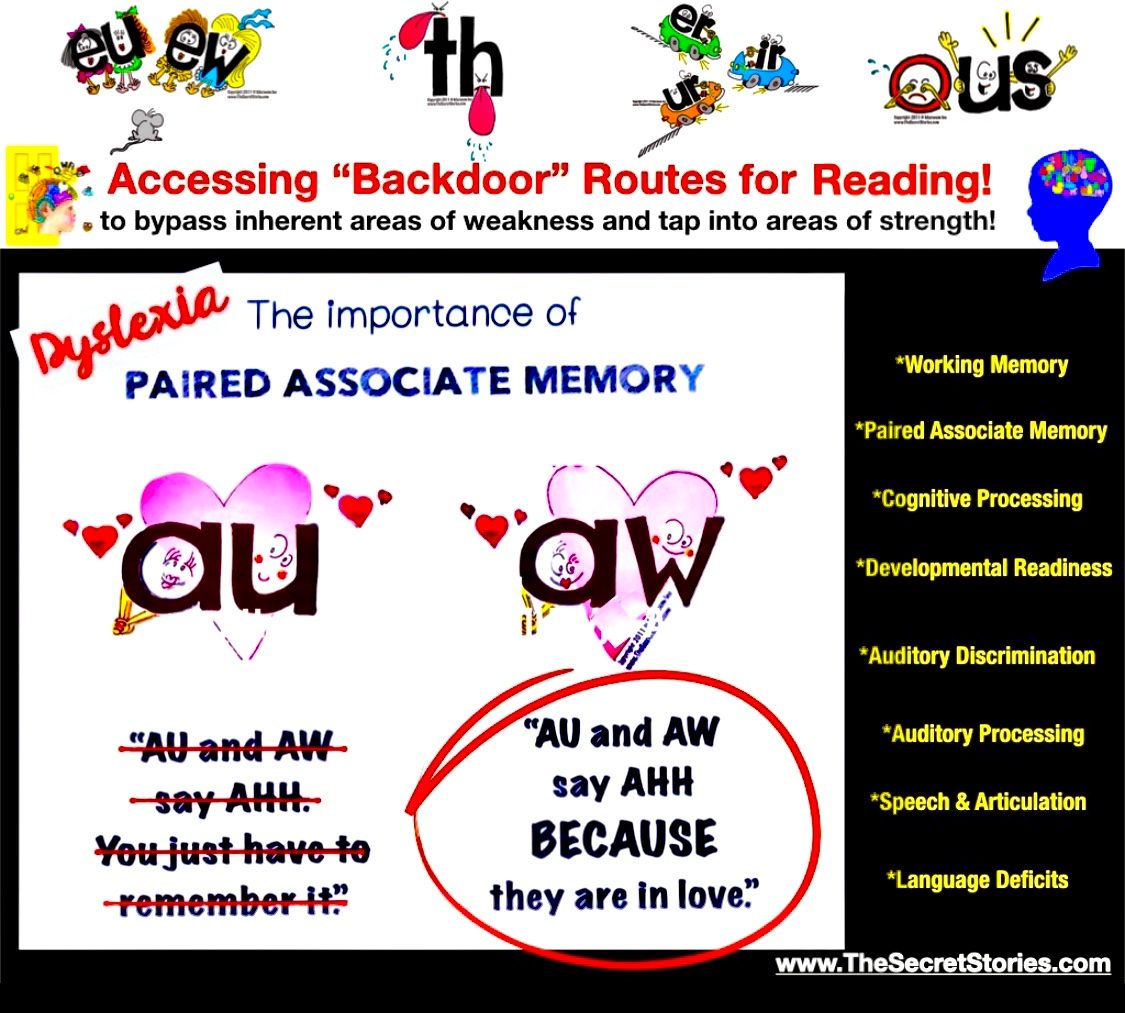 Instead, they bypass executive functioning and attach to already existing frameworks of understanding—the part of his brain that knows how it feels to get hurt,
"Owwww!"….
…..that understands why to stick his tongue out at his little brother when he's being annoying, "Thhhh!"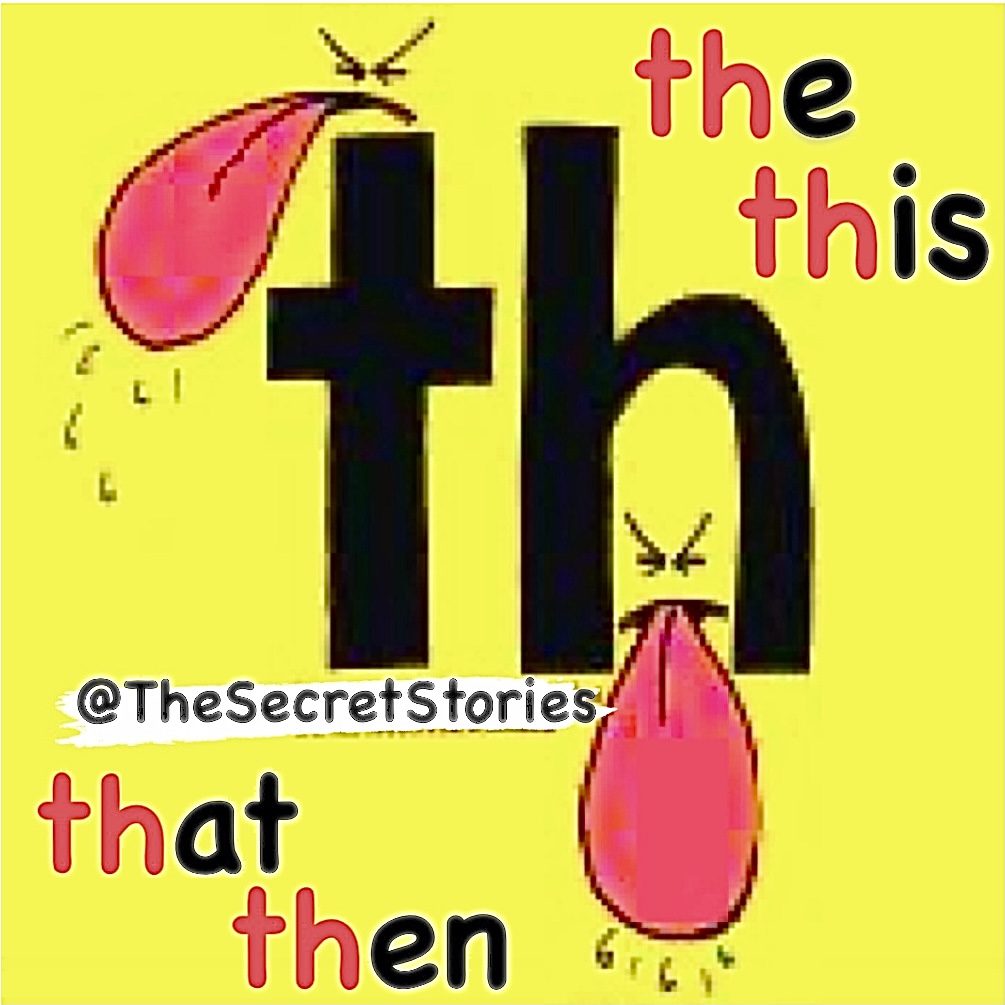 ….and that knows all about Superheroes, and that they are often in-disguise!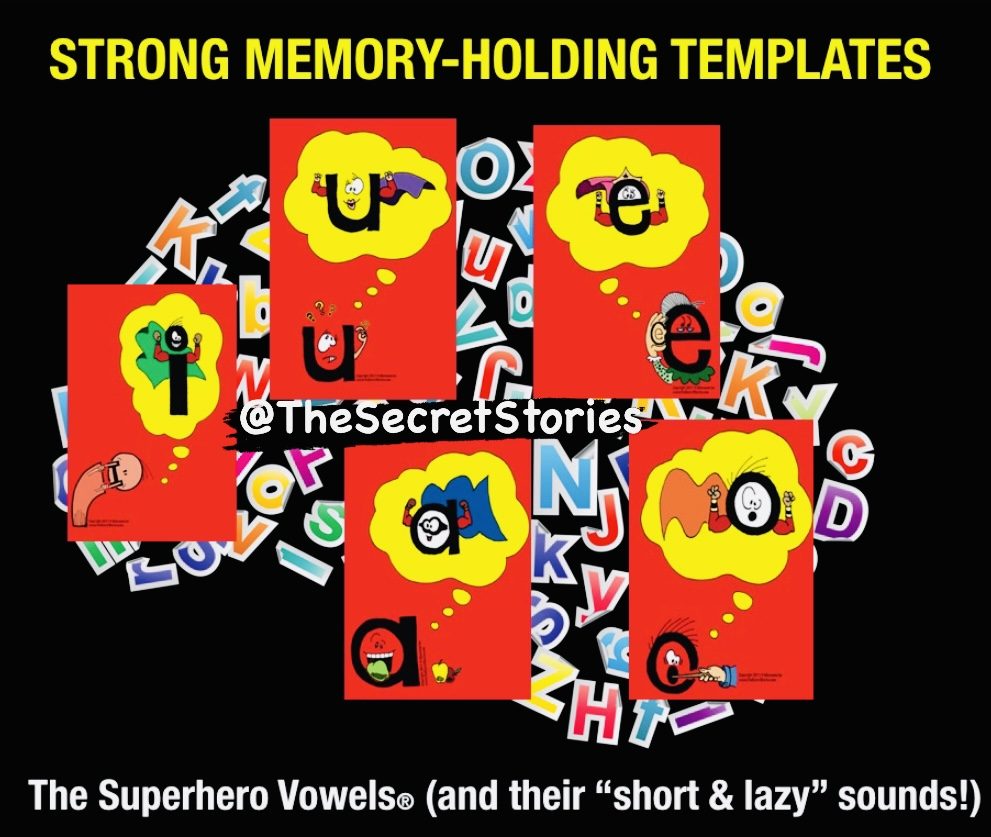 The Secrets align letter behavior with kid behavior to make their sounds easily predictable. But here's the interesting part, my son has a hard time predicting the behaviors of his neurotypical classmates and peers, so how could he predict these complex letter behaviors if they acted the same? The answer is, they don't. In the Secret Stories, the behaviors are fixed, and this is comforting for him…. au/aw are always in love and say "ahhhhh"…. ou/ow always play rough and get hurt, "owwww!"…. and /th/ never gets along and always stick out their tongues and say, "thhhhhh!"
And for the rare times that the letters don't behave as expected, there is always a "next most likely" sound option to try, based on the story. It gives him comfort to know that when letters don't make the sounds they're supposed to, it's because there's a secret in the word, and that it's the letters that are misbehaving—it's not because he is wrong or failing. That's a huge shift for him, and it goes a long way in reducing his anxiety. Now he has a stress-free way to figure out the words.
Just two months into our Secret Stories journey, and my son went from struggling to sound out the word C-A-T, to reading the entire Usborne early reader series. He's gone from tears and meltdowns at just the sight of a book, to reading an entire early reader to our whole family at the dinner table—WITH PRIDE! Now he's noticing Secrets in words that are everywhere, and he's even making up his own, like this one…. "E and X are wonderful friends, and when they are at the front of the line, E loans X his superpower so X can say his name, in words like: exit, exceptional & excellent!"
With each new Secret, his reading and spelling power continues to grow. The Secrets have given him access to the reading code in a way that systematic phonics drills could not. They reframe the structured literacy lessons in our OG program in a fun, multisensory way that he can easily remember. They make words understandable and "figure-out-able," and he delights in the idea that he's privy to the "grown-up" reading secrets! And at this point, our whole family is in on the act, with grandma deserving an Oscar for her portrayal of the "Excited Secret Stories Receiver!" ;-)
At the time of this writing, we are now a full FIVE months in, and he continues to amaze me with his progress. After reading the Writing Revolution, I started using stem sentences to reinforce learning other subject areas. For example,  Butterflies are amazing because…. Butterflies are amazing so….. Butterflies are amazing but…. and because of all the Secrets he knows, not only can he read the stems, but he can sound out all of the words that he wants to write on his own. He can use the Secret Stories posters independently to find the sounds (for reading) or the phonics spelling patterns (for writing) that he needs.
The ability to work independently is huge. When he was in school, he needed direct supervision and assistance to complete everything: coloring, art, workshops, etc…  An adult had to sit with him and help him write every word, as he owned none of the code. Now he owns all of it, and the Secrets are his to play with and use as HE chooses to express his thoughts and ideas. No longer is he just copying random words from a word wall, or waiting for someone else to tell him what to write. That ownership is critical to his academic self-esteem, and it constantly reinforces for him what I knew all along, that HE IS CAPABLE!
His Tools for Reading and Writing
Knowing the Secrets has done so much for him. He uses them to decode new vocabulary words in all of our subject area lessons, including one the life cycle of butterflies.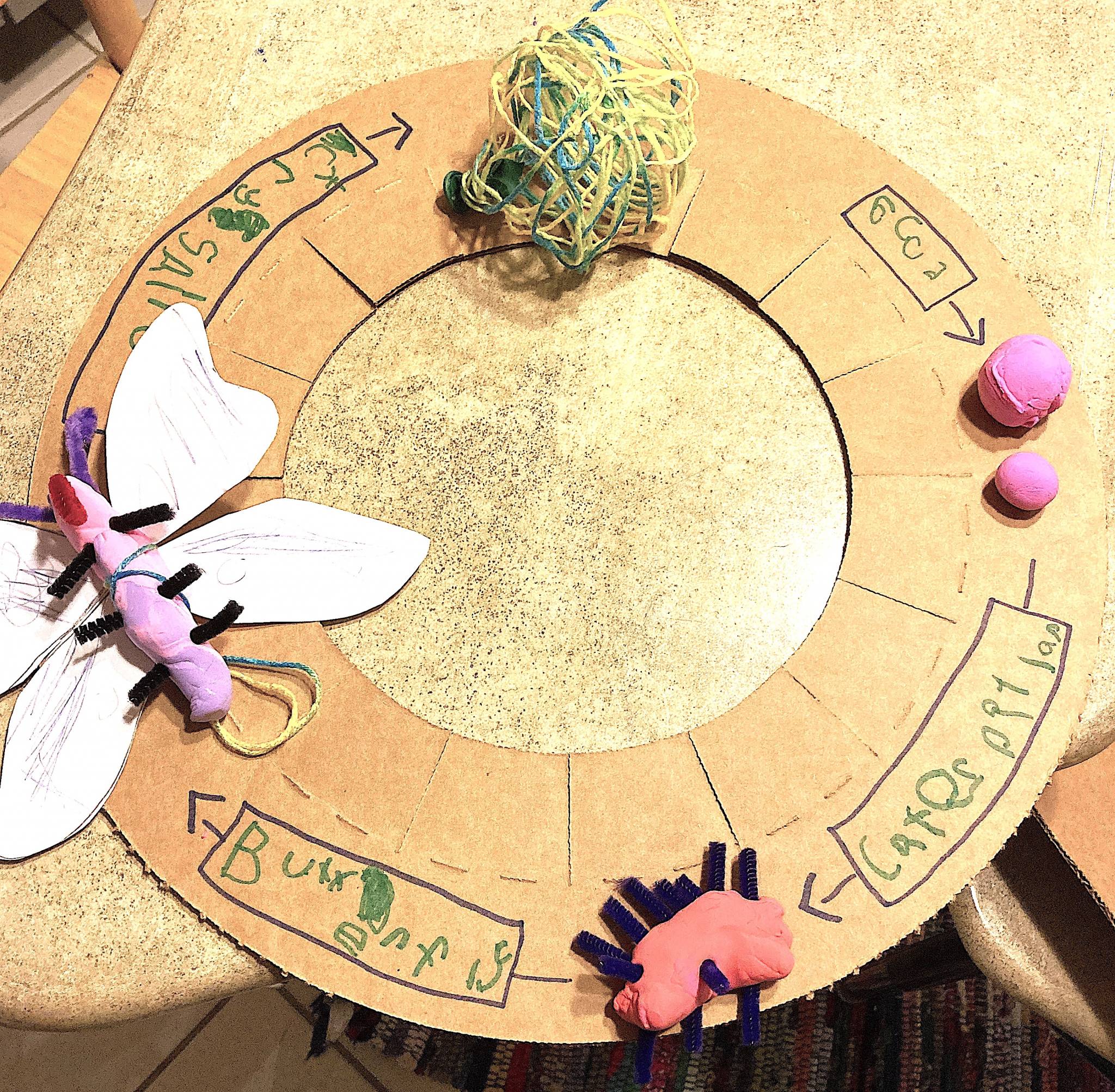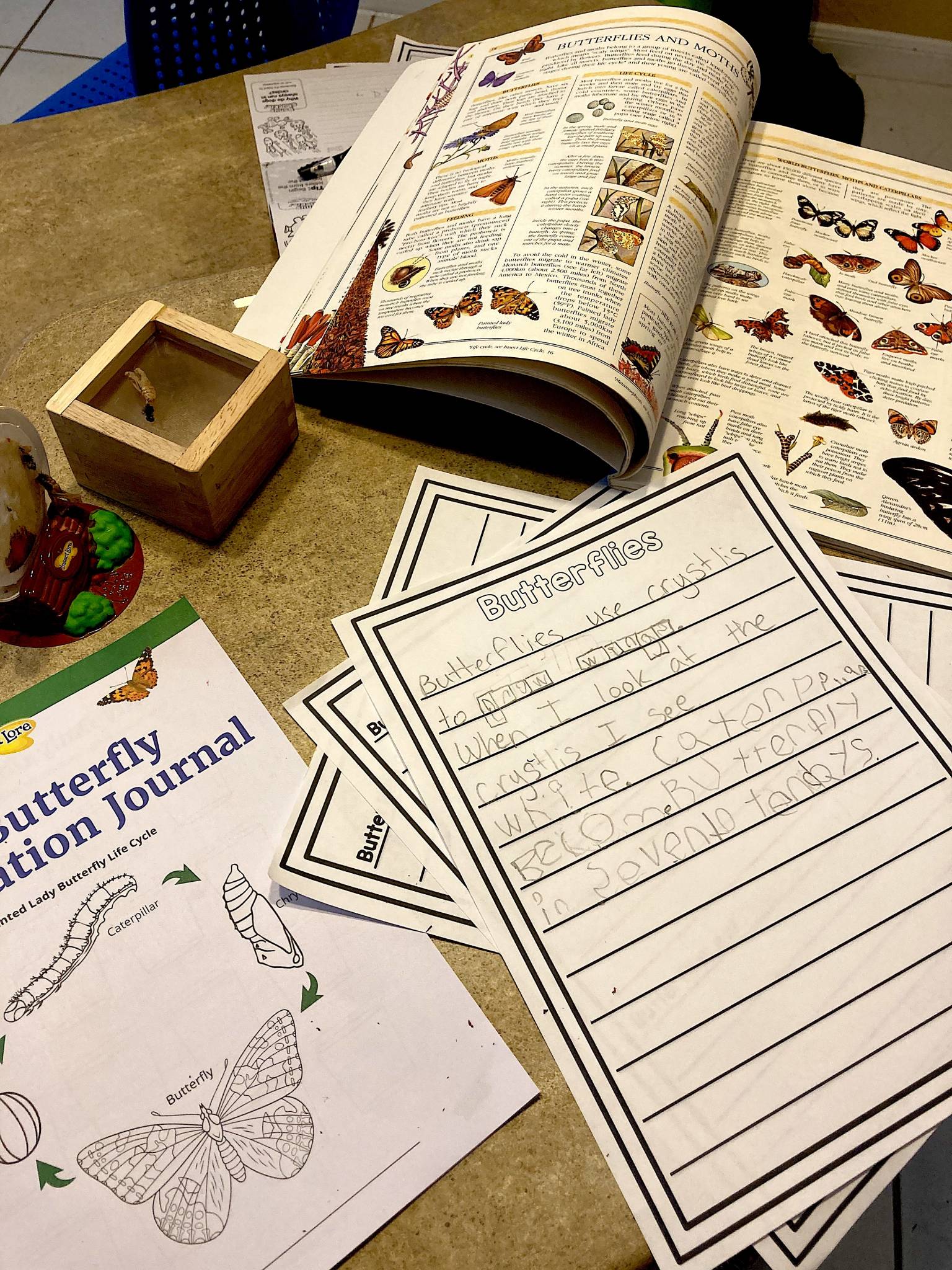 He uses his them to write birthday cards, and to read his own birthday message written on the sidewalk (He even underlined the Secrets he used to read it!)
He used the them to write about the plan he made for our new garden.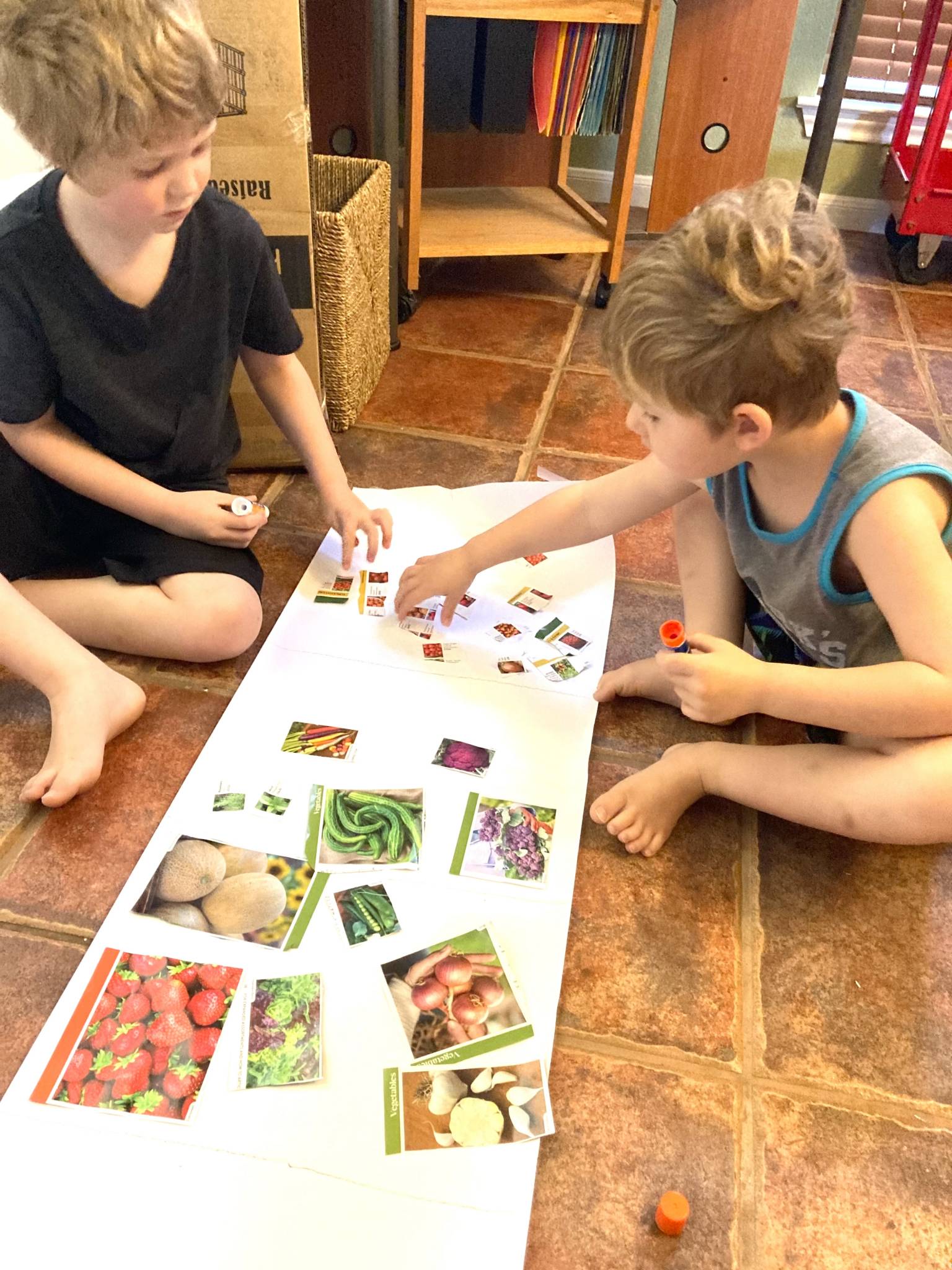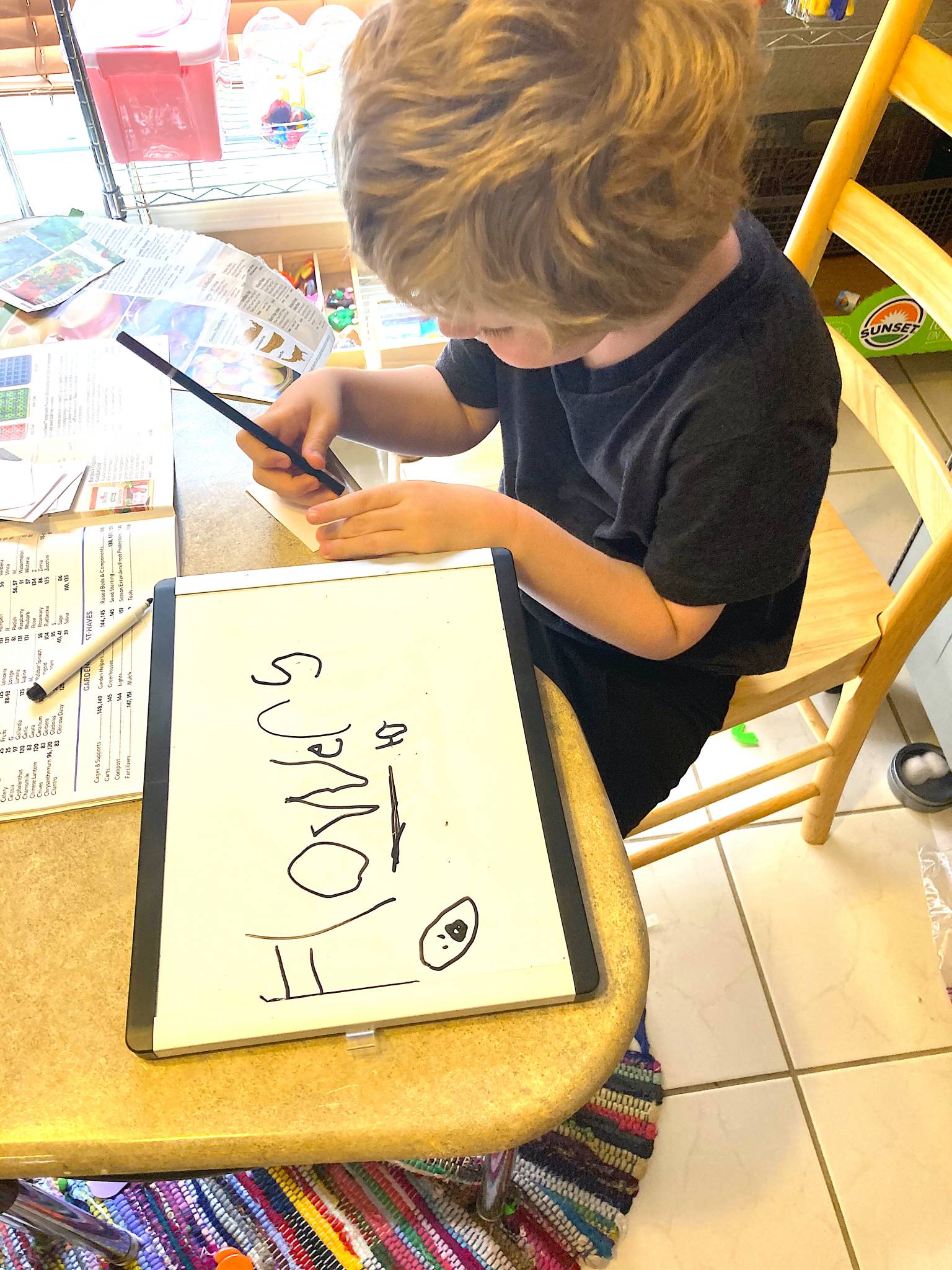 He uses them to advocate for what he wants.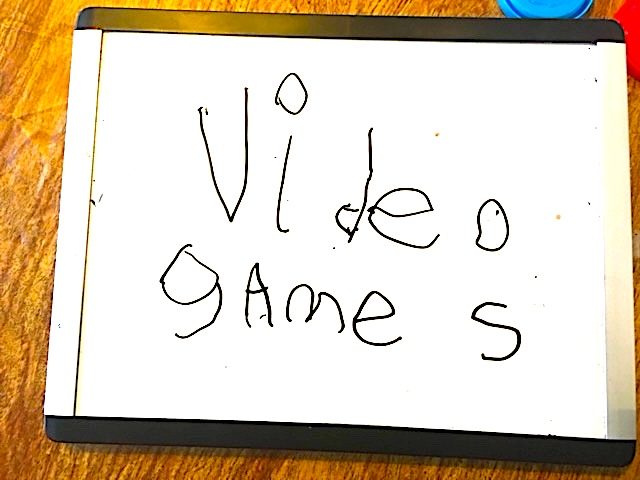 He even uses them to write a love letters to friends that he misses.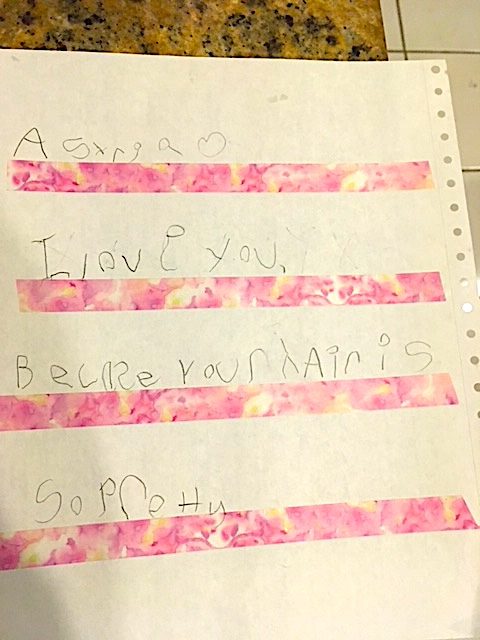 And while he loves to use the Secrets to write what he wants, he enjoys building words and practicing spelling with the Secret Stories Digital Stickers.  While they can be used digitally, we printed ours out, cut them apart, and then put magnet stickers on the back. BAM! A low-pressure spelling game that he can use to build words without the added pressure of writing. We use these instead of letter tiles for all our spelling activities!

We even used them to make little flip books to reinforce the Secrets and practice decoding words.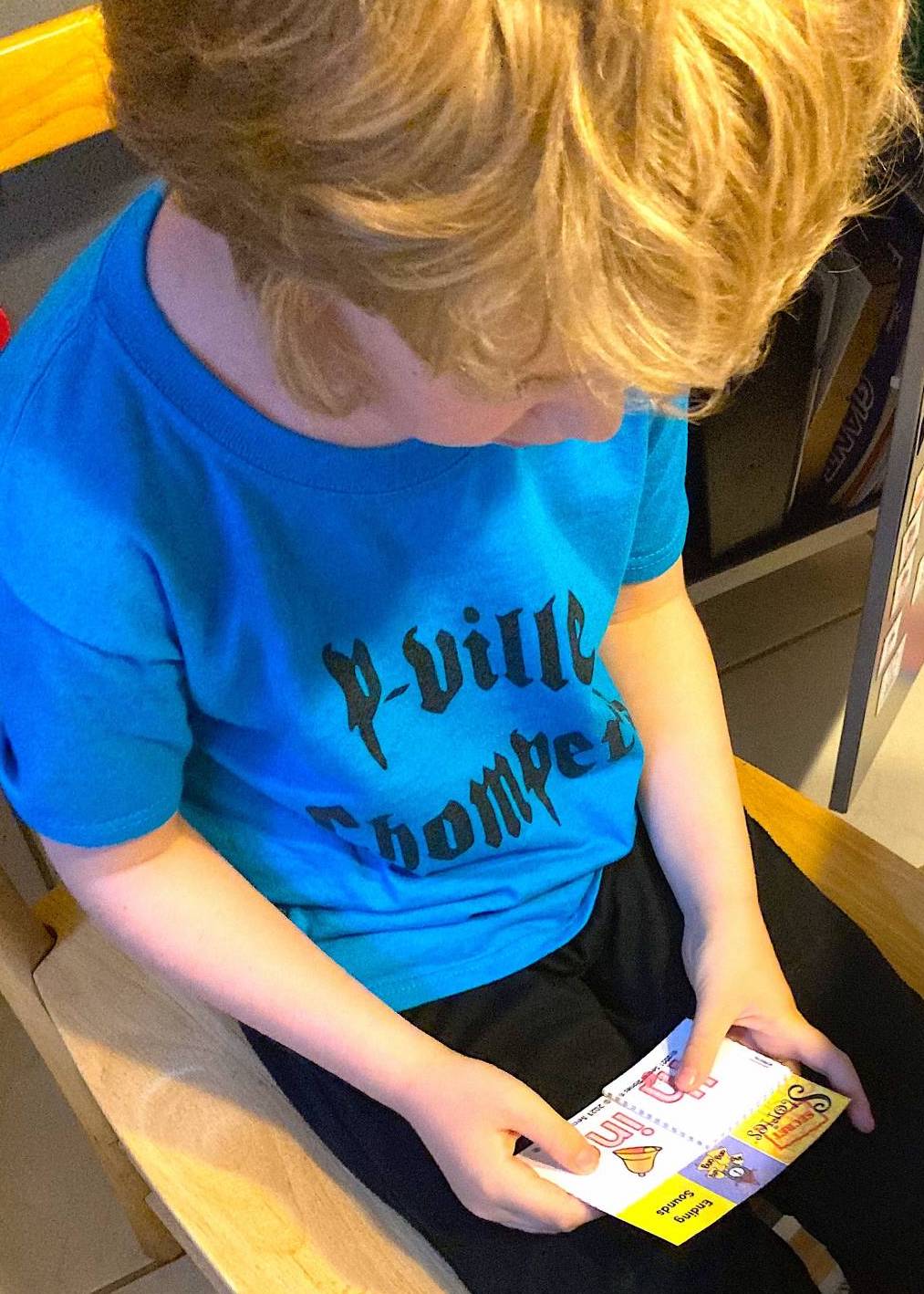 Equal Access to ALL of the Phonics Code
Just like a ramp provides access to buildings for those who need it, Secret Stories provides access to reading for kids who need it, making them the most impactful accommodation on any 504 or IEP learning plan. The Secrets gave my son access equal access to the whole phonics code he needed to read and write.
Perhaps I'm a just pessimist, but I used to believe that there was a limit to the gains my son could make, and that even the Secrets would only get him so far. But now, honestly, I know that the sky's the limit.
If I could go back in time and tell myself just one thing to do on that terrifying day that our school shut down and I became an unexpected homeschooler, it would be to find Katie Garner and the Secret Stories. These were the missing ingredients that my son needed to learn how to read.
Elizabeth George
https://www.thesecretstories.com/wp-content/uploads/2021/04/phonics-stickers.jpg
2048
1536
Katie Garner
https://www.thesecretstories.com/wp-content/uploads/2018/07/Secret-Stories-Phonics-Method-Logo-1-copy.png
Katie Garner
2021-05-16 18:06:45
2021-05-17 19:19:35
Teaching My "Differently-Wired" Child How to Read