Teaching the Reading & Writing Connection in Kindergarten
I received this adorable picture and description from kindergarten teacher, Kjersti Johnson, along with the following email…
I teach two sessions of half-day Kindergarten, with my morning class tied to our Intensive Support Class (4-8 fully inclusive kiddos) and my afternoon class with half ELL, plus a few in the am too!)
I knew the Secret Stories was a keeper last year when one of my Intensive Needs kids, who was really struggling with speech and connecting letters and sounds, pointed to his name and said, "Those letters are bad. They always stick out their tongues!" and then proceeded to make their sound! Or, when my little guy, who moved to my class mid-year knowing ZERO letters or sounds, was able to read through ALL the letter sounds mixed up, singing "____ says ______, ___-___-___!" after just a couple weeks of doing the "Secret Stories® Better Alphabet Song!"
With regard to the frustration over the controversy over what our youngest learners can and can't do, I've always had high expectations for my kinders, and they have always risen to meet them, often soaring far beyond!
It has been a fight to pull Kindergarten into this century. I boxed up our basal six years ago when I started using Daily 5/Cafe in my literacy blocks. My students just took off! (It's amazing what they can do when you put the right book in their hands.) But it was Secret Stories that really allowed me to take my kids to the next level!
I love when we sit down to read something and I ask what strategies we should use, as they always yell out, "Look for the Secrets!" They amaze me every day with the new words they can read and write! Oh, and I love how they are starting to revise their own writing! I put a binder clip on their writing notebooks so they can't fill it all in in one sitting. When they want their clip moved, they have to look back and make revisions to show that they're ready. They will tell me, "When I wrote this, I didn't know the Secret about this word, but now I do!"
I loved reading Kjersti email about how she uses Secret Stories® in her kindergarten classroom so much that I asked her if she would be willing to share more in a guest post, and she agreed! (She has since written another guest post on how she uses the  Secrets for reading, which you can find here.) 
---
A Class of Kindergartners
A Guest Post by Kjersti Johnson
I have always believed that there is a strong tie between reading and writing. It is one of the reasons that we spend so much time doing both in my Kindergarten class. Usually, students are free to choose their writing topic, but once in a while I give them a prompt.
This past month, we began a Gingerbread unit. In it, we have a class Gingerbread Man that decides to travel the world. While he is on his trip, he sends us many different versions of Gingerbread stories to read. At the end of the unit, he returns to our class and asks the kids to write about their favorite story.
In past years, my kindergartners would have to rely on "kid-spelling" or I would have to take a lot of dictation, but not this year! Thanks to the Secret Stories, my kids were able to write like the big kids! The only help I gave was a word bank of words they might need, but I didn't spell them….. they did!
They helped me spell words like: gingerbread, favorite, girl, cowboy, and because, and the rest of the words they spelled themselves! They were even able to write about why they liked the story! I was so proud of my kindergartners (not to mention blow away!) that I wanted to share a couple samples, as well as some Secrets used to spell some of the words they wrote!
Transforming skills kids have to learn into Secrets they want to know!
A future kindergarten teacher….
We also wrote about How I Ate My Gingerbread Man (after eating them of course!) Once again, I was blown away by how they used the Secret Stories they knew to figure spellings for words they wanted to use in their writing… not just "word wall" and "word family" words, but ANY words! I loved watching them stop and look at (or even walk over to) our Secret Wall!
This next paper was written by one of my ELL students. When assessed in September, he knew seven letter names and zero sounds. Thanks to Secret Stories Better Alphabet Song, he was able to identify all of the upper and lower case letters, as well as their sounds by October!
He now also knows all of the Secrets and is using them to read and write! (On a side note, I had taken a leap of faith and done as Katie suggested, which was to begin telling the Secrets from Day 1, so as to acquire them simultaneously with the individual letters and sounds and though I'd never done that before with kinders, I am now a BELIEVER!!!
Here is what he wrote….. independently! (And yes, I was in tears when he showed me!)
If you look carefully, you can see where he had erased and added more sounds after re-reading it, and then realized that it didn't make sense. He also went back and changed "hed" to "head" because he said it "didn't look right."
As Katie often says, "experience is the best teacher," and because this little guy knew lots of Secrets, he was reading up a storm, which is how he knew that the word didn't "look right."
And I especially love how this next little guy added a "crunch, crunch, crunch" at the end!
I am just so proud of my kindergartners, I could burst, which is why I wrote to Katie! And with only HALF of the school year under our belt so far, I can't wait to see where we by the end of this year!
We are so thankful to Katie Garner for sharing the Secrets with us!
Kjersti Johnson/ Kindergarten Teacher
---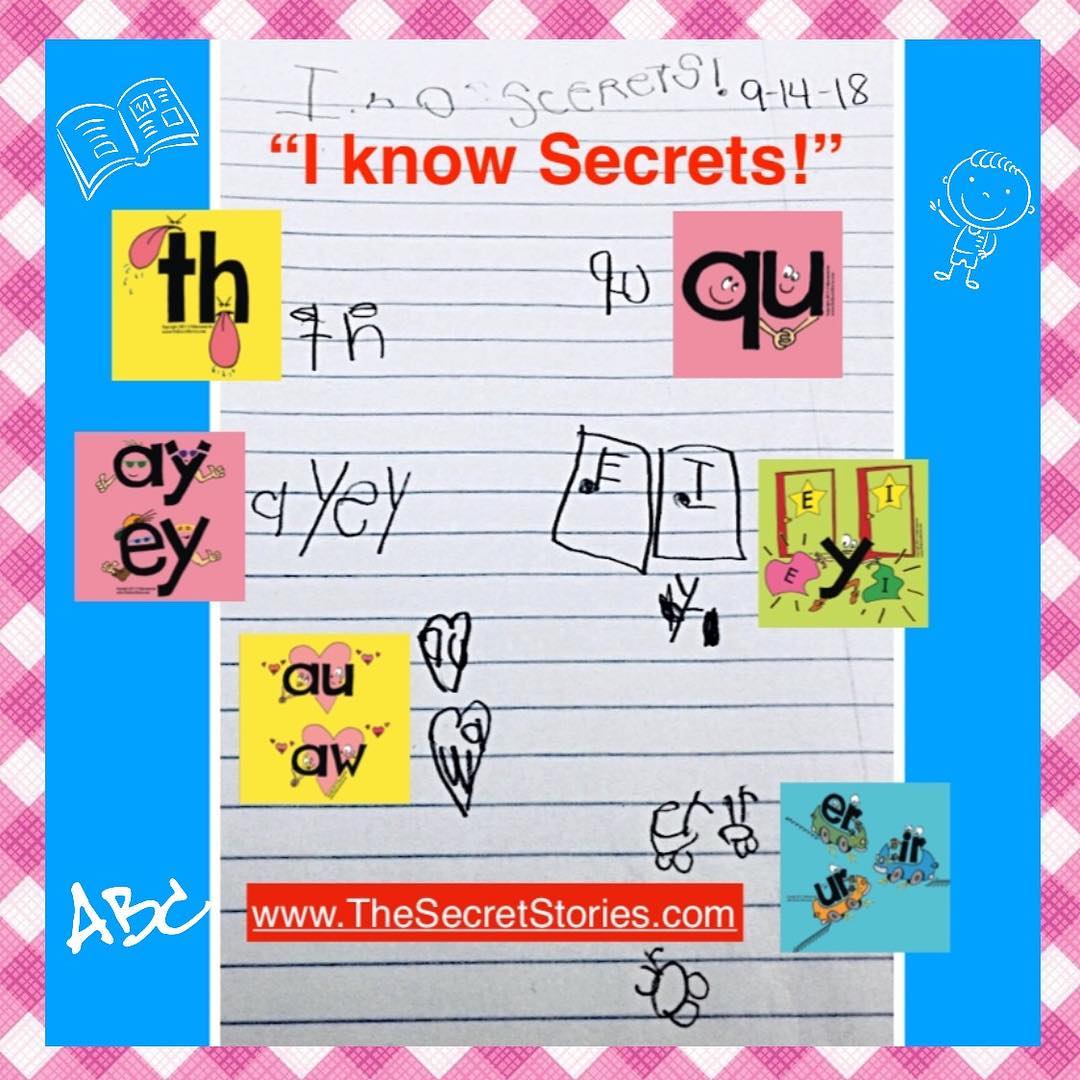 "Kindergarten Writing on STEROIDS!" 
If you would like to start sharing the
Secrets
with your class, you can download this
free mini-poster sample set
, along with the
"Write Like They Read" Zoo Keeper Strategies
, which is like a magic trick for helping beginning learners understand that they need to "capture" as many sounds as they can in words they want to write. (Watch two short clips about the ZooKeeper Strategies for beginning writers 
here
and 
here
.)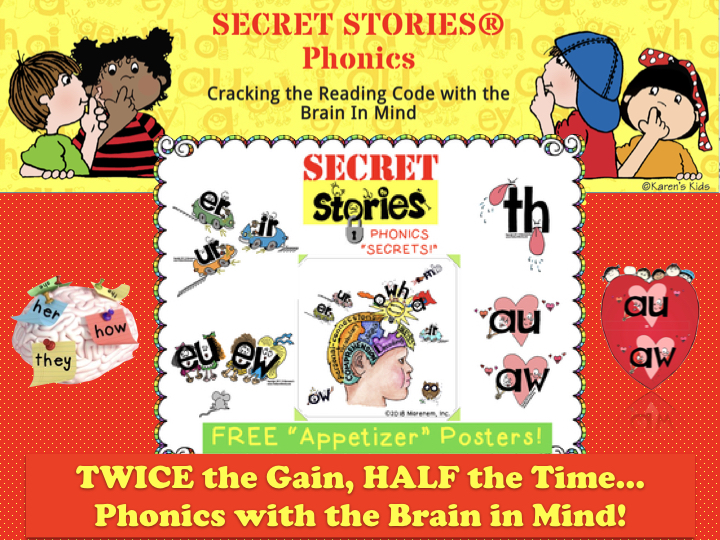 Download the FREE Mini-Poster Sample Pack and Start Sharing Secrets Tomorrow!
Until Next Time, 
Katie :-)
---
For a list of upcoming conferences, or for information on scheduling a school or district professional development workshop, click here. 
---
---
https://www.thesecretstories.com/wp-content/uploads/2014/12/kjersti-Johnson-Secret-Stories-Phonics-Posters-in-CLssroom-Detectives-copy-3.jpg
1530
2048
Katie Garner
https://www.thesecretstories.com/wp-content/uploads/2018/07/Secret-Stories-Phonics-Method-Logo-1-copy.png
Katie Garner
2014-12-27 18:20:00
2019-02-04 18:28:45
Teaching the Reading & Writing Connection in Kindergarten