Boost Your Existing Reading Program with Brain Based Phonics Instruction!
Brain Based Learning, First Grade, Guided Reading/ Word Work, Home School Connection, Journeys Reading Program, Phonics Videos, Reading Intervention, Sight Words, Struggling Readers, Teaching Writing, Title I
When Kids Can't READ the Reading Program


Fast-Tracking the "Too-Slow" Pace of  Traditional Phonics Skill Instruction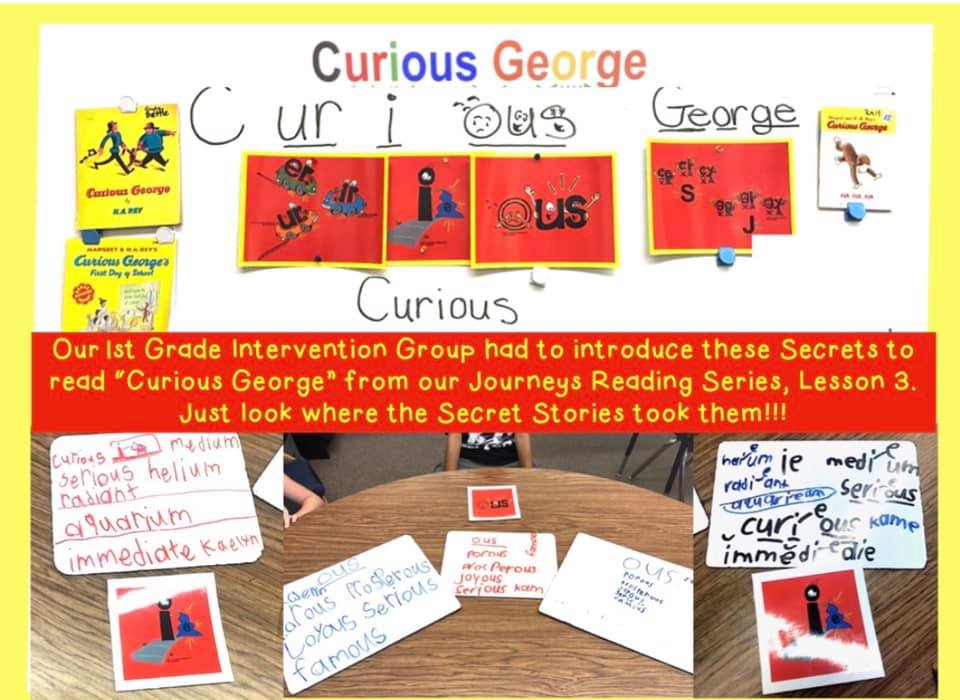 If you're frustrated with your reading program and the intractably SLOW pace of phonics skill instruction, or, if you are feeling overwhelmed by all of the sight words that kids have to memorize because they can't read them, then you are in for a real treat!

I want to introduce you to one of my favorite teacher friends, Tara Settle, who just happens to teach in my home state of West Virginia, and who I met while doing a phonics workshop for the Wood County School District in Parkersburg, WV. If you follow me on Facebook Page, Instagram, or Twitter, the name might sound familiar, as I often share peeks into Tara's classroom.
Tara and her first grade students actually came up with a brilliant tool to help Secret Stories® Word Doctors all over the world whenever a vowel wasn't making the sound that it should (as per being a Superhero or being "short & lazy"). This add-on, Secret "default" is called the "Head-Bop" Trick, or "Thinking Vowels" strategy, and it helps kids decode those otherwise "non-decodable" sight words in Journeys (and other) Reading Programs, like: of, was, what, want, love, come, done, some, around, among, about, nothing, etc…
I love sharing insight from Tara's classroom because she really "paints a picture" of not only of WHAT she does, but HOW and WHY she does it….and teachers really need all three if they are to make strategies their own!
For who are teaching first grade and using the Journeys Reading Series, you are really in luck, as that's the catalyst for Tara's post, below. For everyone else, regardless of whether you teach kindergarten, first or second grade, and no matter the reading series (or phonics program) you use, you will see that Tara's situation likely mirrors your own. The reading "programs" don't give kids at the early grade levels access to the phonics skills they need to read most of the words that are in them! However, your reading series IS the perfect "playground" for your kids to enjoy flexing their reading and writing muscles with the Secrets!
And so, it is my pleasure to introduce you to Tara, who has not one, but TWO sets of Secret Stories® Flashcards!  (You will see why as you read on!)
(From this point on, Tara's words are in black, and my commentary will appear in red.)
---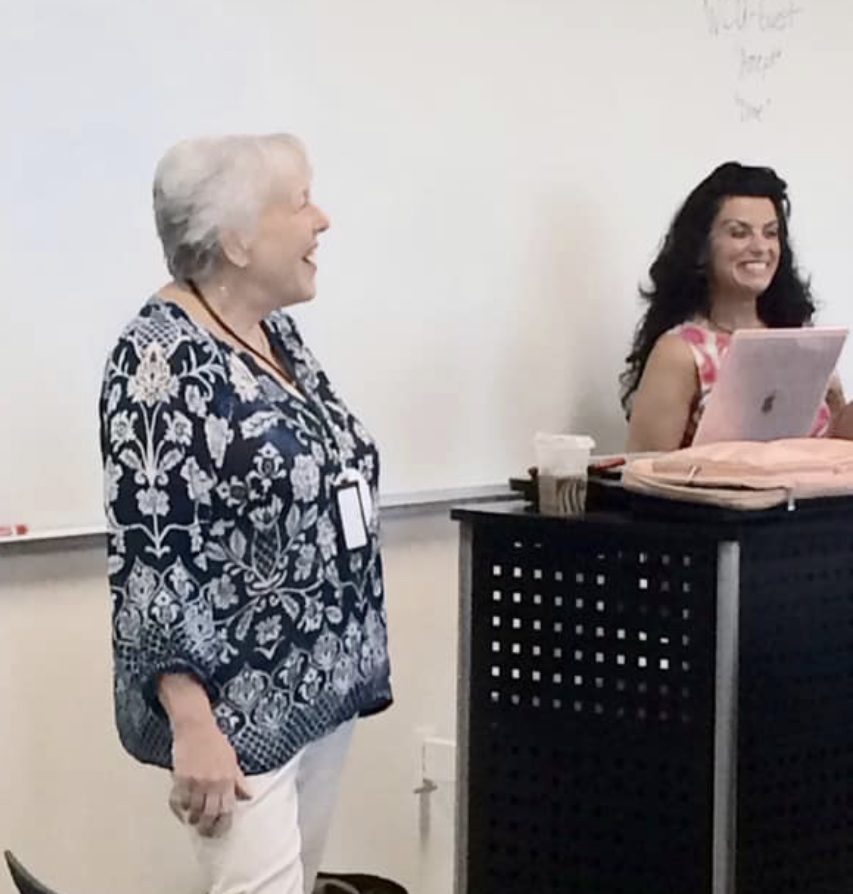 My name is Tara Settle, and as Katie said, I live in Parkersburg, West Virginia, and have taught for a total of 29 years. Having had the privilege of being a stay-at-home mother for my four children, I chose to educate them through homeschooling. It was a wonderful adventure for all of us! Both of my two sons had reading disabilities, and I searched high and low for ways to help them become more proficient in this overwhelming process. We persisted, they overcame, and today they are successful readers.
Fast forward to teaching first grade in a 90% low-socioeconomic status, Title 1 school. I encountered so many of the same struggling readers as my sons. And so I began my online search one summer, determined that there had to be something "out there" that could help my students.
Enter Secret Stories….
The Secrets have changed my teaching career and the reading lives of all my students, who often come from homes with no previous help or reading "lap" time. The first year I used Secret Stories, I realized that it wasn't your typical "phonics program," as it worked like nothing I'd ever seen before. When my students understood that Sneaky Y® made 3 sounds, they were able to read words at the beginning of the year that my previous year's class struggled with until the end. I was convinced that this multi-sensory, neuroscience based way of "cracking the reading code" was exactly what I had been searching for my entire teaching career. Every year, Secret Stories proves to be an approach that truly works for all readers!
One more thing…if you use Journey's Reading Program and have found the online interactive "Settle On In" Blog for your students, that's me! I created this free resource for teachers to use with their classes, so be sure to search for your weekly story there for free and safe resources for your class.
Journeys Reading Series/ Phonics Program
Week 1-  Sight Words: play, the, with
I borrowed your ladies sunglasses idea that was posted on the Secret Stories Facebook Page yesterday when introducing "ey/ay" with our Journey's Reading Series/Phonics Program, week 1 sight word, play. I sent the pig picture out to all my parents in a platform called Seesaw so they could have a (fingers crossed) dinner time conversation about our new Secret. I wouldn't normally include a picture of the Secret, as per copyright, but I thought this might be a good way to introduce Secret Stories to my parents, as usually I will say, "Ask your child to tell you the Secret about ay/ey that we learned today, and see if they can tell you some words that it's in." (I thought that this one should be okay since it has a cute pig in front of the picture— Lol!)
I love the way Tara includes her parents by letting them know to ask to hear a Secret! This is a great way to keep parents in the learning-loop while at the same time, establishing kids' "ownership" of the Secrets. And while you can't copy or reproduce any of the Secret graphics or text to send home, you can use the Porta-Pics to give kids access to the Secrets at-home, as well as for individual use in the classroom. They are a little over $2 a piece, and when laminated, they should last 2-3 years, so they can be checked out to each new class. You can also get more ideas on how to share Secrets with parents here.
I got out my apron so that I was ready to greet my class today. They have to tell me the Secrets and read the words to enter our classroom! Luckily, they all remember the Secrets!!
The small cards seen in Tara's apron (which she had specially made) are the cut-apart cards from the back of the Secret Stories® Book, although she also uses flashcards in the top pocket, which you will see a bit further down.
---
Journeys Reading Series/ Phonics Program
Week 2- Sight Words: no, find, sing, funny, they, do
Below is a pic of my sight word review/follow up for today. These are words from our first grade Journeys reading series.
It's ironic that Journeys scope and sequence for first grade (like most all other reading series/phonics programs) doesn't introduce the phonics patterns that are needed to actually read these words until the end of first and/or second grade! And yet, when using brain science as a road map to tap into the backdoor learning channels, kids can have them in preK! Don't believe it? Click here!
Here is a picture of today's sight word review. These are words from the our Journeys series. Knowing the Secrets means that we don't have to waste time memorizing sight words, as we can just read them. Note that the words find and do require kids to think like word doctors, which you can read more about here.
Journeys Reading Series/ Phonics Program
Week 3- Level B Reader, Curious George
Curious George is the Journeys Lesson 3, Level B Reader, and it contained 17 words that my students couldn't read without Secret Stories. Without these Secrets, they wouldn't have even been able to decode the title! When you stop and think about it, it truly is mind-boggling, and it makes me so mad on behalf of these struggling students! I seriously wonder how other Journeys first grade teachers in Title 1 schools or with ELL learners use this series without Secret Stories.
It is ironic that the reading series requires that learners be able to read words that contain phonics skills not yet taught. Nor will they be for what is often another one or two more grade level years.
The kids also had to sing this Secret to me to enter the room, since you can't read "George" without it! I used the 6×6 flash cards on my apron (instead of the smaller cards from the back of the book that I usually use) so that they could see the letters better.
The picture I am sending is of the words from the two leveled B and C readers that I will be reviewing today so that the students continue to see the connection between Secrets and the words in our stories. As an aside, I love having the extra set of space-saver posters, as they are just the right size to put up on my magnetic board next to the words they are in!
---
Below is a picture that I posted on Facebook that combines the two pics above. I love how Tara is constantly modeling how to use the Secrets to unlock the words they are reading, not just in these stories, but in text experiences throughout the entire instructional day— from math to social studies. In the hallways, on bulletin boards, even on the lunch menu in the cafeteria, Secrets are always there….always teaching. (As one little first grader in Mrs. Mac's Class said, "I can't turn it off! The Secrets are EVERYWHERE…. and I just keep reading them!!!!!")
Journeys Reading Series/ Phonics Program
Week 4- Level C Reader, Lucia's Neighborhood
All of the following are from our Journeys level C reader, Lucia's Neighborhood. They had to read the word fire on my apron when entering the room this morning. This will be my introduction to the word "firehouse" in my level C vocabulary reader for guided reading this morning. (Not to mention the word firefighter, which is also in this story, and yet without the Secrets, would be virtually impossible for most beginning first graders to read!)
A word like fire requires knowledge of the phonics rule about silent e….. or, in Secret Stories-terms, the Mommy E® Secret! (If you don't know it, it's super-easy, as is Babysitter Vowels® which explains what happens when "mommy just has to get out of the house!" to read/spell multi-syllabic words like making, motor, etc… You can them both here!)
---
In order to read the word Lucia where /a/ is making the schwa ("uhhh") sound, I remind the kids about the "Thinking Vowels" who can't make up their minds whether to be long or short, and so they bop themselves on the head as they say, "Uhhhhhh?" You will see that I code "thinking vowels" with a dot for where they smacked their head. (I usually ask the kids to look for the Secrets they see in the words and then underline them.) Once again, just look at how many Secrets are in the title! I truly have no idea how I used to teach reading before Secret Stories!
When teachers say that Secret Stories® "changed the way they teach," or that they "couldn't go back to teaching without them," it's because things that used to be "so hard" are now so easy! Like, for example, helping beginning readers figure out the words in the title of this book—especially when the reading series or phonics program hasn't yet introduced the skills they need to do it! Many of these patterns aren't "supposed" to be taught until second grade, which is way too long to wait, especially if you need them to read and write beginning in kinder! Just think how many reading and writing opportunities are lost on kids who don't know the Secrets, from kindergarten to second grade. And yet, they're so easy, you can share them with pre-schoolers!
Below are the Secrets they need to read the sight words in this lesson. Notice that like in the word Lucia, we can use the same "Thinking Vowels" trick that we used to read Lucia to read the sight word does.
---
Teaching Reading & Writing Connections with Secret Stories
My team teacher, Mrs. Buckley, did a word work writing activity with our first grade enrichment group. We split our classes so as to better meet the needs of  each or our groups. You will see more from Mrs. Buckley further down, below.
I love the way Tara and Lisa model use of the Secrets by "twisting and turning" them for both reading AND writing. This is so important in helping beginning grade learners understand the inherent reading and writing connection. Many early grade learners don't realize that the same letter sounds that help them read words are equally powerful in writing them. Adding Secrets to the mix accelerates this otherwise slow learning curve, as the Secrets give them something beyond just individual letter sounds to read and write with! 
---
Journeys Reading Series/ Phonics Program
End of Week 4
So far, these are all of the Secrets that I have introduced by the end of today, beginning of Week 4, Journeys program. I teach the Secrets, as we need them, to read the words that we encounter, not only in our reading series, but throughout the instructional day.
I love this! Why make kids memorize words when they could just learn the Secrets they need to read them?  When you memorize a sight word, you get "one word" as your prize. When you learn a Secret, you get "thousands!"
---
---
Journeys Reading Series/Phonics Program
Week 5- Level D Reader, Gus Takes the Train
Here is what I have on the board for Monday next week, which is from Journeys Lesson 5, Gus Takes The Train. I will also be introducing /ation/ for station. We pretend to pull the train whistle while saying the /a/ and then do the /tion/ motions on the card.
Here is the Secret mentioned above, as shown in the new "Decorative Squares" poster set.
This will occur when someone uses the vocabulary word "station" during the week. Singing the song "Down by the Station" also reinforces this Secret Story. I also teach them the song "I've Been Working on the Railroad." After singing it throughout the week, they will be given a copy of the text to highlight the Secret Stories they find in it. Then we read it together and sing it together from their highlighted page. They love it!
As in previous lessons, we first look for the Secrets we need to read the title, which you can see in the first picture below.
It happened!
We used the train sound today and /ation/ because we had to say "train station" in our read-aloud! Woo-hoo!!!! The class helped me make this track and we now enter and leave the room to the /ch/ sound, and then as we gain speed, it becomes the /tion/ sound. Of course, we have to pull the train whistle for /a-tion/ too!  (Notice the "partially pink" railroad track? That's because we ran out of black tape— Lol!)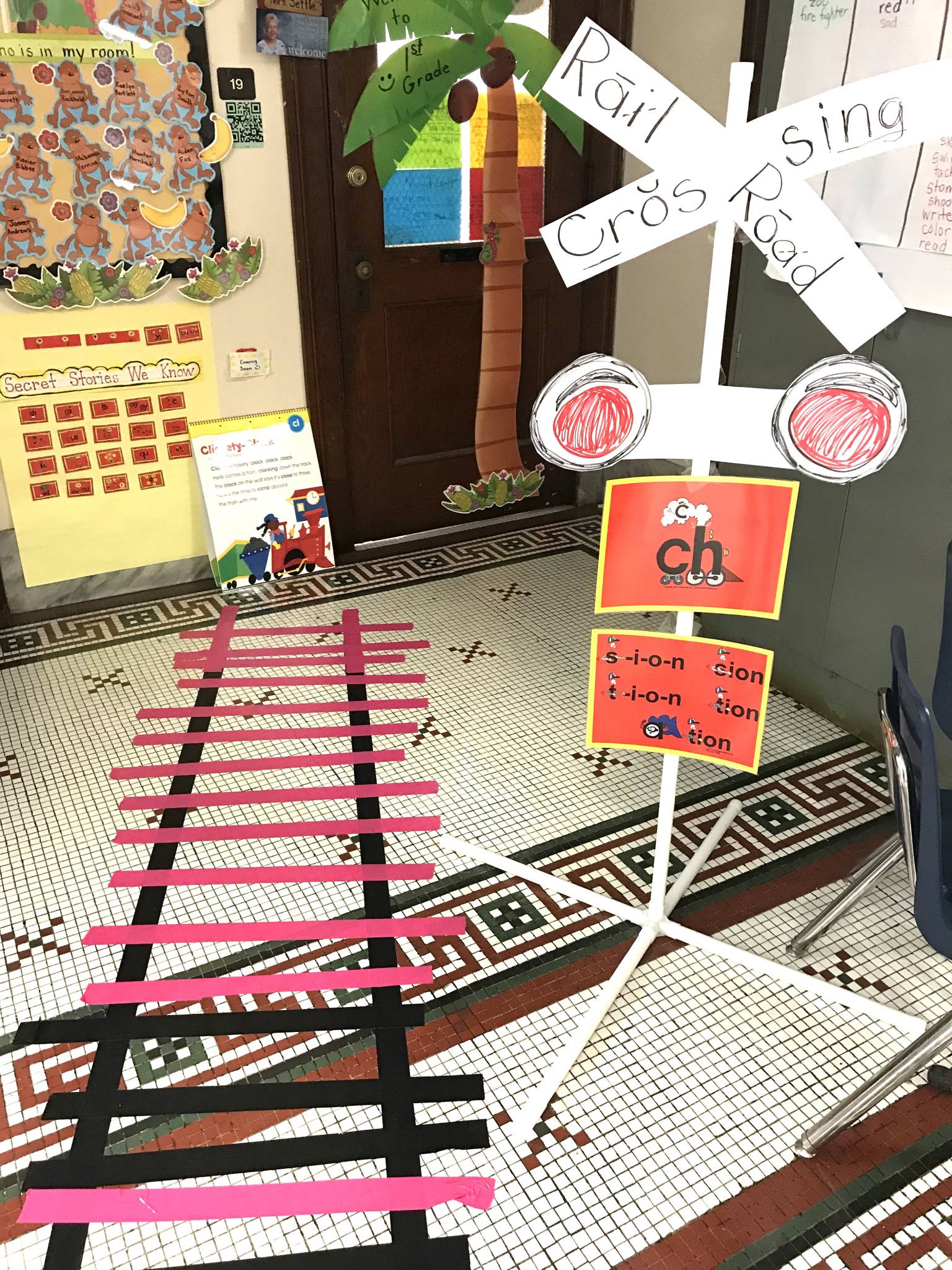 Now we find the Secrets that help us read the sight words introduced in Journeys Reading Program, Lesson 5.
It's so much fun to go on Secret Stories "hunts," which is where kids try and see who can find the most Secrets on a page or in a book! This is fun to do in whole or small group, and is also a great way to increase learners' visual acuity for quicker pattern recognition in text. They kids love spotting Secrets! And every time we find one, I reinforce how knowing the Secret helps us to figure out the word.
I really don't "plan" which Secrets to teach beyond looking at the sight words and text in the main selection and leveled readers. There are so many opportunities to introduce almost all of the Secrets quickly. Since my first graders have been exposed to the Secret Stories in kindergarten, I have lost some of the element of surprising them with new ones. That is why, at this point, I feel comfortable putting up the cards to discuss with our new sight words, as it's not the first time the kids have heard them…and it certainly won't be the last!
Of course, we are always discovering new Secrets in words from our read-alouds, discussions, and writing blocks. One of the reasons that I put Secrets up with the text is to reinforce the connection between Secret Stories and reading. Students need to understand that the Secrets are the keys they need to unlock words. Secrets are power—the more they know, the more they can read and write! And they are everywhere, in all of the words that we come across each day.
I know this sounds like it should be an easy concept for my class to comprehend, but some can take longer to connect the dots than others. All of the kids know the Secrets, but it can take some longer than others to start applying them, which is why I take every opportunity to model using them whenever and wherever we are working with text.
I plan on introducing the /ch/ Secret this week with our story about trains.It seems appropriate, especially since its "default" sound is depicted as a "conductor" on the Secret Story poster! I'm not sure what word will trigger our "discovery" but am sure it will occur during this week.
And for those who don't know the /ch/ Secret, check out the story as shown on the reverse side of the new Secret Stories® Flashcards, shown below. They have the Secret graphic on one side and the story text on the back.
And for those who don't know the /ch/ Secret, check out the story as shown on the reverse side of the new Secret Stories® Flashcards, shown below. They have the Secret graphic on one side and the story text on the back.
My teacher friends wanted you to see how excited they are to gets the flash cards! ❤️
Hands-On Learning with the Secrets
I also wanted to point out that this is the first year I have been able to have the Secrets right beside our sight words on the whiteboard. The new phonics flashcards put the Secrets right into our hands! They are no longer just on our walls in the big poster size, but have now "come down" to interact with us during our learning discussions.We have them in our hands at stations, during guided reading groups, intervention groups, on the board beside the text, in line playing games while waiting, and so much more. Between the new flashcards and the Dual-Use Placards (which I bought at the end of last year) the Secrets are now both on AND off the walls and interacting with our daily learning!
I also wanted also share this quick parent video that made and send to parents using SeeSaw. It's a great way to keep parents in the "Secret" learning loop!

And here is one that I sent home about our upcoming sight words.

Tara Settle, 1st Grade Teacher
"Settle on In" Blog
Reading Intervention Isn't Just for Struggling Readers
Lisa Buckley- First Grade Teacher (at Tara's school)
How can the "Secrets" help more capable readers? In our district, reading intervention can refer to higher-level students who need more challenging reading opportunities, as well as to those who struggle.
Even capable readers get curious at times about why the letters do what they do. In my enrichment group we've pondered questions such as, "Why does /eigh/ say "ā" and why isn't it spelled /ay/?"
We also discuss words like sleigh vs. slay, and how the Secrets help us attack these words in both spelling and reading. These kids know most, if not all of the Secrets, however, they are still curious about the connection to sounds that can represent different spellings. So, we have been using the Secrets intensively to study multi-syllabic words, while looking for multiple Secrets in the words. This helps with both fluency and comprehension when reading more difficult text.
In addition to the Curious George "word work" pictures from my enrichment group shown higher up above, you can see in the pics below how many words the kids found that had the Secrets about /ous/ and /i tries e on for size/.
---
Here are the /ous/ and /"i tries e on for size"/ Secrets ("Decorative Square Posters").
---
My immense thanks to Tara, as well as her teammate, Lisa Buckley, for taking the time to share how Secret Stories® phonics instruction amplifies their reading/phonics program and gives kids "warp-speed" access to the tools they need to read and write! I can tell you that when I last left their school, these two were in the process of creating a "green room" in which to film a Secret Stories® Yoga video (I kid you not!) that kids could do during literacy center rotations. I can't even imagine what this would look like, but I promise to let you know as soon as I find out!
In the meantime, I want to share this picture of Tara in her famous apron, as it's one of my favorites because in it, I describe how she literally turns herself into a "walking, talking, AND singing Secret Story every morning!
In closing, I want to let you know that I will be spotlighting different teachers for different reasons in upcoming posts, and hopefully, adding some good stuff to your "Secret" bag of teaching tools and tricks!
On that note, I would love to hear (and see!) what you're doing with the Secrets in your classroom….I would love for you to connect with me on Facebook, Instagram, Twitter, Linkedin, Youtube, or by email! I've tried to make sharing what you're doing in your classroom with the Secrets super easy by adding an upload link for sharing pics and vids to the Secret Stories® website here. (You will also find it at the bottom of the home page on the Secret Stories® website.)
And on that note, I also wanted to highlight Melissa Snyder for her "creative cutting" of the Secret Stories® Original Posters as she seems to have started a trend! (That is, for teachers who are artistic enough to trust themselves with the scissors—not me!)
Check out her clever-cutting of the Secret poster for eu/ew (mouse ears!) as well as /"i tries e on for size!"/ below. I also loved her Sneaky Y® and the Superhero Vowels®! If you don't already know all of these Secrets—including Mommy E® and Babysitter Vowels®— you can learn them all here!
---
Until Next Time,
Katie Garner :-)
https://www.thesecretstories.com/wp-content/uploads/2018/03/sample_er_ur_ir_color.gif
502
600
Katie Garner
https://www.thesecretstories.com/wp-content/uploads/2018/07/Secret-Stories-Phonics-Method-Logo-1-copy.png
Katie Garner
2018-10-01 17:57:16
2020-03-03 14:26:12
Boost Your Existing Reading Program with Brain Based Phonics Instruction!