The NEW Secret Stories® Phonics Book— Version 2.0!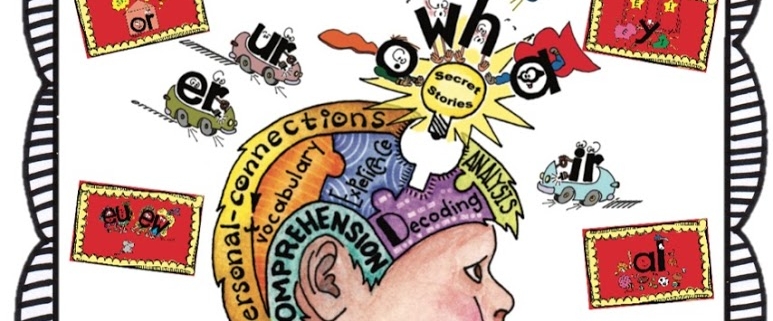 Sharing the Secret Stories® just got a whole lot easier! Teachers' favorite secret weapon for teaching all (and I mean ALL!) of those tricky letter sounds and phonics skills just got a "face-lift!"
Introducing the latest edition of Secret Stories® Cracking the Reading Code with the Brain in Mind!— Version 2.0!
This NEW edition of the Secret Stories® book and posters was just released this fall! If you've been waiting for the right time to update yours, or if you have always wanted to buy it, now is the time!

The new look, layout design makes it easy to start sharing the Secrets! Instructional icons, in-line text boxes and "just-so-you-know" tags, the new book is easy to navigate and grab what you need in a hurry! Plus, it's jam-packed with new sections, including how to dig even deeper into the affective learning domain for accelerated reading and writing (phonics) skill access!
And for those who might be wondering how to still make use of your existing book and/or poster set,
here's the best tip ever….and one that might even convince your principal to purchase it for you!
Ideally, every classroom using the Secret Stories® should have a 'loaner' book available for parents to check-out, as needed, to remediate and/or accelerate learning at home. Your old book makes the perfect parent resource, plus it's an easy way to satisfy School Improvement Plans that Require teachers and administrators to connect school and home learning, so as to foster stronger home-school connections.
Similarly, your old Secret Stories® posters can be bound together to make a 'big book' of all the Secrets that students can take turns taking it home to share. (This will be the most valuable commodity in your classroom, as all of them will want to be privy to new Secrets that you haven't yet shared, which makes it a great behavior incentive!) Simply staple or hole-punch/bind posters together. If you had originally cut your posters, don't fret, as they can easily be re-mounted onto large pieces of construction paper (preferably yellow, black or read) and them laminated.
Both are ideal ways to "let parents in on the SECRETS®" and how kids use them in the classroom to read and spell words!
But you don't have to win to get started sharing Secrets, as you can download the FREE mini-anchor sample set, here, or by clicking on the link, below!
And finally, here's a great video just posted to the
SECRET STORIES YouTube Channel
of some first graders just a couple of weeks into school, sharing the amazing "secret" discoveries they've made in their names! (For more background, read
here
,
here
and
here
!)
"Spotting SECRETS™ in my name!"
Happy Fall!!!
---

For a list of upcoming conferences, or for information on scheduling a school or district professional development workshop, click here.

---
https://www.thesecretstories.com/wp-content/uploads/2016/11/1-2Bsecret-2Bstories-2Bbook-2Bcover-2Bframed.jpg
1024
773
Katie Garner
https://www.thesecretstories.com/wp-content/uploads/2018/07/Secret-Stories-Phonics-Method-Logo-1-copy.png
Katie Garner
2016-11-03 19:04:00
2018-06-18 12:11:59
The NEW Secret Stories® Phonics Book— Version 2.0!