Decoding Words for Reading with Phonics "Secrets"
Decoding Sight Words with Phonics Secrets is finally DONE!!
But before I share more about this, I wanted to explain why I created it in the first place….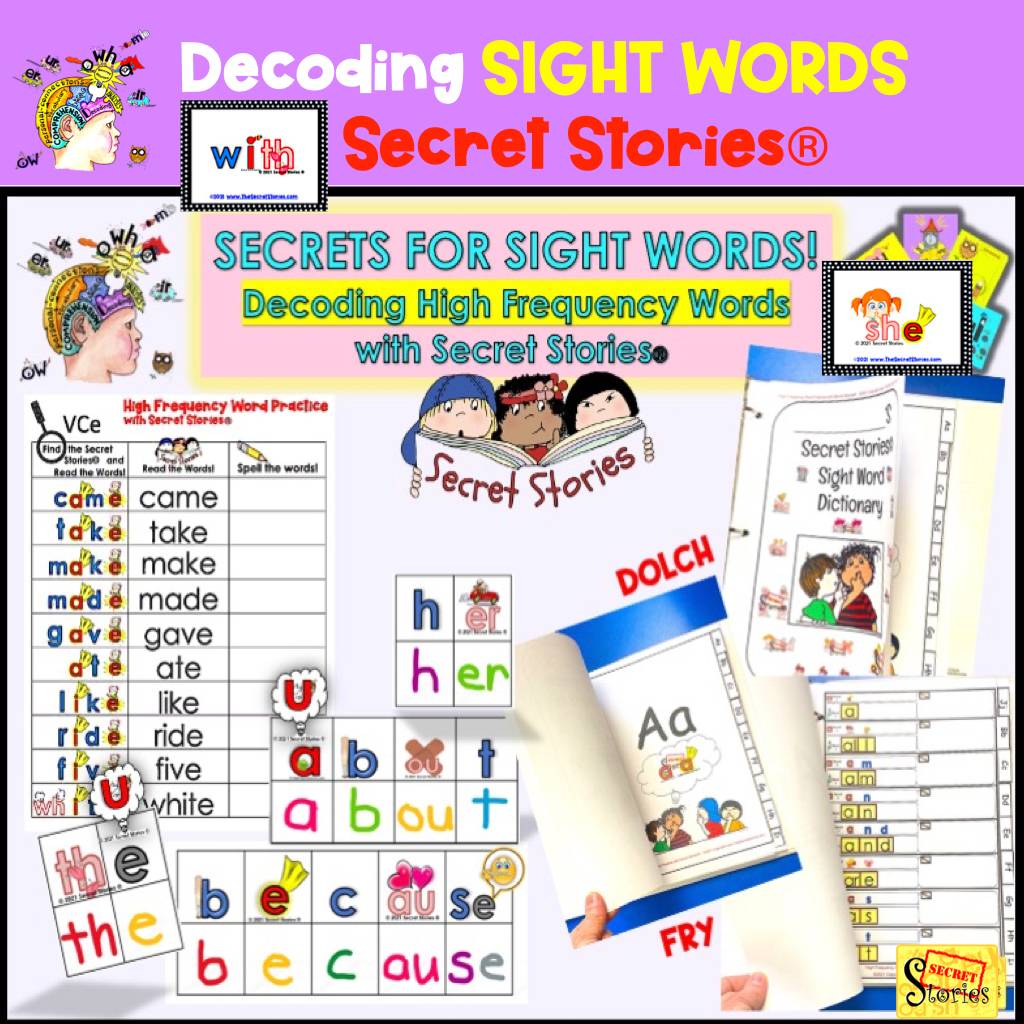 It's always seems odd to me when I hear questions like…. "How do I know which Secrets to teach for each sight word?" or "Is there a list of sight words that has the Secrets I need to teach with them?" or my favorite, "I don't have time to teach the Secrets because of all the sight words that I have to teach!" (Can you see the irony in that last one?)
​Phonics Keys to UNLOCK WORDS for Reading
Secrets are keys to unlock words. It's really that simple. If kids don't know the Secrets (a.k.a. phonics skills), then how can they read the words? Without the code, beginning and struggling readers have to rely solely on memorizing words while they wait for the slow pace of grade-level phonics instruction to catch-up.
​
That means if Howard wants to write about his pet mouse in kindergarten or first grade, he's out of luck because the ou/ow phonics "skill" won't formally introduced for another 1-2 years, about midway through second grade. Howard's mouse will literally be DEAD by the time gets the sound for "owwww" that he needs to write about it his mouse, or to read about it…..let along to make make sense of his own name!
From a common sense perspective, it seems ridiculous to make kids wait 3-4 grade level years (from pk-2nd grade) for the "whole" code they need to read and write from the first day of kindergarten. But this is the nature of the beast when teaching "abstract" phonics skills to "concrete" level thinkers—who are often eating their shoes and licking the carpet during your reading instruction! ;-)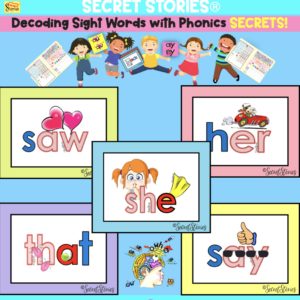 Enter the BRAIN SCIENCE
​Research on early brain development shows that the brain develops from back to front, with the social-emotional "feeling" based systems developing far earlier than the higher-level, executive processing centers (which are actually the latest area to fully develop).
While traditional phonics instruction targets "underdeveloped" higher-level processing centers for skill mastery, Secret Stories sneaks through the brain's backdoor, using muscle memory to fast-track individual letter sound mastery (in 2 weeks to 2 months) and aligning phonics skill concepts with "universally familiar" frameworks of learner-understanding.
Secrets aren't skills, they're just stories that kids already know, based on behaviors they already understand, like: having a crush, not getting along, getting hurt, being left out, being a good line leader, being sneaky, doing what your mom or babysitter tells you when they're nearby, and of course, everything "superheroes!"
These connections exist in the earlier-developing emotional systems, or "feeling" based centers of the brain…..or what I like to refer to as the "tattling centers!" This is the part of kids' brains that can easily keep track of all the social and emotional "goings-on," like the behaviors of their classmates. By aligning letter behavior with kid behavior, they can easily keep track of, and even predict the most and next most likely sounds of letters, just as easily as they keep track of the behavior of their classmates and with just as much FUN!
So WHY WAIT?
​Research shows that explicit, systematic and sequential phonics instruction is key, so it's important to follow a scope and sequence. However, your scope and sequence should never tie your hands and prevent you from giving kids MORE of what they need to do what they're ALREADY doing! Think of your scope and sequence as your "playground," and the Secrets as the "muscles" kids need to maximize their time playing on it. The best way to ensure that kids take away maximum instructional value from your existing reading or phonics program is to give them the tools they need to actually READ it!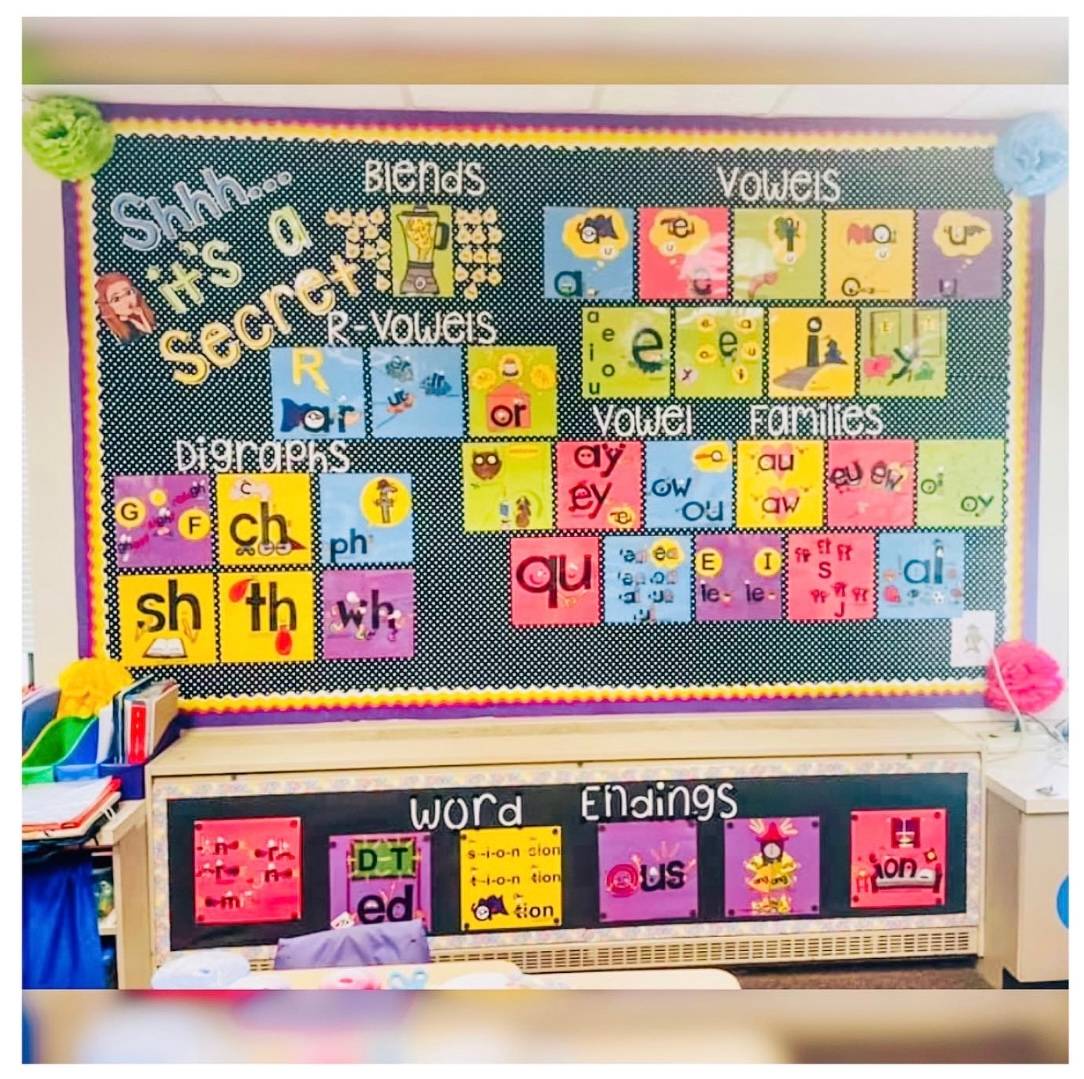 What IS a Sight Word?
​Did you know that for experienced readers, virtually EVERY word is a sight word? That's because the definition of a sight word is ANY word that's recognized by sight, meaning that it has already been "orthographically mapped" in the brain. For beginning and struggling readers, the transfer of unfamiliar words into sight memory is the ultimate goal, but NOT through rote memorization of word lists.
Kids must be able to actively "decode" words by connecting letter patterns (graphemes) to sounds (phonemes), and to do this they need to know more than just the sounds of individual letters. They need to know the sounds that letters make when they get together, which commonly referred to as phonics skills. But they can't wait 3 to 4 grade level years to learn them.
Waiting that long means that kids still have to memorize all of the words with phonics skills in them that they haven't learned yet, which research shows is detrimental. Even teaching them as "heart words" (which are words that must be memorized "by heart" until such time as the phonics skills needed to read them are taught) kids are still having to memorize words that could be instantly read with the Secrets.
Decoding Sight Words with Phonics Secrets
So let's get back to WHY I created this pack by addressing the three comments shared at the top about sight words.
1. "How do I know which Secrets to teach for each sight word?"
​ While it's usually pretty straight forward to know which Secret or Secrets to teach for which words, sometimes it can be tricky. For example, Howard needed the "ou/ow" for the word mouse, not to mention for his own name. And there's another Secret in is name too, which is "ar." Just knowing these two Secrets empowers Howard (no "ow" pun intended!) to unlock hundreds of other words too, like: how, now, about, around, flower, are, hard, far, and so many more. Now imagine the alternative, which is making poor Howard wait until 2nd grade when this phonics skill is "supposed" to be introduced. Think how many MORE words poor Howard (not to mention the rest of the kids) would have to just memorize. So again, why should we wait?!
While words like mouse and Howard may be obvious, sometimes you do have to think outside of the box when it comes to certain words. Take, for example, common high-frequency words like: of, was, want, some, come, love, what, etc. By traditional phonics standards, these words are considered to be non-decodable, and thus relegated to becoming "heart words" to be memorized "by heart."
But the beauty of the Secrets is that they aren't binary phonics "rules" that either work or don't. They are behaviors, which means that kids can "think-through" the most and next most likely sounds of letters and ultimately figure out the word. (You can learn more about this here.)
To make it easy, I've embedded the first 100 Dolch and Fry words (as well as several other common high-frequency words) with Secret sound graphics so that both teachers and students can easily see the Secrets and the sounds they make in the words.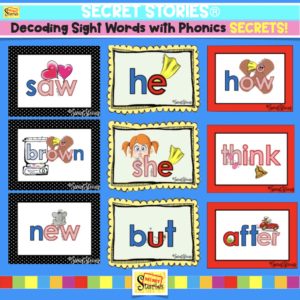 2. "Is there a list of sight words that have the Secrets I need to teach with them?"
​Not only are there lists of words alongside the Secrets that are needed to crack them, but the words are organized in ways that provide variations for structured literacy practice (i.e. to see, read, write, spell and even make new words with the same Secrets) to solidify the connection between phonemes (sounds) and graphemes (Secrets phonics patterns) and help support orthographic mapping in the brain. This process of cementing sound-symbol (i.e. "speech to print") connections in the brain is the foundation of Secret Stories® instruction, and key to a Science of Reading-based approach to effective phonics instruction.
Editable templates are also included for each part so that you can use your own words for your specific grade level, with those "pre-embedded" with the Secret sound images servings as a guide. As with everything-Secret Stories®, through use, you become the expert by internalizing the concepts and making them your own. (This is the ultimate my goal for each Secret Stories® supplement that's created, to understand how to use the Secrets even better!)
3. "I don't have time to teach the Secrets because of all the sight words that I have to teach!"
​I hope that after reading all of the above, this one is obvious. If kids DON'T know the phonics Secrets, how can they read the words?!! What exactly are you teaching if not the code kids need to actually read the words they're seeing every day?
As teachers, our goal can't be to have our kids just "look at words" all day but not actually read them. That's just going through the motions and checking the box, not teaching them to read.
We don't have the luxury of time to just "look" at words all day long and NOT take advantage of these opportunities to give kids the Secrets they need to actually READ them! Especially not now, given the loss of learning that's occurred over the last two years. We need to take advantage of what we know about the brain's systems, not just for learning to read, but for learning, in general, so as to work WITH the brain, not against it. The first step to doing this is to teach in a way that actually makes SENSE!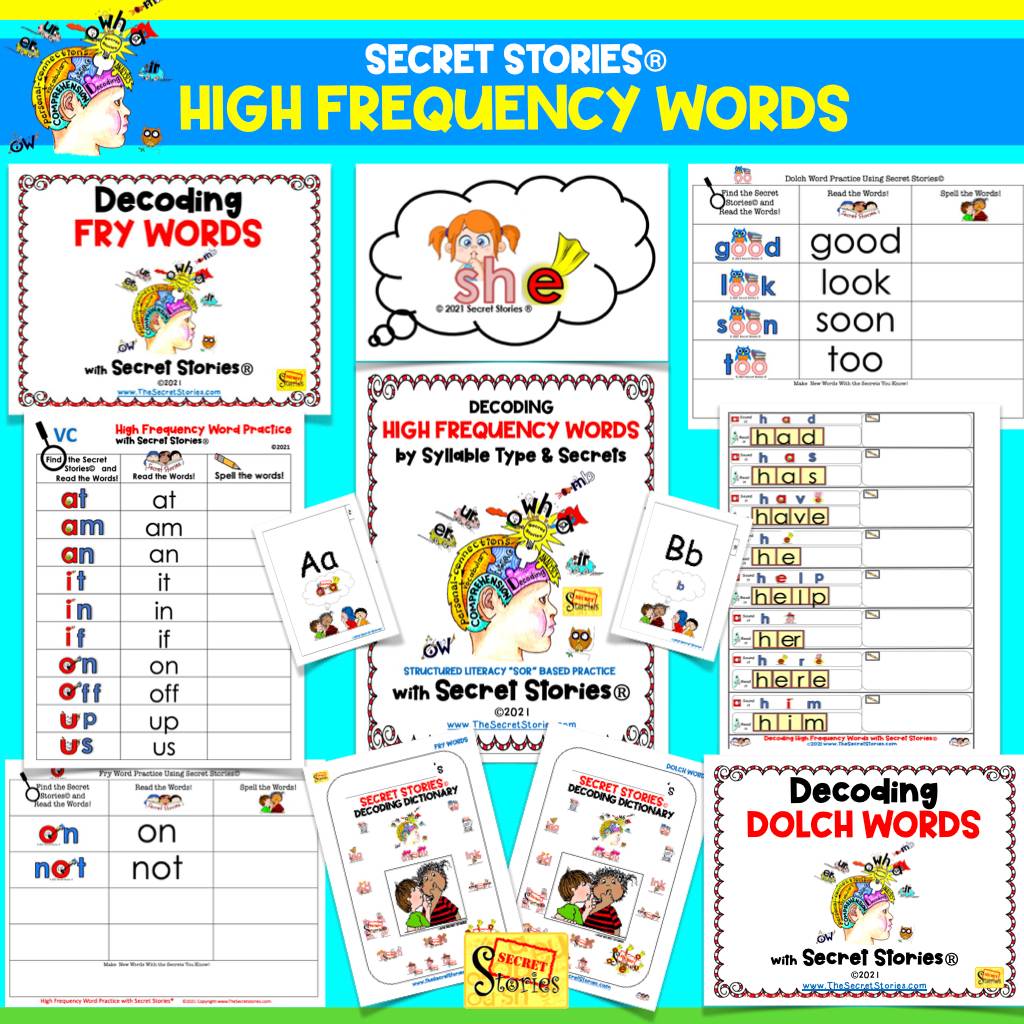 Secret Stories Science of Reading-Based Instruction 
​So on that note, this email was a lot longer than I intended it to be, but I really hope it's helpful as we gear up for another school year. Every day, I see so many great conversations about this and other topics in the Secret Group. It's wonderful to read the in-depth conversations about Secret Stories and the Science of Reading now that so many states have provided training over the summer. I love seeing Secret Stories mentioned in different state trainings for LETRS, Reading 360, Phonics First, etc, as a way to help streamline and fast-track learner-access to the code.
Everyone's ultimate goal is to make phonics make sense so that it's easy for teachers to teach and for kids to learn—even if they're sucking on their shoe while they're doing it! ;-) Kindergarten teachers know exactly what I'm talking about!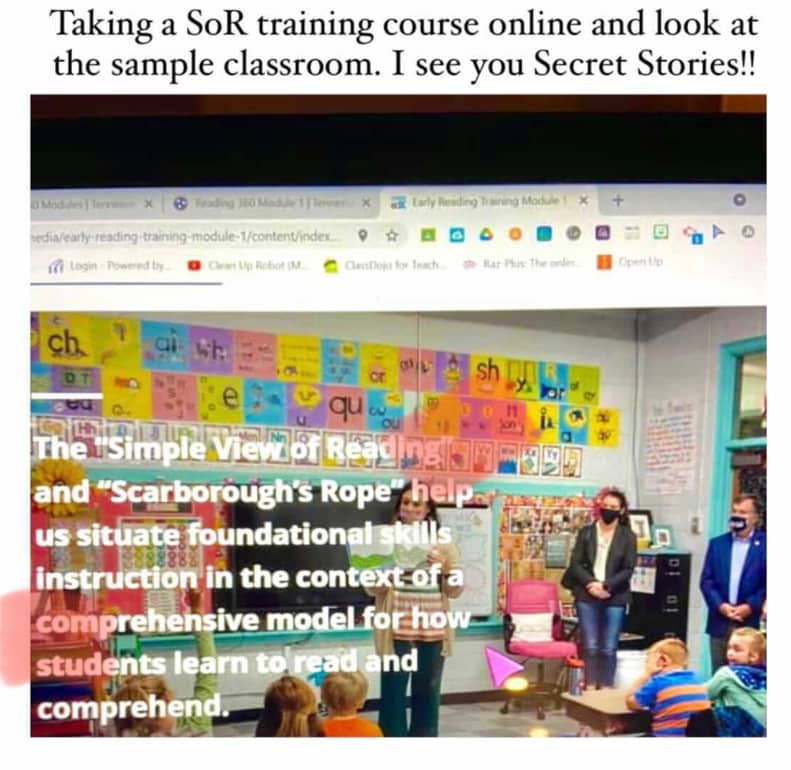 You can watch a short video about the Decoding Sight Words with Phonics Secrets pack made by Sheryl Nicholson, whose tireless efforts in working with me over the past several months to create this pack are the reason that it's ready in time for school to start!💗 And to read a post by Sheryl explaining more about how she uses Secret Stories® in her classroom, click here.
You can also find Sheryl in the Secret Group, which I'm thrilled to say now has over 40K members! If you're not already a part of it, we would love for you to join us….as in there, the conversation never stops!
And you can find Decoding Sight Words here or by clicking on the picture up above.
Until Next Time,
Katie
https://www.thesecretstories.com/wp-content/uploads/2022/07/DECODING-SIGHT-WORDS-FLASHCARD-PICS.002.jpeg
1024
1024
Katie Garner
https://www.thesecretstories.com/wp-content/uploads/2018/07/Secret-Stories-Phonics-Method-Logo-1-copy.png
Katie Garner
2022-04-06 10:33:13
2023-10-03 05:39:13
Decoding Words for Reading with Phonics "Secrets"