Online Teaching Ideas & Resources for Reading with Secret Stories®
Welcome Teachers!
This special teacher page link was created to provide you with inspiration and ideas for incorporating the Secret Stories® into your remote teaching lessons in a copyright-safe way.
Here you will a growing bundle of ideas, inspirations and resources, including: remote teaching lessons and pre-recorded videos, at-home student games and activities, free PD links and more—all of which will be added to each week.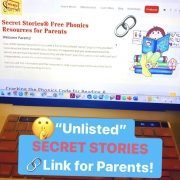 I have also created an "unlisted" Parent Page Link that you can share with your parents to help them understand what the Secret Stories® are, how they work, and learn ways to better support their use for independent reading and writing at home.
Here is a direct link that you are welcome to share with your parents – https://www.thesecretstories.com/free-phonics-resources-for-parents/  
NEW! Secret Stories® Digital Tools to Support Teachers & Students in Online Learning Lessons!
The NEW Secret Stories® iOS App for Teachers, Students & Parents!
(currently available in the Apple App Store for iPads & iPhones only)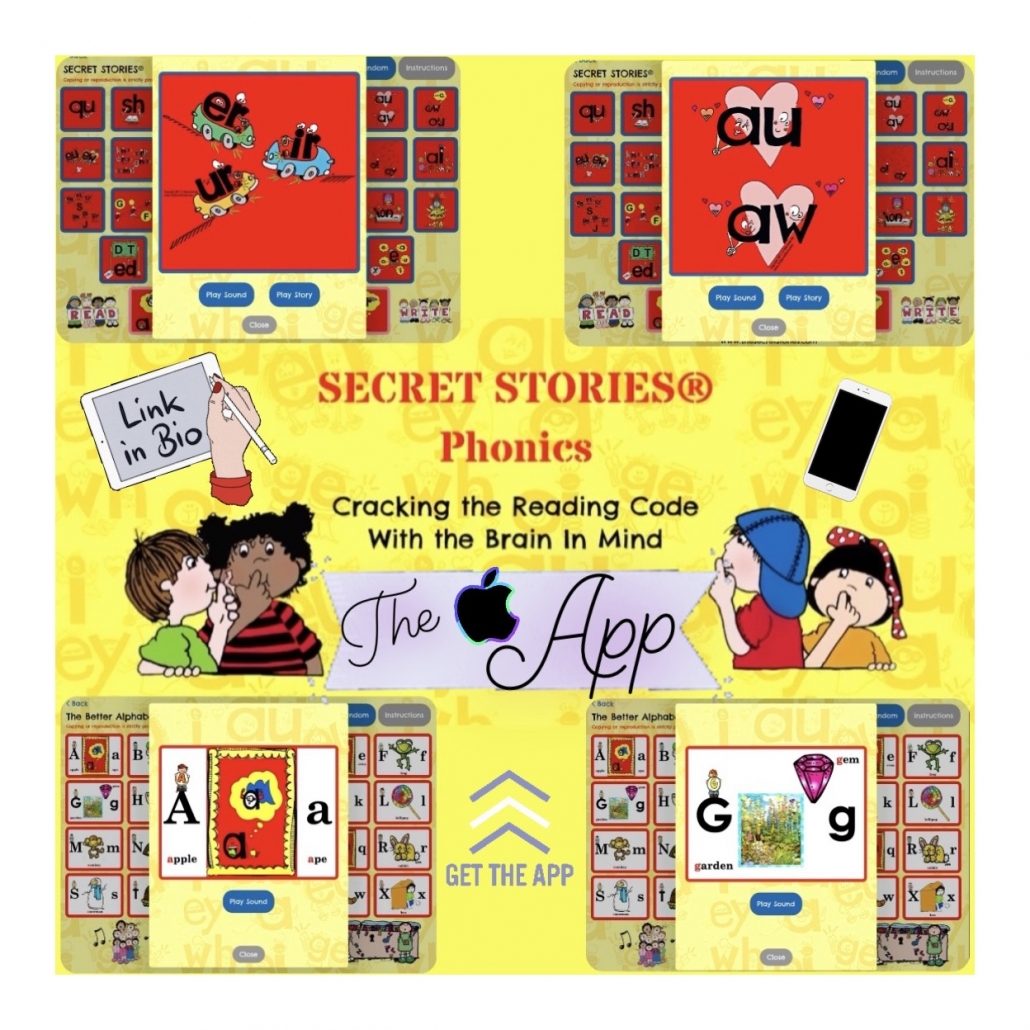 "OMG! Between the new app and flashcards, I am slaying teaching @TheSecretStories today!!!!!"
—Lauren Gilmore, First Grade Teacher
The NEW Secret Stories® App puts the Secrets at your fingertips for instant access and use in online lessons! It is the number one tool that we've created to best support teachers in online learning lessons. It will also make a huge difference in helping support parents to help their child learn and grow as independent readers and writers while learning at home!
You can find it here in the 🍎App Store, and you are welcome to copy and paste this link to share it with your parents- https://apple.co/2FzPZYH (or search "Secret Stories Phonics" in Apple's App Store).
(Note that this app works with only with iPads and iPhones and will not play on any other devices. The built-in technology won't allow for screen sharing or broadcasting on other formats, though this is not needed, as it's not what it's for. To learn more, check out the videos below.)

Digital "Add-On" Tools for Teachers in Remote Learning Lessons
For an overview of the different digital tools shown below, read this blog post.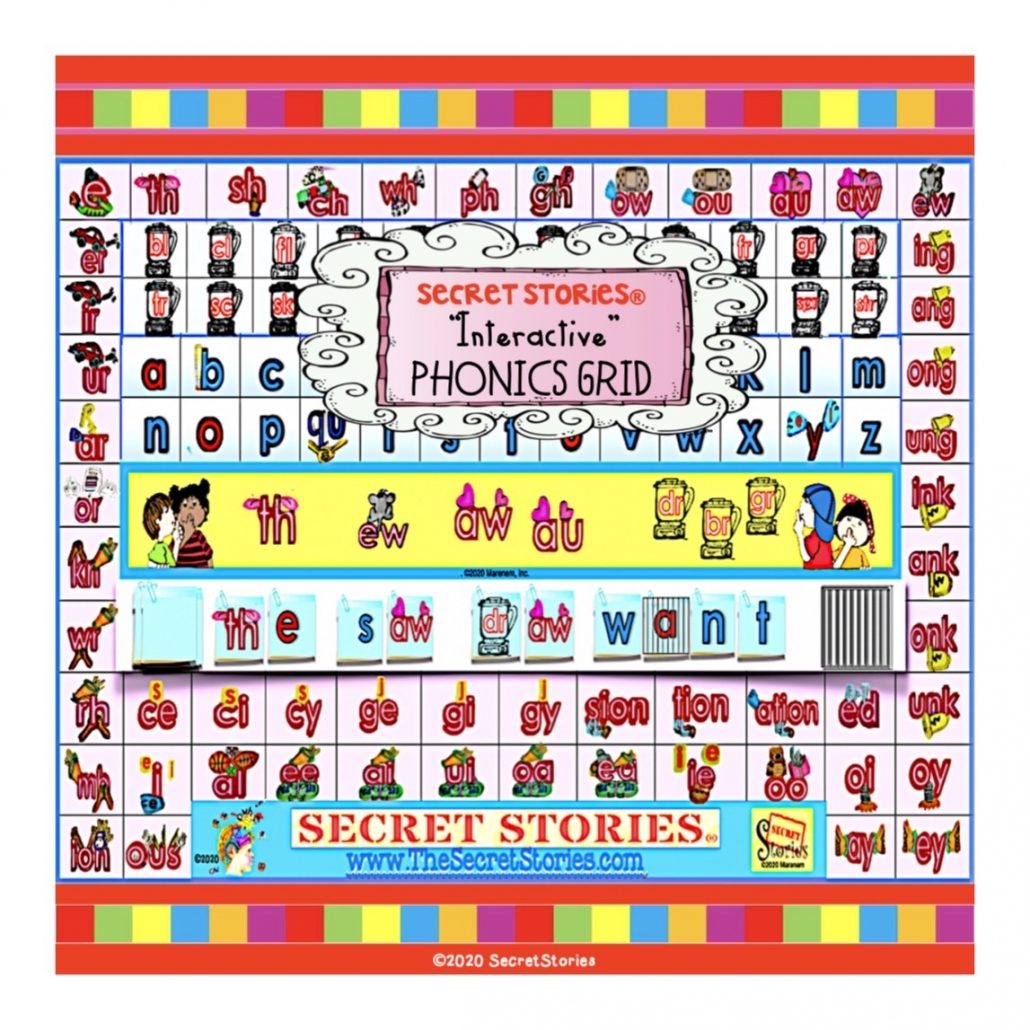 Secret Stories® Interactive Phonics Grid with embedded sound graphics for remote reading lessons
This "manipulative" teaching tool is a lifeline for modeling how to use the Secrets to read and spell words in online learning lessons. With "hints" of the Secret Stories® sound graphics embedded into each phonics pattern, this digital tool provides concrete connections for modeling both reading and spelling/writing with the Secrets. Model how to "make and break" words in any lesson (i.e. sight words, snap words, spelling words, vocabulary words, story or subject area vocabulary, etc.). This digital product also includes "copyright-safe" Secret Stories® graphics in the form of digital stickers, which you can use as needed with your class to create your own Secret Stories® lessons. (Also ideal for use in traditional classrooms for whole and small group instruction, as well as literacy centers.)
*This product can be used in PowerPoint and Keynote, or uploaded to Google Slides for easy use.
Secret Stories® Better Alphabet™ Song Videos & Made-to-Match Digital Mini-Mats
The Better Alphabet™ Song Videos make using the Better Alphabet™ Song in online lessons easy, as it ensures that kids "see the letters while singing they're singing the sounds!" It can also be easily shared with students for continued practice at home.
Pair with the matching Better Alphabet™ Mini-Mats (which are miniature versions of the Better Alphabet™ "full-size" Classroom Anchors for individual student reference and use at home
Secret Stories® Digital Task Cards for use with ANY text, over & over again!
These interactive phonics task cards make it easy to integrate the Secret Stories® into your remote lessons, and are also idea for traditional use in whole group and and small group instruction, as well as literacy centers.
These "universal" task cards work with ANY text—from guided readers, to math directions—they will get your students searching for Secrets and using them to crack the words!
The best part about these cards is that they can be used OVER and OVER again. The only thing you need to change is the text!
Here you will find EVERYTHING-Secret Stories,
including tons of ideas and freely shared "teacher-created" resources to help teach the Secrets in your online lessons.